July 20, 2012 — When the fraud-busting unit of the US Department of Health and Human Services (HHS) publishes an analysis of physician behavior, questions naturally arise as to whether some sort of crackdown on physician misbehavior is around the corner.
Case in point is a report issued in May by that dreaded HHS unit, the Office of Inspector General (OIG). The OIG found that from 2001 to 2010, physicians increased their use of higher-level — and more lucrative — billing codes for evaluation and management (E/M) services in the course of treating Medicare patients. During that time, the volume of Medicare payments for E/M services rose 48%, whereas spending for all Medicare Part B goods and services increased 43%. In 2010, E/M services accounted for 30% of all Medicare B expenditures.
The coding trend of up, up, and away held true across 13 different categories of E/M services, which include new patient office visits, initial and subsequent inpatient hospital care, emergency department visits, and initial and subsequent nursing home care. In each E/M category, there are from 3 to 5 Current Procedural Terminology (CPT) billing codes for differing levels of complexity.
The same pattern of physicians picking higher-level CPT codes emerged between 2001 and 2009 for 2 categories of consultation visit codes that were eliminated in 2010.
This pattern is perhaps best illustrated in the bread-and-butter category of office visits for established patients, which has 5 tiers of complexity. This category accounted for 48% of Medicare payments for E/M services in 2010.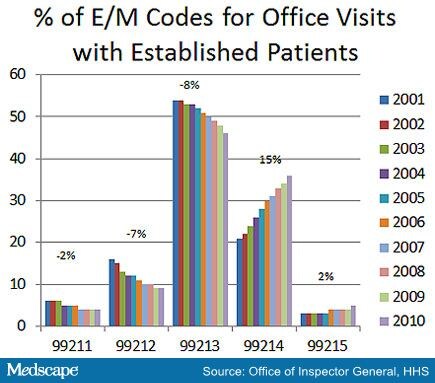 In 2001, office visits for established patients coded 99211, 99212, and 99213 accounted for 76% of the visits in this category, with the remaining 24% tagged with 99214 or 99215. By 2010, the percentage of visits with the 3 lower codes had decreased to 59%, and 99214 and 99215 visits had risen to 41%.
The most dramatic changes occurred with 99213 and 99214 visits. In 2001, the midrange 99213 visit represented 54% of the pie, and the 99214 visit, 21%. In 2010, the share for 99213 had slipped to 46%, whereas that for 99214 stood at 36% — a 15% increase over 2001.
The jump from 99213 to 99214 yielded a handsome increase in compensation. In 2010, Medicare paid on average $97.35 for a 99214 visit, which is 50% more than the $64.80 for a 99213.
The OIG states that it did not determine whether physicians who chose more 99214s and other higher-level E/M codes in 2010 billed Medicare inappropriately or fraudulently. That line of inquiry, it says, will be the focus of future reports.
At the same time, "E/M services have been vulnerable to fraud and abuse," the OIG notes. In other words, some physicians who should have billed a 99213 instead have gone 1 level higher to garner an extra $32.55.
Medscape Medical News interviewed several figures in the healthcare industry who are familiar with medical coding to get their take on the trend reported by the OIG. By and large, they said there are other explanations besides fraud and abuse. Still, the ever more common 99214 is symptomatic of a fee-for-service payment system and its foibles.
Medscape Medical News © 2012 WebMD, LLC

Send comments and news tips to news@medscape.net.
Cite this: Are Physicians Coding Too Many 99214s? - Medscape - Jul 20, 2012.