May 8, 2012 (Philadelphia, Pennsylvania) — As the American Psychiatric Association (APA) kicks off its 2012 Annual Meeting here in the organization's founding city, president-elect Dilip Jeste, MD, is getting set to lead the world's largest psychiatric association into a new era of "positive psychiatry."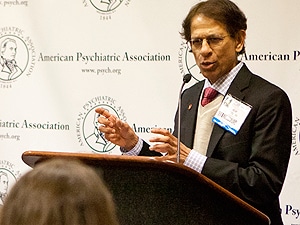 "We should not be satisfied merely with treating symptoms in patients with mental illness but also with improving their overall well-being," Dr. Jeste, who is Distinguished Professor of Psychiatry and Neurosciences and Director of Sam and Rose Stein Institute for Research and Aging at the University of California, San Diego, told Medscape Medical News.
"There are many studies that have shown that positive traits like optimism and social engagement are associated with a significant decrease in mortality, and I think as psychiatrists, we are in a good position to incorporate these into psychotherapy and psychosocial interventions," he added.
As a geriatric psychiatrist, Dr. Jeste acknowledges that he has a particular interest in the brewing crisis in geriatric mental health care that is being driven by aging baby boomers.
Currently there are half a billion people worldwide older than 65 years. However, within the next 30 years, that number will triple to 1.5 billion. In the United States, there are currently 40 million people older than 65 years, and this will reach 70 million during the next 20 years.
"There are going to be challenges for the healthcare system as people get older. On the physical side, we know that most of the healthcare costs occur in the last few years of life. But the aspect of aging is not appreciated in mental health. Not only are the numbers of older people increasing but the number of older people with mental illness will actually increase disproportionately more," he said.
Geriatric Mental Health Crisis
Alzheimer's and dementia are only part of the reason for this phenomenon, he added, noting that research has shown that depression is more common among baby boomers.
Although the reasons for this are unclear, Dr. Jeste noted that it is likely due to a multitude of psychosocial factors, including increased mobility, higher divorce rates, smaller families, and more single-parent families.
In addition to depression, he said, the prevalence of anxiety and substance abuse disorders is also likely to increase as the current generation reaches old age.
He also noted that as the stigma of mental illness decreases, more patients will be diagnosed and seek psychiatric help.
To help address this brewing crisis, the APA, under Dr. Jeste's leadership, recently established a council on geriatric psychiatry. This council, he said, will act as an expert resource for the organization and its members.
As APA president, Dr. Jeste said that addressing the growing shortage of psychiatrists in general, and geriatric and child psychiatry in particular, will be among his top priorities.
A recent report showed that the number of US medical students choosing psychiatry as a specialty has been declining for the past 6 years.
According to the APA, there are currently 50,000 psychiatrists in the United States — a number that is already inadequate to serve all the patients who need help, especially those in rural and remote areas. The National Institute of Mental Health estimates that there are more than 3500 areas in the country that are underserved. In addition, about one half of psychiatrists are older than 55 years, and some will soon start reducing their work.
Innovative Solutions
During the coming year, said Dr. Jeste, the APA will work with other organizations, including the American Medical Association, the American Association of Geriatric Psychiatry, and the American Academy of Child and Adolescent Psychiatry, to come up with innovative solutions to "solve this critical problem."
Dr. Jeste noted that there are currently about 100 fellowship slots in various geriatric psychiatry programs across the country and that less than one half of them are filled. Part of the reason, he said, may be the declining Medicare reimbursement rates.
Further, after 4 years of residency training, physicians are often faced with enormous student loans, and this may make an additional fellowship year in a subspecialty such as geriatric psychiatry that offers a minimal salary untenable for many young doctors, said Dr. Jeste.
"This is clearly a problem that we need to do something about it," said Dr. Jeste. He noted that the National Institutes of Health has instituted loan forgiveness programs for research fellows, and this may be an option for individuals going into subspecialties in which there are shortages.
However, he acknowledged that the lack of enthusiasm for geriatric psychiatry is not purely financially driven and that there are other factors that need to be addressed to make it a more attractive career choice.
Not All Doom and Gloom
"People think of geriatric psychiatry as a pessimistic specialty...but I've found just the opposite. I think it is one of the most exciting areas to work in, and that is where positive psychiatry comes into play.
Dr. Jeste noted that over the past 20 years, research has demonstrated that the phenomenon of neuroplasticity extends into old age and that the brain can grow and develop well into the latter stages of life.
Animal and human studies have shown that psychosocial stimulation, social engagement, and physical activity are associated not just with improved functioning of the brain but also "improved structure and increasing numbers of blood vessels, synapses, and even neurons in some areas. which is very different from what people were taught 20 years ago. One of my goals is to spread the word that old age is not all doom and gloom," said Dr. Jeste.
Dr. Jeste's primary areas of research are psychosis and its treatment late in life and successful cognitive aging.
"My work is successful aging, focusing not on why people develop dementia, depression, etc, but on why some people do so well into their 80s and 90s and looking at positive psychological traits like resilience and optimism along with psychosocial factors like social engagement, which have been shown in numerous studies to be as critical for mental health as physical health," he said.
APA Close to His Heart
Dr. Jeste, who came to the United States from India in 1974, has been an active member of the APA since 1975, holding a number of positions within the organization. He was a founding member of the Board of Directors of the American Psychiatric Institute for Research and Education (APIRE).
"So for me the APA is something that has been very close to my heart — professionally and personally," he said.
He noted that even in the early 1970s, the APA had a strong global influence that extended to physicians in developing nations.
"When I was in India, the APA was a very important organization to us. I remember looking forward to getting the AJP, and then after moving to this country as a resident, I joined the APA, and I have been involved ever since then in various capacities."
Dr. Jeste added that although the APA is already diverse in its membership, there is scope for more diversity among its members and leaders with respect to race, ethnicity, and sex.
"We can be an even broader organization with opportunities for everybody," he said.
With this in mind, Dr. Jeste said he intends to increase the association's international membership and activities, particularly in the areas of disaster relief and education.
He also intends to partner with the younger generation of psychiatrists "not only to mentor them but to learn from them about where we should be going."
Dr. Jeste has disclosed no relevant financial relationships.
The American Psychiatric Association's 2012 Annual Meeting.
Medscape Medical News © 2012 WebMD, LLC

Send comments and news tips to news@medscape.net.
Cite this: 'Positive Psychiatry' Focus of New APA President's Term - Medscape - May 08, 2012.