May 4, 2012 (Dublin, Ireland) — A psychological condition that results in a loss of interest or pleasure in daily activities is significantly associated with an increased long-term risk of death in patients with acute coronary syndrome (ACS), new research shows [1]. Anhedonia, but not other symptoms of depression or anxiety, predicted mortality out to eight years in a population of ACS patients.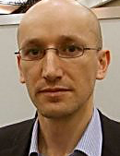 "Depression, for a long time, has been established as a predictor of cardiovascular outcomes, but the treatment of depression doesn't affect prognosis," lead investigator Dr Frank Doyle (Royal College of Surgeons in Ireland, Dublin) told heartwire . "This has made researchers take a step back and ask, 'What do we mean by depression anyway?' It's a very heterogenous concept. You could have two patients with virtually no symptoms in common and have the same diagnosis."
Presenting the results of the study at EuroPrevent 2012, Doyle explained that the Enhancing Recovery in Coronary Heart Disease (ENRICHD) randomized trial showed that treating depression and low perceived social support after MI did not improve event-free survival. This led to speculation that somatic symptoms, such as fatigue and loss of appetite, and not typically the cognitive symptoms associated with depression, such as feelings of worthlessness, might better predict long-term outcomes following ACS.
In the present study, Doyle and colleagues used different measurements of depression--the Hospital Anxiety Depression Scale (HADS-A and HADS-D) and the Beck Depression Inventory-Fast Screen (BDI-FS)--to determine whether these two scales could predict long-term prognosis following ACS. The scales differ in their measurement of depressive symptoms, with HADS-D a better measurement of anhedonia, HADS-A a measure of generalized anxiety, and the BDI-FS a better assessment of cognitive depressive symptoms.
Of the 598 patients included in the analysis, including 316 ACS patients assessed using the HADS scores and 282 patients assessed using BDI-FS, 121 died at eight years of follow-up. Only the HADS-D score predicted eight-year mortality, with a diagnosis of depression highlighted by anhedonia on HADS-D associated with a more than twofold increased risk of death (hazard ratio [HR] 2.57; p=0.002). Anxiety, as measured by HADS-A, and depression, assessed by BDI-FS, were not associated with an increased risk of death at eight years. Continuous HADS-D scores predicted mortality even after adjustment for age, sex, health insurance, and length of index hospital stay (HR 1.11; p=0.007).
"What this suggests to us is that the cognitive symptoms of depression aren't as important," said Doyle. "The reason we think that anhedonia is important is because it's not necessarily specific to depression. You can have anhedonia and have other disorders, such as posttraumatic stress disorder or generalized anxiety disorder. So we think anhedonia is the symptom that is predicting outcomes here."
All patients should be screened for depression following hospitalization for ACS, said Doyle, but special attention might be warranted to the specific symptoms of the mental illness. While treating depression with cognitive-behavioral therapy might help deal with a patient's self-worthlessness or self-dislike and lead to improvements in cognitive symptoms, other symptoms such as anhedonia might be overlooked.
"So even though the treatment appears to be working, it's not necessarily working on the symptoms that predict mortality," said Doyle.
Heartwire from Medscape © 2012 Medscape, LLC

Cite this: Anhedonia, Not Depression or Anxiety, Linked With Death Following ACS - Medscape - May 04, 2012.