May 5, 2012 (Philadelphia, Pennsylvania) — Facebook and other social media can provide a useful tool to help psychiatrists with suicide assessment by providing an important source of additional information, new research shows.
"People who attempt suicide are much more likely to tell friends and family than their doctors. Obtaining collateral data from online sources can be very helpful," R. Bryan Chambliss, MD, director of the psychiatry residency training program at Drexel University College of Medicine in Philadelphia, noted in an interview with Medscape Medical News.
Suicide remains a significant problem, with more than 36,000 deaths from suicide reported in the United States each year. Suicide is the second leading cause of death in adults aged 25 to 34 years.
A poster presented here at the American Psychiatric Association's 2012 Annual Meeting by Dr. Chambliss and coauthors Amir Ahuja, MD, and Krystine Biesaga, MD, describes how Facebook was used to obtain a clearer picture of a 27-year-old black man who was without a diagnosable history of depression and who made an impulsive suicide attempt.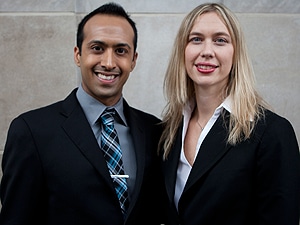 The man went through medical school but had to leave residency because the stress was exacerbating his irritable bowel syndrome (IBS), and he subsequently became depressed.
"He was trying to get back into residency, and unfortunately, he didn't make it into the residency match," said Dr. Biesaga.
Before his suicide attempt by drug overdose, he told his friends through "cryptic" postings on Facebook of his intent to commit suicide.
"He was basically wishing his friends good things in their life and giving away some of his items from his home, and most importantly, he then wrote an email to his girlfriend to let her know what he was doing," Dr. Biesaga added.
With the patient's consent, Facebook postings were used to reconstruct a picture of the suicide attempt and to establish a clear timeline of events. In this case, his friends were very proactive and called Emergency Medical Services after several of the postings triggered concern.
Hot Topic
"Looking at his Facebook pages and obtaining all this collateral data really helped us understand the patient and also helped him understand his situation and how serious his attempt was, because at the time, he had very little insight into what had transpired, and he didn't really feel he was depressed or needed help," Dr. Biesaga said.
Reviewing the postings with the patient helped him finally accept treatment with medication and therapy, which led to a much better outcome, the authors note.
We know he was discharged on [medication] with a referral to a psychiatrist and agreeing to outpatient therapy," said Dr. Ahuja.
In psychiatry, the accuracy of patient reports of events is sometimes questionable, and using only subjective data from the patient limits a clinician's ability to discern the truth, the investigators note.
Social media, blogs, and other Internet postings can be used as a more objective source. Postings are dated and timed, and there is a reproducible account of all communication.
"It's also significant that this man had a friend who committed suicide who had posted a very cryptic poem online beforehand. The idea of suicide contagion via the Internet is a hot, very hot topic," said Dr. Chambliss.
In 2011, Facebook launched a "Report Suicidal Content" tool, with which users can report if their friends have posted a suicide note or other worrisome content. This tool gives users a direct link to an online chat with counselors at the National Suicide Prevention Lifeline.
Mass Screening?
The Drexel team notes that as of the end of 2011, Facebook alone had 845 million users, of whom 483 million used it daily. Twitter also has hundreds of millions of members.
It might be possible to use social media to screen for depression and suicide. Some patients would rather divulge sensitive matters to a computer than in a face-to-face interview, so these screenings could prove more accurate than clinical assessments, they note.
Individuals at risk could then be directly contacted through email, which is a requirement for joining most social media sites, and they could be invited to online or in-person therapy and evaluation. A similar strategy has been used in HIV clinics and in large-scale screenings at a college campus.
"Several companies are already working on large-scale Internet suicide screenings. They are Screening for Mental Health, Inc, and the Jed Foundation. They use a PHQ-9 Depression Questionnaire with an evaluation for suicide," the authors write.
"The studies are very clear that when people are offered online intervention, online therapy, they do well with that; that's the place where the Internet is proving helpful," Dr. Chambliss added.
The authors have disclosed no relevant financial relationships.
The American Psychiatric Association's 2012 Annual Meeting. Abstract NR1-54. Presented May 8, 2012.
Medscape Medical News © 2012 WebMD, LLC

Send comments and news tips to news@medscape.net.
Cite this: Facebook, Other Social Media May Help Prevent Suicide - Medscape - May 05, 2012.