May 3, 2012 (New Orleans, Louisiana) — A vigorous resistance training program not only makes patients with Parkinson's disease (PD) stronger but also reduces signs of their disease over the long term, a new study has found.
The study showed that such a weight-training regimen reduces scores on the motor section of the Unified Parkinson's Disease Rating Scale (UPDRS-III) by 7.3 points.
This represents "meaningful and clinically important" changes in the lives of patients with PD, said lead investigator Daniel Corcos, PhD, professor, Department of Kinesiology and Nutrition, University of Illinois at Chicago.
The study was presented here during the American Academy of Neurology 64th Annual Meeting.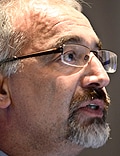 Increasing Resistance
For the study, participants were paired according to sex and off-medication scores on the UPDRS-III. Scores on the UPDRS-III motor subscales (bradykinesia, tremor, rigidity, and postural instability/gait disorder) range from 0 to 108.
Within pairs, patients were randomly assigned to progressive resistance exercises (PRE), a series of weight-bearing exercises designed to build strength by gradually increasing the amount of resistance, or to Fitness Counts (FC), a program that includes flexibility, balance, and strengthening exercises. Patients exercised for 1 hour twice a week for 24 months.
Investigators, who were blinded to group assignment, administered the UPDRS-III while patients were not receiving medication at baseline and 6, 12, 18, and 24 months.
The study enrolled 48 participants, 58% of whom were male. Their mean age was 59 years, and the mean duration of disease was 7 years. These patients completed a 6-month exercise program, with 38 going on to complete the full 24 months.
From baseline to 6 months, the mean UPDRS-III score decreased for both FC (-5.38) and PRE (-6.42) (P < .0001). These changes did not differ by group (P = .5467).
Persistent Benefits
However, by 12 months, there was a significant difference in favor of the PRE group. At that stage, the UPDRS-III score was reduced for PRE compared with FC participants (P = .023). The benefit persisted at 18 months (P = .017) and 24 months (P < .001).
At 24 months, the UPDRS-III score for the FC group had returned to baseline whereas the PRE group maintained a 7.3-point improvement.
The PRE group may have sustained an advantage because progressive resistance exercises challenge the neuromuscular system while other types of exercise don't.
How does this improvement translate into real-life benefits? The literature shows that a difference in 5 points on the UPDRS-III scale is enough to make a clinical difference. "We've exceeded that by a couple of points", said Dr. Corcos. "It's not just that we have a statistically significant difference between these 2 groups; it's that the difference we've observed is clinically important."
Patients with PD keen on starting a vigorous resistance program should first get clearance from their doctor and then find a trainer who is familiar with weight training, said Dr. Corcos. He recommends a "whole body" program that targets leg muscles, back muscles, the abdomen, and upper arms.
Dr. Corcos stressed, however, that although such an exercise regimen is good for almost anyone, patients with PD who are posturally unstable should be particularly careful. He used the example of the biceps curl exercise that uses dumb bells or a bar bell and is normally done standing up.
"If you have PD and you're a little bit posturally unstable, then you should probably do that exercise sitting down, with your back supported, so there's no possibility that you can fall."
Tailored Exercises
The idea, he added, is to tailor exercises to the state of the disease for each individual. All patients with PD, even those at stage 4 who have severe disability but are still able to walk or stand unassisted, and those in stage 5 who are wheelchair bound or bedridden unless aided, will benefit from some exercise intervention.
Patients with PD who are in a wheelchair can use an exercise band to work their ankle and arm muscles. These kinds of activities are recommended for travelers in airplanes and hotel rooms, said Dr. Corcos.
Many patients with PD, even those in their 50s and 60s, are in "pretty good shape" apart from their disease, said Dr. Corcos. "They can certainly do this weight training and certainly benefit from it."
Patients with PD might also benefit from tai chi, an exercise system that incorporates slow, smooth body movements to achieve a state of relaxation of the body and mind. A recent randomized controlled study, published in the New England Journal of Medicine and reported by Medscape Medical News at that time, suggested that tai chi training reduces balance impairments in patients with mild to moderate PD, with additional benefits of improved functional capacity and reduced falls.
"When you have PD, you have a balance problem, especially as the disease progresses," said Dr. Corcos. "I would argue that people with a balance problem should spend some time every week working on their balance; it's a tremendous thing to do."
Research Lacking
Reached for a comment, Giselle Petzinger, MD, assistant professor, University of Southern California, Los Angeles, said the study is interesting, but it didn't convince her that weight training is any more beneficial than other types of exercise. In her view, the study adds little to what's already known about the benefits of exercise in patients with PD, she said, adding that there are "a gazillion" papers out there on this topic.
Some measures, such as the amount of resistance the exercises had, are unclear from the abstract, she said.
"We still need to get down to specific issues of parameters such as resistance training, skill training (learning a new skill such as skiing or playing tennis), and aerobic training, and that has yet to really be well addressed," said Dr. Petzinger. "This research is far from doing that. It just reintroduces the idea that, gosh, we should really look at this carefully."
And the study adds little on how exercise changes the brain in humans, said Dr. Petzinger, who researches the impact of exercise in animal models.
"We've got compelling animal data showing that there are brain changes occurring that we believe are meaningful in terms of changes in how dopamine is handled, changes in how other neurotransmitters such as glutamate are being handled, and changes in neurotrophic factors, all of which promote connectivity," she said. "The question at the end of the day is, what is happening in humans and what are aspects of exercise that are really meaningful in the context of the disease state?"
One positive element of the current study, though, is that it shows that patients with PD can keep exercising for up to 24 months. "The key thing is that you can get people who are fairly well established in their disease to exercise," and that they can keep it going, said Dr. Petzinger.
Staying active is important, she added. "It's not one of those things where can stop and expect to continue to see these benefits long term; so this sort of reinforces that these people continue to get better over time by maintaining some level of exercise."
Dr. Corcos has disclosed no relevant financial relationships.
American Academy of Neurology 64th Annual Meeting. Abstract #S02.003. Presented April 23, 2012.
Medscape Medical News © 2012 WebMD, LLC

Send comments and news tips to news@medscape.net.
Cite this: Resistance Training Reduces Signs of Parkinson's - Medscape - May 03, 2012.