April 20, 2012 (Atlanta, Georgia) — The fact that mental health parity has not yet been implemented, despite the law being passed 4 years ago — and even after several follow-up calls to the White House — is a source of "huge frustration," reports former President Jimmy Carter and his wife Rosalynn.
The Carters discussed their thoughts on global healthcare, and specifically on mental health issues, during a presentation here at the Association of Health Care Journalists (AHCJ) annual meeting.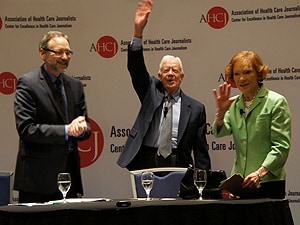 "Mental health has always been a controversial issue. And it still is. Stigma and the fear factor remain," said Carter.
Mrs. Carter defined parity under healthcare reform as anyone being able to get whatever healthcare they need. "But fighting for parity in Washington is frustrating," she said.
"Coverage for mental health problems should be the same as for physical problems, but the public needs to speak up," Carter told a standing-room-only crowd.
"What is holding up equal coverage? I think it's the political consequences of an election year. Excuse me for being so blunt. "
When asked by the AHCJ session moderator why he does not just pick up the phone and call the White House directly about this, Carter replied with a smile, "They take my wife's calls more than mine."
Global Health Efforts
Mrs. Carter has been an advocate for the mentally ill since before her husband was president, back in 1977. After leaving office, they started the Carter Center, a not-for-profit, nongovernmental organization, in partnership with Emory University in Atlanta, Georgia.
The Carter Center is dedicated to global health efforts and "bringing hope to people."
Last year, the Center was responsible for treating 11.5 million people in Africa for river blindness and has built more than 500,000 latrines.
"I am the most famous latrine builder on earth. And I'm known more for that than for initiating peace talks at Camp David," said President Carter.
The Carter Center has also helped to almost totally eradicate the guinea worm, making dracunculiasis (guinea worm disease) only the second disease to be stopped worldwide. In total, the Center has various programs in about 73 countries and spends almost 85% of its $100 million-a-year budget on healthcare.
Carter added that his main focus today is on human rights and on eradicating neglected diseases. His wife reported that her heart still belongs to mental health issues, even though the topic contains many upsetting factors.
"I've worked on mental health issues for 41 years. And now we're working on getting final parity implementation. That's my passion but also my biggest frustration. We fought hard to get it passed years ago. But now there's this holdup," said Mrs. Carter, noting that she blames this largely on insurance companies.
"You don't know how many times I've called the White House to talk about this, but nothing seems to be done," she added.
Stigma Still a Concern
Carter noted that stigma related to some psychiatric disorders is "slowly getting better." However, his wife added that this is not the case "for more serious disorders."
"The more people learn about schizophrenia and bipolar disorder, the more they fear it. People don't want to know there's something wrong with the brain," she said. "I just don't know how to end stigma, even after all these years. I really don't."
The Carters said that recent reports of violent acts from individuals who had stopped taking their medications add to the public's fears and underscore the importance of treatment for everyone who needs it.
However, they also noted that a facility with bad conditions is never the answer — and revealed that the first movie they screened at the White House was One Flew Over the Cuckoo's Nest.
When asked about the recent closings of several state hospitals across the country, Mrs. Carter said she believes "it's better to be homeless than 1 of 12,000 in a mental facility that should hold only 3,000."
"We've developed a vision of a really good mental health program with our state [of Georgia], and we're pleased that we got an increase in our budget. We hope others can also get an increase and improve programs for themselves," she said.
"Integrated care is also a possible solution. Primary care doctors and mental health physicians working together lets people in the community go in, get help, and then go back out into the community."
Overall, the Carters said that success stories need to be reported and celebrated more.
"Many famous people have mental illness and succeed. Mike Wallace and Abraham Lincoln suffered from depression," Carter noted.
"The more we hear about success stories, the more we can fight stigma," said Mrs. Carter. "Recovery is possible. I think if more people realized that, they'd try to get help,"
The moderator concluded the session by asking the Carters why there is "a lot of opposition" to the Affordable Care Act.
"I don't know," answered Carter. "I'm not in charge anymore. But I would say there's a lot of propaganda going on. Republicans and certain news shows have misled the American people about it."
"I preferred a single pay plan, or 'Medicare for all.' It would have been much simpler, and it was promised previously by President Obama. He bowed under pressure, which I understand. But it didn't happen. And I'm not confident that the Supreme Court will make the right decision on health law. If they strike it down, we'll have to start over, and more people in this country will end up suffering," he said.
Medscape Medical News © 2012 WebMD, LLC

Send comments and news tips to news@medscape.net.
Cite this: Politics Holding Up Mental Health Parity, Says Jimmy Carter - Medscape - Apr 20, 2012.