April 17, 2012 — On the heels of the US Food and Drug Administration (FDA) approval of the amyloid tracer agent florbetapir (Amyvid, Eli Lilly), another biomarker is showing promise in detecting beta-amyloid deposition in the brains of living patients.
A study using florbetaben shows that imaging data obtained before death by using this new tracer with positron emission tomography (PET) correlate well with autopsy findings.
"We've been really desperate to have a biomarker — whether it be spinal fluid, blood, magnetic resonance imaging, PET — something that would increase our accuracy, and this florbetaben study helps in that arena," said lead researcher, Marwan Sabbagh, MD, director of Banner Sun Health Research Institute in Sun City, Arizona.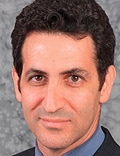 Full results of the study will be released at the upcoming annual meeting of the American Academy of Neurology. The study was funded by Bayer Healthcare. Another company, Piramal Healthcare Ltd, has recently signed an agreement to acquire worldwide rights to the molecular imaging research and development portfolio of Bayer Pharma AG through a newly created subsidiary called Piramal Imaging SA, a news release from Piramal notes.
"Game Changer"
Clinicians have struggled with diagnosing Alzheimer's disease with confidence while a patient is still alive, Dr. Sabbagh noted. "Products like these give us ammunition in our arsenal to make a diagnosis with more confidence," he said. "The concept of amyloid imaging is a game changer; it will allow physicians to use in vivo diagnostic tools in ways that we have never, ever, done before and I think it really is exciting."
As with other companies developing an amyloid biomarker, the makers of florbetaben "started imaging people near death, gathering specimens, and comparing side by side, brain by brain, slice by slice — to see if it was positive on a scan was it positive on an autopsy and vice versa: if it was negative on a scan, was it negative on an autopsy," said Dr. Sabbagh.
The results of this new research demonstrate that florbetaben was "highly accurate," he said.
The phase 3 study included 204 end-of-life patients from 17 centers across 4 continents who underwent magnetic resonance imaging (MRI) and florbetaben PET before death. Ten healthy individuals were also included to support specificity.
The results of these scans were then compared with the amount of plaque found in 31 participants who reached autopsy. The analysis included 186 brain regions from donors and 60 regions from the healthy volunteers.
The autopsy was photo-documented in detail to allow for alignment with the MRI/PET images. Beta-amyloid in the tissue was detected by silver-staining and immunohistochemistry. The presence or absence of beta-amyloid was determined by a consensus panel of 3 neuropathologists blinded to all clinical and imaging data.
Two Methods
The study analyzed data in 2 ways, said Dr. Sabbagh. One, the visual assessment method, was a side-by-side comparison of whole-brain imaging features (amyloid positive/negative) to autopsy features (amyloid positive/negative). In that analysis, they found 100% sensitivity and 92% specificity, he said.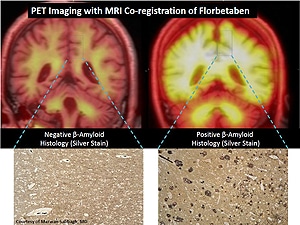 The study team went a step further and performed a side-by-side comparison (image/autopsy) in 6 different regions in the brain. This type of comparison was used to verify that florbetaben actually detects in the area of disease — that is, the gray matter — explained Cornelia Reininger, MD, PhD, associate professor of surgery, senior director of clinical research, Bayer Pharma AG, Global Clinical Development.
"It was designed to directly compare (region by region) in 6 prespecified regions of the brain — whether florbetaben gray matter uptake in the scan actually correlated with the presence/absence of beta-amyloid in the respective histopathology," she told Medscape Medical News. "The methodology is unique, provides exact verification of gray matter (beta-amyloid specific) vs white matter uptake (nonspecific) of the tracer compared to histology."
That second analysis found that florbetaben depicted amyloid on the scans with 77% sensitivity and 94% specificity.
This double approach is "a very exact" method of verifying both the efficacy of the tracer to bind amyloid and the visual assessment that doctors will in the future be using to read the scans, said Dr. Reininger.
Although the agent is not yet approved, Dr. Sabbagh said he and his colleagues "will be anticipating that the company will move forward with filing and registration with the FDA."
Although cost and availability may be issues to start with, these should eventually be ironed out, said Dr. Sabbagh. "At the beginning, you will see some challenges in taking it up, but over time, I think these will become commonly used technologies."
As with similar agents, training of physicians to read the scans accurately will be another issue. It's important to be able to look at a scan and say whether it's positive or negative, said Dr. Sabbagh. Using "binary reading" (positive or negative) rather than a "numerical scale" should in some ways simplify the training process, he said.
Dr. Sabbagh said he's not concerned that this agent is being developed in the absence of a truly effective Alzheimer's disease treatment. "Diagnostics and therapeutics are created in parallel, never together," he said.
He also noted that phase 3 results of 2 large immunotherapy studies using investigational agents bapineuzumab and solanezumab will be reported later this year.
Comparable Agents
Asked to comment on this research, Liana Apostolova, MD, Alzheimer's Disease Research Center, University of California, Los Angeles, said florbetaben is a chemical to similar to the already approved florbetapir.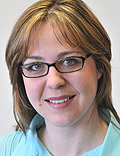 "They are pretty comparable" in that they both bind to amyloid in the brain, she told Medscape Medical News. She stressed, however, that few if any head-to-head studies have been done.
Asked for his opinion, David Knopman, MD, Department of Neurology, Mayo Clinic, Rochester, Minnesota, said he found the accuracy of florbetaben to detect amyloid reported in this study to be "indeed encouraging."
The study will be released as part of the Emerging Science Program (formerly known as Late-Breaking Science) at the American Academy of Neurology 64th Annual Meeting in New Orleans, April 21 to April 28, 2012.
Medscape Medical News © 2012 WebMD, LLC

Send comments and news tips to news@medscape.net.
Cite this: Another Amyloid Tracer Shows Promise in Alzheimer's - Medscape - Apr 17, 2012.