March 26, 2012 (Chicago, Illinois) — MI in pregnancy or in the postpartum period creates a host of issues that are different from a conventional heart attack, data from a new survey of such cases show.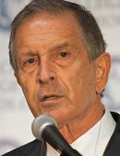 Presenting the results of the latest survey on this topic at the American College of Cardiology 2012 Scientific Sessions, Dr Uri Elkayam (University of Southern California, Los Angeles) said: "MI in pregnancy is a different entity. It requires specialist knowledge and treatment."
Elkayam presented data on 150 cases of MI during pregnancy or in the three months after pregnancy that occurred between 2005 and 2011. This is the last of three surveys on this subject that Elkayam has conducted, which have included a total of 400 cases.
The mean age of the women in the current survey was 34, and 75% were over 30. Elkayam stressed that MI was rare in pregnancy, occurring in only one in about 16 000 to 20 000 women. "But this is four times higher than in nonpregnant women of the same age, and when it happens there are very serious consequences."
Different Mechanisms
The mechanisms behind MI in pregnancy can be different from typical MI, with coronary dissection the cause in about half of cases. Other causes include coronary spasm as well as the more conventional clot formation, Elkayam reported. MIs in pregnancy also tend to be big, affecting a large area of muscle, leading to heart failure and cardiogenic shock and thus a high mortality rate. In the current survey, mortality was 7%, which Elkayam pointed out is much higher than in comparable nonpregnant women having an MI, in whom the mortality rate would be more like 1% to 2%. However, mortality rates have dropped considerably since his first survey, conducted in the 1990s, which showed a death rate of 20%.
He explained that MI in pregnant women can often be misdiagnosed as heartburn and shortness of breath, which are common symptoms in pregnancy. "It is important for physicians and women to realize that chest pain must be taken seriously even in young women, especially if they are pregnant."
The approach to managing MI in pregnancy needs to be different from the conventional approach, Elkayam noted. "Some of the conventional treatment options are either not helpful or could be detrimental for pregnant women. For example, thrombolysis would make coronary dissection worse and would be of no use for coronary spasm but would still carry a very real risk of bleeding."
Angiogram Recommended for STEMI
He says it is important for all STEMI patients to have an angiogram to establish the mechanism. But because of the fragility of the coronary artery in pregnancy, extra care is needed in any intervention, even an angiogram, as this itself can cause coronary dissection. Because there are so few cases, the best course of action is not known for sure. "For coronary dissection, a stent can be placed or it can be left alone," Elkayam said. "If a patient is unstable and there is an ongoing problem, the physician may choose to put a stent in. But if the patient is stable, it might be better to leave well enough alone."
He added that about 40% of the time, the heart attack is a non-STEMI, and in these cases, he would not recommend an angiogram, with exercise testing and echo probably a better option for risk assessment.
Heartwire from Medscape © 2012 Medscape, LLC

Cite this: MI in Pregnancy 'a Different Entity' - Medscape - Mar 26, 2012.