March 2, 2012 — Neurologists from across the country headed to Washington this week to warn lawmakers of the potential for a nationwide shortage of neurologists and long wait times for neurologic care.
"We've already seen this in primary care," American Academy of Neurology (AAN) president Bruce Sigsbee, MD, told Medscape Medical News, "and we're starting to see it in neurology as well."
More than 140 neurologists in Washington Monday and Tuesday met with members of Congress in what has become an annual even known as Neurology on the Hill hosted by the AAN.
Congressman Paul Broun, MD, a Republican representing Georgia, helped prepare the physicians, many of them new to politics, for Capitol Hill.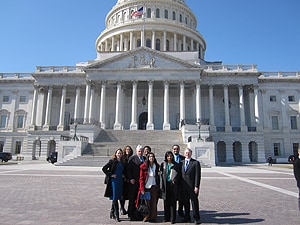 An estimated 1 in 6 people are currently affected by neurologic disease, but fewer medical students are entering neurology at a time when the number of aging baby boomers is increasing and roughly 50% of senior citizens aged 85 years have Alzheimer's disease, Dr. Sigsbee pointed out.
According to a recent study, the average wait time for a new patient visit to a neurologist is 28 days — nearly double the average time to an appointment for cardiology. The wait time for neurology is also higher than that for many other specialties, such as orthopedic surgery at about 17 days, family practice at 20 days, and dermatology at 22 days.
Many suggest that problems with Medicare reimbursement are fueling delays and putting certain specialties at risk. The current fee-for-service model disproportionately values procedures, neurologists argue.
"Cognitive care, or face-to-face time with neurologists, is underappreciated and undervalued by the current Medicare payment system, but is essential in treating people with Alzheimer's, Parkinson's, and hundreds of other neurologic disorders," Dr. Sigsbee said.
Since 2003, more than 500 members of the American Academy of Neurology have attended this event. A complete list of 2012 Neurology on the Hill attendees is available online.
Medscape Medical News © 2012 WebMD, LLC

Send comments and news tips to news@medscape.net.
Cite this: Neurologists Head to Congress - Medscape - Mar 02, 2012.