Editor's note: One of the physicians indicted in this case, Joseph Vitoulis, was acquitted in 2013.
February 29, 2012 — A grand jury has indicted 10 physicians and 26 others in a New York City federal court on charges of trying to rip off automobile insurers to the tune of roughly $279 million, and making off with about $113 million.
As in many other recent healthcare fraud cases, physicians are not the ringmasters in this alleged criminal enterprise. Rather, the indictment, unsealed today, states that they are fronts and underlings for a cadre of nonphysicians, primarily "individuals of Russian descent" with Mafia-style nicknames like "Russian Mike," "Fat Mike," "Skinny Mike," "KGB," and "Nose."
The nonphysician defendants are accused of operating more than 100 clinics — "medical fraud mills," in the words of the indictment — in the New York City area that billed auto insurers for treating patients involved in car accidents. In general, the accidents were real, not staged. However, the treatments were either never provided or were unnecessary, according to the indictment.
Authorities call the clinics "no-fault clinics" because they were reimbursed by auto insurers under a no-fault law in New York that entitles accident victims to as much as $50,000 in medical benefits regardless of who caused the accident.
State law also requires all medical clinics to be owned and operated by a licensed medical practitioner. To skirt that restriction, the nonphysician defendants calling the shots paid the physician defendants a fee, a salary, or both, in exchange for pretending to be the owner-operators. The physicians essentially lent their signature for the sake of incorporating a clinic, opening a bank account in its name, and leasing property.
The physicians also signed insurance claims for treatment under the no-fault law, wrote excessive and unnecessary prescriptions, and referred patients to other "fraudulent clinics" for MRIs, X-rays, acupuncture, chiropractic therapy, pain management, and durable medical equipment, all with the goal of running up the tab to $50,000. These secondary or "modality" clinics also were owned by ringleader defendants, according to the indictment.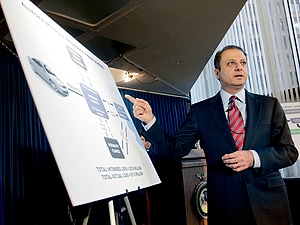 In a press conference today, Preet Bharara, the high-profile US attorney for the Southern District of New York, highlighted the role of the physicians in what he called a "colossal" fraud.
"The scheme relied on a cadre of corrupt doctors who essentially peddled their medical licenses like a corner fraudster might sell fake IDs, except those medical licenses allowed unlawful entry, not to a club or a bar, but a multibillion dollar pool of insurance proceeds," said Bharara, who recently made the cover of Time magazine for his crime-fighting exploits.
New York City Police Department Commissioner Raymond Kelly described the physicians' compensation as easy money.
"A real doctor would be paid a monthly retainer, up to $10,000, to show up just to sign referrals," said Kelly.
Finder's Fee of Up to $20,000 for a Willing Physician
The 10 physicians named in the indictment are:
Sergey Gabinsky, MD

Tatyana Gabinskaya, MD

Joseph Vitoulis, DO

Lauretta Grzegorczyk, MD

Eva Gateva, MD

Zuheir Said, MD

David Thomas, MD

Billy Geris, MD

Mark Shapiro, MD

Robert Della Badia, MD
The physicians, along with 2 chiropractors and 2 acupuncture practitioners, were charged with conspiring to commit healthcare and mail fraud. They face a maximum penalty of 30 years in prison.
The clinicians answered to a group that one FBI official today described as "Russian criminals." They recruited the physicians — offering a finder's fee of up to $20,000 — and hired "runners" who were paid up to $3000 for every accident victim they could bring in for treatment, according to authorities. They also referred patients to attorneys who filed personal-injury lawsuits and in turn paid the ringleaders thousands of dollars in kickbacks. The attorneys encouraged patients to receive more treatment to strengthen their court case.
This "no-fault organization" consisted of 2 allied branches, according to the indictment. One was directed by Mikhail Zemlyansky ("Russian Mike") and Michael Danilovich ("Fat Mike") and the other by Yuriy Zayonts ("KGB") and Mikhail Kremerman. They and 4 other individuals, including attorney Matthew Conroy, were charged with racketeering and conspiracy to commit money laundering as well as conspiracy to commit healthcare and mail fraud.
The rest of the 36 defendants, which included 2 other attorneys, were charged with different combinations of the above charges, except for racketeering.
Medscape Medical News © 2012 WebMD, LLC

Send comments and news tips to news@medscape.net.
Cite this: Ten Physicians Indicted as Fronts for 'Russian Criminals' - Medscape - Feb 29, 2012.