February 14, 2012 — New data from the Mayo Clinic Study on Aging suggest that consuming between 2100 and 6000 calories per day may double the risk for mild cognitive impairment (MCI) in adults aged 70 years and older.
"We observed a dose-response pattern...: the higher the amount of calories consumed each day, the higher the risk of MCI," study author Yonas E. Geda, MD, from the Mayo Clinic in Scottsdale, Arizona, and a member of the American Academy of Neurology, noted in a statement.
The current study, Dr. Geda told Medscape Medical News, suggests that in elderly persons aged 70 years and older, "excessive caloric intake may be associated with higher risk of MCI."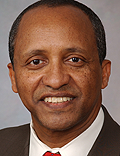 "This should be considered a preliminary finding until confirmed by other studies," he emphasized. "However, for many other medical reasons it is a good idea to consume in moderation," Dr. Geda said.
The study results were released February 12, ahead of their presentation at the American Academy of Neurology (AAN) 64th Annual Meeting, to be held from April 21 to 28, 2012, in New Orleans, Louisiana.
Support for Moderation
Some prior studies have noted an association between different dietary patterns and risk for MCI. For example, researchers from Columbia University in New York City recently reported that elderly individuals who follow a healthy Mediterranean diet are less likely to develop MCI, and are also less likely to convert from MCI to Alzheimer's disease (AD).
However, according to Dr. Geda and colleagues, the association between daily energy consumption and MCI "remains unknown."
To investigate, they turned to the Mayo Clinic Study on Aging, an ongoing, population-based cohort study in Olmsted County, Minnesota. The analysis involved 1233 nondemented participants aged from 70 to 89 years; 1070 patients were cognitively normal, and 163 had MCI.
All participants reported their caloric consumption on the Food Frequency Questionnaire within 1 year preceding the date of interview and were grouped into 3 tertiles of caloric intake.
from 600 to less than 1526 kcal/day (lowest tertile, reference group)

from 1526 to 2142.5 kcal/day (middle tertile group), and

more than from 2142.5 to 6000 kcal/day (highest tertile group).
Compared with the reference group, there was no significant increase in the risk for MCI for those in the middle tertile (odds ratio [OR], 1.05; 95% confidence interval [CI], 0.63 - 1.77; P = .84).
However, daily energy consumption in the highest tertile was associated with doubling of risk for MCI (OR, 2.41; 95% CI, 1.51 - 3.86). There was a dose–response pattern of increasing odds of MCI with increasing caloric consumption (P for trend < .001), the authors say.
The analyses were adjusted for age, sex, education, depression, apolipoprotein E genotype, history of stroke, heart disease, diabetes, and body mass index.
New and Consistent Findings
Reached for comment on the study, Gary W. Small, MD, from the David Geffen School of Medicine at the University of California, Los Angeles, said: "These new findings are consistent with previous work indicating the importance of diet in protecting brain health."
"We know that diet and physical exercise — 2 key Alzheimer's prevention strategies — also prevent diabetes, which increases the probability of developing Alzheimer's dementia," said Dr. Small, who is director of the university's Longevity Center. "Healthy lifestyle habits not only protect our brains but our bodies, too, as we age."
The study was supported by the National Institutes of Health, the Robert Wood Johnson Foundation, and the Robert H. and Clarice Smith and Abigail van Buren Alzheimer's Disease Research Program. The authors and Dr. Small have disclosed no relevant financial relationships.
American Academy of Neurology (AAN) 64th Annual Meeting: Abstract 3431. April 21 - 28, 2012.
Medscape Medical News © 2012 WebMD, LLC

Send comments and news tips to news@medscape.net.
Cite this: Overeating Tied to Increased Risk for Memory Loss - Medscape - Feb 14, 2012.