February 14, 2012 (Houston, Texas) — The implementation of a formal process for identifying and managing sepsis in the emergency department (ED) and intensive care unit (ICU) can save money and, more important, lives, researchers reported here at the Society of Critical Care Medicine 41st Critical Care Congress.
David Carlbom, MD, from Harborview Medical Center in Seattle, Washington, told Medscape Medical News that 18 months after he and his team instituted a "code sepsis" protocol to organize early and aggressive sepsis care, the average cost to treat a patient fell by more than $55,000, and the mortality rate in the ED went from 31% to 13%.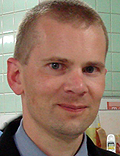 "We had a very high incidence of sepsis at our hospital because we are a regional critical care referral center," Dr. Carlbom said in an interview after his poster presentation. "The sepsis rate was 37.58 per 1000 patients, which is above the 75th percentile. We really wanted to improve the care of patients in the emergency department arriving with severe sepsis, so we gathered an interdisciplinary team and came up with a sepsis-care protocol that involved educating our ED nurses and physicians."
In 2009, Harborview created an early goal-directed therapy sepsis protocol using systemic inflammatory response syndrome screening criteria to guide and standardize therapy in the ED.
In addition, a mechanism to activate the critical care team, which consisted of a critical care physician, an ICU nurse, and a pharmacist, was created to respond to patients identified as high risk who were failing initial sepsis treatment.
If patients had low blood pressure or elevated lactate levels after antibiotics and fluids, the team activated the code sepsis protocol.
The protocol also placed the pharmacy on alert to expedite antibiotic preparation, and notified the nursing supervisor to arrange for rapid ICU admission.
All staff involved with the protocol received education once a month.
"Every time we did education, we had a better identification of severely septic patients, so we now do this once a month — the first Tuesday of the month is sepsis day," said Dr. Carlbom.
Implementation of the protocol shortened the mean length of stay — from 25 to 8 days. In the ICU, the average length of stay fell from 13 to 4 days.
The average cost to treat a patient without the protocol was $97,725; with the protocol, that dropped to $41,966.
"Conservatively, if we had 200 cases a year, and we think that we are close to that at Harborview, code sepsis would save about $10 million," he said.
Elizabeth Cowboy, MD, medical director of Aetna, in Washington, DC, told Medscape Medical News that "this study is a wonderful example of how prompt use of goal-directed therapy and aggressive and focused team work can improve outcomes for patients with sepsis and, at the same time, save institutions important healthcare costs."
Dr. Carlbom and Dr. Cowboy have disclosed no relevant financial relationships.
Society of Critical Care Medicine (SCCM) 41st Critical Care Congress: Abstract 182. Presented February 6, 2012.
Medscape Medical News © 2012 WebMD, LLC

Send comments and news tips to news@medscape.net.
Cite this: Formation of a Code Sepsis Team Saves Lives - Medscape - Feb 14, 2012.