February 6, 2012 (Houston, Texas) — There appears to be no difference in clinical outcomes between trophic (low-volume) enteral feeding and full enteral feeding in critically ill patients with acute lung injury (ALI) who require mechanical ventilation, according to research presented here at the Society of Critical Care Medicine 41st Critical Care Congress.
The randomized open-label multicenter EDEN trial was published online February 5 in JAMA to coincide with its presentation.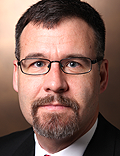 It puts an end, at least for now, to the debate that has been raging among critical care physicians about how much or how little enteral nutrition to give these patients, lead author Todd W. Rice, MD, MSc, from Vanderbilt University School of Medicine in Nashville, Tennessee, told Medscape Medical News at the meeting.
"Nutrition in the ICU, specifically in patients with lung injury, is this interesting area where we have a lot of dogma — we do things because we think they must be right — but not much of it has ever been truly studied," Dr. Rice said.
"The data for how much enteral foods we are supposed to give patients in these settings — ICU, lung injury on the ventilator — are all over the map," he noted.
"There are studies that say a little bit is better; there are studies that say as much as possible is better. We thought this was an area that was ripe for investigation," he said.
After much argument, Dr. Rice and his colleagues from the National Heart, Lung, and Blood Institute Acute Respiratory Distress Syndrome Clinical Trials Network Writing Committee agreed that the best hypothesis was that giving less nutrition would get patients off mechanical ventilation sooner and improve clinical outcomes.
The study, which was conducted from January 2008 to April 2011, involved 1000 adults with ALI who required mechanical ventilation within 48 hours of their injury.
They were randomized to receive either trophic enteral feeding (n = 508) or full enteral feeding (n = 492) for the first 6 days of mechanical ventilation. After this time, all patients who were still being ventilated were managed according to the full feeding protocol.
The researchers found that at the end of the 28-day study period, there was no difference between the 2 groups in terms of time on the ventilator, 60-day mortality, or infection.
However, trophic feeding was associated with fewer gastrointestinal problems.
In the first 6 days, the full-feeding group received about 1300 kcal/day and the trophic-feeding group received about 400 kcal/day (P < .001).
The number of ventilator-free days with initial trophic feeding was 14.9 (95% confidence interval [CI],13.9 to 15.8) and with full enteral feeding was 15.0 (95% CI, 14.1 to 15.9; P = .89).
Additionally, 60-day mortality was 23.2% with trophic feeding (95% CI, 19.6% to 26.9%) and 22.2% with full feeding (95% CI, 18.5% to 25.8%; P = .77).
There were no differences in infectious complications between the 2 groups.
Despite receiving more prokinetic agents, the full-feeding group experienced more vomiting (2.2% vs 1.7% of patient-feeding days; P = .05), gastric residual volumes (4.9% vs 2.2%; P < .001), and constipation (3.1% vs 2.1%; P = .003).
The full-feeding group also had higher mean plasma glucose levels and required more insulin over the first 6 days.
Adequate Nutrition in First 6 Days is Key
"Low-volume feeding didn't actually make them worse, but it didn't improve them either, so it appears that it might not matter," said Dr. Rice. "Providing some nutrition for the first 6 days is the thing to do. How much you provide doesn't make a huge difference in the outcome."
There are other nutrition areas that need to be explored, including what to feed and when to start feeds, he added.
"We think starting them as early as possible is the right thing, but we don't really know. Still, I think our study goes a long way toward advancing the notion that how much we give isn't necessarily a critical component to determining an outcome of a patient."
In an accompanying editorial, Richard D. Griffiths, MD, from the University of Liverpool, United Kingdom, notes that providing effective nutritional support for critically ill patients is "a difficult aspect of the overall management of complex patients."
Dr. Griffiths concludes: "The current study by Rice et al., taken together with existing data from other recent rigorous studies, highlights the need to challenge commonly used nutritional support practices and to achieve an individualized, evidence-based approach for optimal nutritional therapy in patients with ALI."
The study was funded by the National Heart, Lung, and Blood Institute. Dr. Rice and Dr. Griffiths have disclosed no relevant financial relationships.
JAMA. Published online February 5, 2012. Abstract, Editorial
Society of Critical Care Medicine (SCCM) 41st Critical Care Congress: Abstract 47. Presented February 5, 2012.
Medscape Medical News © 2012 WebMD, LLC

Send comments and news tips to news@medscape.net.
Cite this: Fewer Calories Does Not Reduce Ventilator Use - Medscape - Feb 06, 2012.