February 5, 2012 (New Orleans, Lousiana) — Acute cerebral ischemia was more successfully treated with a new stent retriever, the Solitaire Flow Restoration device, than with the Food and Drug Administration (FDA)–approved Merci Retrieval System, according to a head-to-head comparison study.
Although the study was a noninferiority trial, the experimental device demonstrated superiority in numerous outcomes, said Jeffrey L. Saver, MD, professor of medicine and director of the Stroke Center in the Geffen School of Medicine at the University of California, Los Angeles.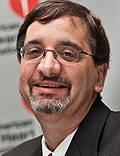 "With these results we have, for the first time, a highly effective cerebral recanalization procedure for ischemic stroke. TPA [tissue plasminogen activator] only reopens arteries partially 40% of the time and completely 5% of the time," Dr. Saver commented at a press briefing. "This device reopens arteries completely 60% of the time. It's a dramatic change, and once this becomes available I think it will be a game changer."
These results, from the Solitaire With the Intention for Thrombectomy (SWIFT) trial, were presented here at the International Stroke Conference (ISC) 2012.
Stent Retriever
Solitaire is a self-expanding stent retriever designed to yield rapid flow restoration in acute cerebral ischemia, and is already approved in Europe. The device has shown high rates of recanalization in preclinical models and open clinical series, he said.
The Merci device is more of a "corkscrew" guided by a balloon-tipped wire to snare and remove the clot.
Describing the differences between the devices, Dr. Saver noted that although the helical shape of the Merci device helps to reduce the pressure on the arterial wall, the device "has a tendency to uncoil and to fail to engage the clot" when it is withdrawn. "The Solitaire, in contrast, is a kind of columnar metal cage and when expanded, it engages the clot at multiple strut points, which may be why it is more often effective in pulling the clot out."
The multicenter SWIFT trial was the first US trial comparing the 2 devices.
The SWIFT study aimed to show that the Solitaire was not inferior to the Merci device and was safe and effective in acute ischemic stroke patients requiring mechanical thrombectomy. It was a randomized controlled trial with blinded primary endpoint ascertainment.
Patients were aged 22 to 85 years, had a National Insititutes of Health (NIH) Stroke Scale score of 8 to 29, were seen within 8 hours of symptom onset, and were ineligible for or had failed tPA.
The primary efficacy endpoint was Thrombolysis in Myocardial Infarction (TIMI) 2 or 3 flow, by blinded core laboratory assessment, in all treatable vessels, without symptomatic intracranial hemorrhage, after up to 3 passes of the assigned device. Rescue therapy with intra-arterial lysis or regulatory approved devices was permitted after reperfusion ascertainment, the primary endpoint.
SWIFT was stopped early because of robust results. A prespecified efficacy stopping rule triggered an early halt to the trial almost a year earlier than planned, because of significantly better outcomes with the new device, Dr. Saver reported.
The study population of 144 patients was enrolled from 18 sites across the United States. Patients were randomly assigned to treatment with the Solitaire device (n = 58) or Merci device (n = 55).
The 2 arms were similar in age, pretreatment NIH Stroke Scale score, onset to treatment time, and 13 additional demographic and medical history variables, but they differed in history of atrial fibrillation, which occurred in 45% of the Solitaire group and 67% of the Merci group (P = .022).
The primary efficacy outcome — successful recanalization without symptomatic intracranial hemorrhage — was achieved more often in the group treated with Solitaire than with Merci, Dr. Saver reported.
This endpoint was met by 60.7% of the Solitaire group vs 24.1% of the Merci group (P < .0001 for noninferiority), according to the blinded core laboratory results. Based on investigator determination, the recanalization rates were 83.3% and 48.1%, respectively (P < .0001).
"When we observed the statistical significance for non-inferiority, we did a nested superiority hypothesis test and found the P value for that was also highly statistically significant (P = .0001), indicating a highly significant advantage for Solitaire over Merci in reopening arteries without causing symptomatic intracranial bleeding," he said.
SWIFT had an active comparator that has been established as a means of improving clinical outcomes, compared with best supportive care, he added. "This suggests that the SWIFT treatment arm differences reflect an additional benefit for Solitaire above that already conveyed by the Merci Retriever," he added.
At 90 days, overall adverse events, including intracranial bleeding, were similar.
Solitaire also led to better outcomes by other measures:
Lower mortality at 3 months: 17.2% vs 38.2% (P = .02 for superiority)

Symptomatic intracranial bleeding occurred in 1.7% vs 10.9% (P < .0001 for noninferiority)

Good mental/motor functioning at 90 days in 58.2% vs 33.3% (P = .0001 for noninferiority)
The new device was also more likely to recanalize blood vessels on the first attempt and required less use of rescue therapy.
"Initial treatment with Solitaire rather than Merci is associated with more frequent reperfusion, less symptomatic intracranial hemorrhage, reduced mortality, and increased good final neurologic outcomes 3 months after stroke," Dr. Saver concluded.
Comparative Effectiveness
"We are now looking at second-generation and maybe third-generation clot retrieval devices," Ralph Sacco, MD, professor and chair of neurology at the Miller School of Medicine at the University of Miami in Florida, told Medscape Medical News.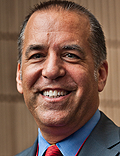 "Over time, manufacturers and investigators have gotten better at designing these," he said. "The SWIFT trial tested a new device against the oldest device, which probably still has the most widespread use, although another approved device, the Penumbra, is gaining use."
He declined to say whether a more relevant comparison would be the Solitaire vs the Penumbra, noting that when the SWIFT study was initiated, the Merci was probably still the standard of care.
"But as we get more of these devices into public usage," he said, "we need to begin comparative effectiveness studies across all of them."
Covidien sponsored the trial. Dr. Saver has received research grants from, and served as a consultant to, Covidien.
International Stroke Conference (ISC) 2012: Abstract LB8. Presented February 3, 2012.
Medscape Medical News © 2012 WebMD, LLC

Send comments and news tips to news@medscape.net.
Cite this: Solitaire Clot Retrieval Device Outperforms Merci in Stroke - Medscape - Feb 05, 2012.