February 1, 2012 (New Orleans, Louisiana) — In a randomized trial, treatment with clazosentan, a still-investigational endothelin receptor antagonist, reduced the risk of vasospasm after aneurysmal subarachnoid hemorrhage (SAH) but did not improve functional outcomes.
The authors report that clazosentan, especially at 15 mg/h, significantly reduced morbidity related to post-SAH vasospasm at 6 weeks, but no effect was seen with the 5 mg/h dose.
In addition, "neither dose improved functional outcomes," noted lead investigator R. Loch Macdonald, MD, head of neurosurgery at St. Michael's Hospital at the University of Toronto in Canada, at a press conference here. He suggested that the 3-fold greater use of rescue therapy in the placebo arm of the study may have influenced this outcome.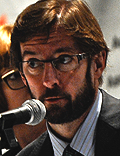 The new results, from the Effect of Clazosentan on Clinical Outcome after Aneurysmal Subarachnoid Hemorrhage and Endovascular Coiling trial (CONSCIOUS-3), were reported at the American Stroke Association's International Stroke Conference (ISC) 2012. The study was funded by Actelion Pharmaceuticals.
Few Alternatives
"We don't have very effective treatments for this complication," Dr. Macdonald said of vasospasm after SAH. "The treatment in use now [nimodipine] is very expensive and risky and doesn't work very well, and about half of the patients suffer permanent problems from it."
In a previous study, CONSCIOUS-1, clazosentan was shown to reduce angiographic vasospasm after ruptured aneurysm in a dose-dependent fashion. The current study aimed to assess whether clazosentan improved vasospasm-related morbidity and all-cause mortality after aneurysmal SAH.
The CONSCIOUS-3 study was a randomized, double-blind, placebo-controlled trial that included 571 patients aged 18 to 75 years with SAH caused by ruptured saccular aneurysm, which was secured by endovascular coiling. Patients were randomly assigned to receive intravenous clazosentan 5 mg/h (n = 194), clazosentan 15 mg/h (n = 188), or placebo (n = 189) for ≤2 weeks.
The primary endpoint was a composite of all-cause mortality, vasospasm-related new cerebral infarct, delayed ischemic neurological deficit caused by vasospasm, and rescue therapy in the presence of confirmed angiographic vasospasm. Patients were evaluated for the endpoint 6 weeks post-SAH and were further assessed centrally by a blinded critical events committee. The main secondary endpoint was the extended Glasgow Outcome Scale (GOSE) at week 12.
CONSCIOUS-3 was halted prematurely after the parallel CONSCIOUS-2 study, in which patients were treated with surgical clipping, showed only a trend for improvement in the primary endpoint of mortality or vasospasm-related morbidity at 6 weeks and no improvement in functional outcomes with clazosentan. The investigators planned a target 1500 patients in CONSCIOUS-3, but ultimately only 577 were enrolled and 571 treated.
Higher Dose Associated With Benefits
In this trial, a primary composite endpoint event occurred in 27% of the placebo group compared with 24% of the low-dose clazosentan group and 15% of the high-dose clazosentan group.
"Despite having less than half of the intended patients in the study, we were encouraged to see that at a high dose, there was a significant reduction in vasospasm in patients initially treated with endovascular coiling," Dr. Macdonald said.
The improvement was significant in the comparison of the 15 mg/h experimental group vs placebo, with an odds ratio of 0.474 (P = .007). The odds ratio for the 5 mg/h group was 0.786 and was not statistically significant (P = .340).
"When we broke out the 4 components of the primary endpoint, we saw no significant difference in the death rate, but all the other components were strikingly reduced in the 15 mg/h group," he observed.
At week 12, mortality rates were similar between groups, but delayed ischemic neurological deficits diminished in a dose-dependent manner.
Table. Mortality and Delayed Neurologic Deficit by Treatment
| | | | |
| --- | --- | --- | --- |
| Endpoint | Placebo | Clazosentan 5 mg/h | Clazosentan 15 mg/h |
| Mortality Rate (%) | 6 | 4 | 6 |
| Delayed Neurologic Deficits (%) | 21 | 18 | 10 |
Vasospasm-related new cerebral infarct occurred in 13% of the placebo group, 16% of the 5 mg/h group, and 7% of the 15 mg/h group. A 3-fold greater use of rescue therapy was seen in patients receiving placebo (21%) compared with the 15 mg/h clazosentan dose (7%).
Functional outcomes, however, were not improved with treatment. Poor functional outcome (GOSE ≤ 4) occurred in 24% of the placebo recipients, 25% of the 5 mg/h group (P = 0.748), and 28% of the 15 mg/h group (P = 0.266).
Treatment-emergent adverse events of specific interest for the placebo group, the 5 mg/h group, and the 15 mg/h group, respectively, were lung complications (21%, 36%, 37%), anemia (10%, 13%, 13%), and hypotension (7%, 11%, 16%).
According to Dr. Macdonald, greater benefits, especially improvements in neurological outcomes, might be observed with different doses and administration regimens, and in the absence of vasodilators. A study is ongoing in Japan.
Going forward, he said the manufacturer will have several options: to seek regulatory approval based on the small subset of patients in the coiling group receiving the higher dose (the 15 mg/h dose was not tested in the clipped patients); conduct another study using the higher dose in clipped and coiled patients; and use an endpoint other than GOSE at 90 days.
"GOSE is the traditional endpoint, which is accepted by the FDA, but it was not developed for patients with SAH and it is not sensitive to the kinds of deficits they have," he noted. "A better clinical outcome measure assessing patients' cognition and other functions likely to be affected by SAH may allow us to demonstrate a clinical benefit."
Hindsight 20-20
Steven Greenberg, MD, professor of neurology at Harvard Medical School, Boston, Massachusetts, commented on the problem of vasospasm and clazosentan as a potential solution. "This is an active area of research," Dr. Greenberg told Medscape Medical News. "We are understanding the biology of vasospasm at a higher level, and we hope that from the biology will come new drug approaches," he said in an interview.
"But a clinical trial is like steering the QE2," he cautioned. "It's such an expensive and difficult proposition, and in retrospect there are things that we might have done differently. If we had to do it again, the previous CONSCIOUS-2 study might have included the dose that looks fairly promising, but it did not, because in CONSCIOUS-3, there did seem to be a dose response," he suggested.
"It would be great, in an ideal world, to have a study of the 15-mg/h dose, to convince us this effect is real," Dr. Greenberg said. "And it would be an important advance to have a second drug for preventing vasospasm. Nimodipine has a significant effect but it's a small effect, and it does not prevent the majority of vasospasms."
The study was funded by Actelion Pharmaceuticals. Dr. Macdonald reported receiving research grants from Modest and Actelion Pharmaceuticals; having an ownership interest in Edge Therapeutic; and serving as a consultant or advisor for Actelion Pharmaceuticals. Dr. Greenberg has disclosed no relevant financial relationships.
International Stroke Conference (ISC) 2012. Presented February 1, 2012. Abstract #2421
Medscape Medical News © 2012 WebMD, LLC

Send comments and news tips to news@medscape.net.
Cite this: Clazosentan Reduces Vasospasm After Subarachnoid Hemorrhage - Medscape - Feb 01, 2012.