January 27, 2012 — Two new studies from a team of investigators from the University of British Columbia suggest 2 possible predictors for the development of metabolic syndrome in children prescribed second-generation antipsychotics (SGAs).
In the first study, which was published in the January issue of the Canadian Journal of Psychiatry and included more than 300 children with mental health disorders, those who were treated with SGAs had a 30-fold higher risk of having metabolic syndrome than their counterparts who did not receive such medications.
Of those treated with the drugs, a large waist circumference was a more sensitive test than a high body mass index in identifying who had metabolic syndrome.
In the second study, which was published online January 24 in Translational Psychiatry and included more than 200 child psychiatric inpatients, those carrying a specific gene variant were almost 6 times more likely to develop metabolic syndrome after taking SGAs than children without the variant.
"There are a lot of prescriptions happening, with many of them for off-label indications in children. So anything we can do to understand and mitigate long-term risk is really important," coauthor Constadina Panagiotopoulos, MD, assistant professor in the Department of Pediatrics at the University of British Columbia and clinician scientist at the Child & Family Research Institute, told Medscape Medical News.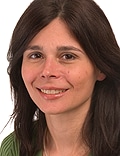 Dr. Panagiotopoulos added that waist circumference is a simple screening tool in this patient population and should become part of metabolic monitoring protocols.
"Clinicians need to be aware of the risks of [SGAs] and should carefully balance that against the benefits of these medications. And if they're going to continue prescribing these medications, they need to incorporate monitoring as a standard clinical practice," she said.
"Metabolic monitoring has been relatively low in adults and even lower in kids in tertiary care institutions. But we found that a child carrying weight around their middle is a risk factor for other metabolic complications and is a measurement that needs to be used."
Metabolic Complications
According to the investigators, prescriptions of atypical antipsychotics for children have risen in North America over the last decade by 6- to 10-fold.
"Despite limited approvals by the Food and Drug Administration for children, these medications are used to treat a wide variety of diagnoses and symptoms in a population with still growing and developing physiology," they write.
As reported by Medscape Medical News, several previous studies have suggested a link between these medications and various metabolic side effects in adults, including increased risk for cardiovascular disease. They have also been linked to rapid weight gain and increased incident diabetes in children.
Dr. Panagiotopoulos recently participated in developing the evidence-based Canadian Alliance for Monitoring Effectiveness and Safety of Antipsychotics in Children (known as CAMESA) guidelines. These recommendations on patient monitoring and management were published in Paediatrics and Child Health in November 2011 and in the Journal of the Canadian Academy of Child and Adolescent Psychiatry in August 2011.
"There has been a lot of push-back from people wondering if these measurements are appropriate and if they are really helping. So we wanted to look for simple ways we could have some flags to help us predict who is at higher risk," said Dr. Panagiotopoulos.
"The CAMESA guidelines advocate for waist circumference as a measurement that should be used. And I feel that this study adds some more credibility to that."
The investigators recruited 334 children treated at the Psychiatry Emergency Unit at British Columbia Children's Hospital between January 2008 and February 2010. This included 117 children receiving SGAs (65% boys; mean age, 12.6 years) and 217 children who had never been treated with the medications (48% boys; mean age, 14.2 years).
Of the children in the SGA group, 46.2% were being treated with risperidone, 35% with quetiapine, 12% with olanzapine, 0.9% with ziprasidone, and 6% with either a combination of risperidone and quetiapine or olanzapine and quetiapine.
All children admitted to the Psychiatry Emergency Unit undergo metabolic monitoring, including measurements taken for height, weight, blood pressure, and fasting blood work.
"Bigger Middles" Risky
Results showed that 19% of the group receiving SGAs had metabolic syndrome after a median treatment duration of 14 months compared with only 0.8% of the SGA-naive patients (odds ratio [OR], 29.7; P < .001).
They also had a significantly higher prevalence of overweight or obesity (50.5% vs 23.6%; P < .001) and an elevated waist circumference (40.7% vs 10.1%; P < .001), hypertriglyceridemia (33.7% vs 18.8%; P = .01), impaired fasting glucose (12.5% vs 0.7%; P = .005), and elevated blood pressure (41.2% vs 16.5%; P < .001).
Waist circumference at the 90th percentile or greater was found to be a significant predictor, correctly identifying 13 of 14 patients with metabolic syndrome included in this specific analysis, and was a more sensitive predictor than was body mass index (92.9% vs 68.8%).
A high-density lipoprotein cholesterol level of 1.03 mmol/L or less and a fasting glucose level of 5.6 mmol/L or more were also sensitive identifiers of metabolic syndrome.
"These data highlight the dangers of SGA treatment and the importance of standardized metabolic monitoring using sex- and age-adjusted tables in this population," write the investigators.
"It's basically determining if there are abnormalities occurring and then how to mitigate these risks," added Dr. Panagiotopoulos.
"There's been this idea that if a child doesn't look overtly obese, there's no need to worry. But the culture needs to change. On these medications, children's' middles often get bigger. So we need to start measuring that for abnormalities."
Routine Monitoring "Essential"
"What struck me most about this study was its baseline data," Arya M. Sharma, MD, PhD, professor of medicine and chair of the Obesity Research and Management Program at the University of Alberta in Edmonton, Canada, and scientific director of the Canadian Obesity Network, told Medscape Medical News.

"These kids who presented at a mental health clinic had a remarkably higher prevalence of obesity than you would find in the general pediatric population," said Dr. Sharma, who was not involved with this study.
He noted that past research "has long shown" that adults who are challenged by mental health issues have a much harder time controlling their weight compared with their healthy counterparts, and it was "nice" to see this information documented in children.
"Adult papers have also shown the risks of atypical antipsychotics. This is an unfortunate side effect of these compounds and has been a great clinical challenge. We don't completely understand why these drugs can increase propensity for weight gain, but it's not surprising to see that when you add them to the mix, the risk for metabolic problems can increase in both adults and children," said Dr. Sharma.
"Waist circumference as a metabolic measure has also been shown for a long time in the adult literature. Adults who tend to put excess fat around the abdomen seem to be at particular risk for diabetes, etc. So again, it's not surprising to see this in children."
He noted that it is important to realize that this does not just affect obese people; those with normal body weight but with a thicker waist have also been shown to be at increased risk for metabolic complications.
"So it is really important to measure waist circumference. That being said, amongst bigger kids this measure becomes less and less specific. So while it is important, we should realize it is not an absolute measure and a test for fasting glucose and for lipoprotein can be much more specific for these abnormalities," he explained.
"Overall, I'd say monitoring is essential for those using [SGAs]. The fact that this study was published in a psychiatric journal raises the point that one would hope metabolic monitoring would become routine clinical practice in a psychiatric, mental health setting," said Dr. Sharma.
Genetic Predisposition?
In the second study, Dr. Panagiotopoulos and colleagues sought to determine whether children with the methylenetetrahydrofolate reductase (MTHFR) C677T variant were at increased risk for developing metabolic syndrome when taking SGAs.
"We wondered if there were genetic mechanisms behind why some children seem to be at higher risk for getting these metabolic complications than other children. Not every child gets these complications and not every child gets obese," she explained.
The specific variant was chosen because of past research showing a link between it and metabolic syndrome in adults with schizophrenia, and between it and cardiovascular disease in adults even with no psychiatric illness.
Her investigative team assessed 209 children who were inpatients at the British Columbia Children's Hospital between April 2008 and June 2011. Of these inpatients, 105 were treated with SGAs (66.7% boys; mean age, 12.58 years) and 112 were SGA-naive (57.1% boys; mean age, 13.19 years).
Results showed that 15% of the children treated with SGAs had metabolic syndrome vs 2% of the SGA-naive children (OR, 8.113; P < .05).
Using DNA analysis, the researchers found that 8% of all study participants had the MTHFR C677T gene variant. Those with the variant who also used SGAs were significantly more likely to have metabolic syndrome than the children receiving SGAs but without the variant (OR, 5.75; P < .05).
The children with the gene variant also had higher diastolic blood pressure (P = .005) and higher fasting plasma glucose (P < .05).
"This is the first report of an underlying biological factor predisposing children to complications associated with SGA medication use. However, we need to do more research before this can be translated into clinical practice," said Dr. Panagiotopoulos.
She noted that because it is known that the MTHFR gene is involved in metabolizing the B-vitamin folate, the investigators are currently taking a more detailed dietary history from these children and conducting a study to answer "what's going on?" with the population's nutritional intake.
"If we can identify that perhaps there is a relationship with nutritional deficiency, then that's something that clinicians could take home. Right now it's a little premature for clinicians to do a test for this variant. But we think it's very promising for the future."
A free CAMESA-supported practical tool for clinicians is available on the British Columbia Children's Hospital Web site to help in assessing, screening, and monitoring for metabolic symptoms. Healthy Living Toolkits for Families and Professionals and other resources are also available and free of charge.
The first study was supported by The Lawson Foundation and the Canadian Diabetes Association. The second study was supported by the Child & Family Research Institute and the Canadian Diabetes Association. Dr. Panagiotopoulos reported receiving salary support from the Child & Family Research Institute and the Canadian Diabetes Association. Dr. Sharma has disclosed no relevant financial relationships.
Can J Psychiatry. 2012;57:34-44. Abstract. Transl Psychiatry. Published online January 24, 2012. Full text.
Medscape Medical News © 2012 WebMD, LLC

Send comments and news tips to news@medscape.net.
Cite this: New Predictors May Determine Metabolic Risk in Kids on Atypicals - Medscape - Jan 27, 2012.