January 17, 2012 — Covidien is voluntarily recalling cartridges of tissue-reinforcing staples intended for endoscopic thoracic surgery after receiving reports of 3 deaths and 13 serious injuries associated with their use in the thoracic cavity, the company announced yesterday.
The company also is contraindicating the use of the cartridges, called Duet TRS universal straight and articulating single-use loading units, for thoracic surgery. "The company has concluded that Duet TRS has the potential to injure adjacent anatomical structures within the thorax, which may result in life-threatening, post-operative complications," Covidien stated in a press release.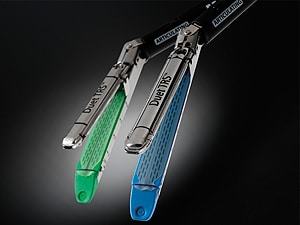 Company spokesperson Marta Newhart told Medscape Medical News that the reports of the fatalities and injuries were very recent, although she did not specify the time frame. "We wanted to act very quickly," Newhart said about the recall.
The recall and the contraindication do not apply to cartridges intended for laparoscopic surgeries in other indicated parts of the body, such as the abdomen. The company said that it believes that roughly one third of global procedures relying on the Duet TRS stapling and tissue-reinforcement technology are for thoracic indications. It said it has sold more than 500,000 units since the product's debut in 2009.
The Duet TRS staple cartridge, which is the business end of a reloadable surgical stapling gun, contains bands of a synthetic tissue-reinforcement material in addition to the staples themselves. The company said it is providing customers with information on alternative tissue-reinforcement products that may be safely used with its endoscopic staplers for thoracic surgery.
Covidien's Newhart told Medscape Medical News that although customers should return the cartridges to Covidien, they can keep the staple gun.
The recall applies to the following 8 versions of the cartridge:
DUET4535,

DUET4535A,

DUET4548,

DUET4548A,

DUET6035,

DUET6035A,

DUET6048, and

DUET6048A.
In September 2011, the FDA announced a class 2 recall of the same 8 versions of the Duet TRS cartridge because a breach in its packaging compromised the product's sterility. "We had very few reports of that happening," said Newhart, adding that the September 2011 recall is unrelated to the recall announced yesterday.
Customers can find out about how to return the recalled cartridges to Covidien by contacting customer service at SDfeedback@covidien.com or 1-800-722-8772, option 1.
To report adverse events related to Duet TRS cartridges, contact MedWatch, the FDA's safety information and adverse event reporting program, by telephone at 1-800-FDA-1088, by fax at 1-800-FDA-0178, online at https://www.accessdata.fda.gov/scripts/medwatch/medwatch-online.htm, or by mail to MedWatch, FDA, 5600 Fishers Lane, Rockville, Maryland 20852-9787.
Medscape Medical News © WebMD, LLC

Heartwire © WebMD, LLC

WebMD Health News © WebMD, LLC

Reuters Health Information ©

Send comments and news tips to news@medscape.net.
Cite this: Fatalities Prompt Recall of Staple Cartridge for Thoracic Surgery - Medscape - Jan 17, 2012.