January 6, 2012 — Johnson & Johnson has halted its clinical trial of the antibiotic drug doripenem (Doribax) for patients with ventilator-associated pneumonia after interim results showed a higher death rate among patients receiving the drug compared with those receiving other antibiotics, the US Food and Drug Administration (FDA) announced today.
The trial, conducted at sites in several countries as part of a postmarketing commitment to the European Medicines Agency, involved 274 participants. It was designed to compare a fixed, 7-day course of doripenem with a fixed, 10-day course of imipenem-cilastatin, a generic version of Merck & Co Inc's Primaxin.
Interim results showed patients receiving doripenem had an all-cause mortality rate of 21.5% at 28 days compared with 14.8% in the control group. In addition, patients in the doripenem group had a 11.2% lower rate of being cured compared with patients in the alternative drug group.
"(The trial) demonstrated excess mortality and a numerically poorer clinical cure rate among subjects treated with Doribax compared to those treated with imipenem-cilastatin," the FDA said in a press statement.
A J&J spokesperson said the trial was halted in May 2011 on the basis of the recommendation of an independent data monitoring committee, Dow Jones reported today.
At the time, J&J reportedly notified the FDA, global health regulators, and study investigators of the study's interim findings.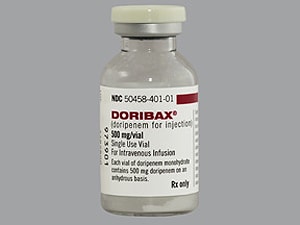 Doripenem, a penem antibacterial, is currently approved for hospital-acquired pneumonia in Europe.
In the United States, doripenem received approval from the FDA in October 2007 for the treatment of complicated intra-abdominal infections and complicated urinary tract infections, including pyelonephritis, in adults.
The FDA notes that doripenem is still considered safe and effective for its approved indications. The drug is administered at 500 mg every 8 hours intravenously, over the course of a hour, for 5 to 14 days, depending on the indication.
Janssen Research and Development LLC (Doribax's manufacturer) is issuing a Dear Healthcare Professional letter to physicians to notify them of the status of the clinical trial, according to the FDA.
The failed trial, although not necessarily devastating, underscores the challenges in improving on the existing field of treatments for ventilator-assisted pneumonia (VAP), said Paul G. Auwaerter, MD, MBA, clinical director of the Division of Infectious Diseases and General Internal Medicine at the Johns Hopkins University School of Medicine in Baltimore, Maryland.
"I don't think the failing to garner this FDA indication will be a blow to clinicians. However, it does raise interesting questions as to why some newer drugs examined in hospital-acquired pneumonia (HAP) trials have not seemed to live up to expectations (eg, tigecycline)," he told Medscape Medical News.
"There are no drugs viewed as superior for HAP/VAP, but…resistant gram-negative infections pose a significant challenge in many patients, especially in those with prolonged hospitalizations or repeated rounds of prior antibiotics," Dr. Auwaerter said.
"The more important issue is to somehow foster new drug development against resistant gram-negative infections, as doripenem really does not add much to the existing carbapenems: meropenem and imipenem, both of which cover similar spectra," he said.
Dr. Auwaerter reports that he is an equity holder in Johnson & Johnson, and he is a member of the editorial advisory board for Medscape Infectious Diseases.
Medscape Medical News © 2012 WebMD, LLC

Send comments and news tips to news@medscape.net.
Cite this: Doripenem Trial Halted Due to Higher Mortality Rate - Medscape - Jan 06, 2012.