Introduction
Many doctors already rely on nurse practitioners (NPs) and physician assistants (PAs) to handle routine tasks such as ordering and interpreting labs, taking medical histories, and doing physicals.
Yet, they may not be aware that NPs and PAs can fulfill roles that range from prevention and patient education to patient engagement, working with a care team, and having their own panel of patients.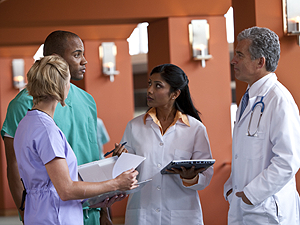 NP and PA functions vary according to setting and patient population, says Jean Johnson, dean and professor at George Washington University School of Nursing in Washington, DC. Their responsibilities also depend, to some degree, on state laws that govern the amount of autonomy they have in a particular state.
NPs and PAs can be highly effective in a primary care setting, where behaviors such as smoking, excessive alcohol consumption, lack of exercise, and unhealthy diets are often addressed. Because they are trained as generalists, not specialists, PAs are the ideal people to work with patients on compliance issues, says Robert Wooten, president of the American Academy of Physician Assistants, based in Alexandria, Viriginia.
"For example, are patients taking their blood pressure medicine and if not, why not? If they are smoking, will they participate in a tobacco-cessation program? Brief interventions can be effective in changing one health behavior or multiple risk behaviors that contribute to disease," says Wooten.
Medscape Business of Medicine © 2012  WebMD, LLC

Cite this: Harriet Edleson. New Ways MDs, NPs, and PAs Can Work Together - Medscape - Aug 31, 2012.