December 15, 2011 — An electromechanical device designed to assist in gait training not only may improve mobility in patients shortly after a stroke but could maintain that improvement long term, a new study suggests.
However, this robotic intervention appears to be beneficial only for patients most severely affected by a stroke, and when added to the conventional physiotherapy.
"The study seems to indicate that robotic gait training is most effective in patients with more severe stroke deficits," lead author, Giovanni Morone, MD, a specialist in physiatry at the Santa Lucia Foundation, Institute for Research Hospitalization and Health Care in Rome, Italy, told Medscape Medical News.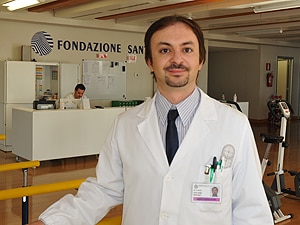 The study is published online December 15 in Stroke.
Robotic Intervention
The research was a 2-year follow-up on a group of 48 stroke patients with motor and gait dysfunction due to a subacute stroke. About 4 weeks after their stroke, these patients were stratified according to their ability to move their legs into "high" and "low" categories, with patients in each of these groups then being randomly assigned to a robotic intervention or to a control group.
All patients underwent 2 conventional physiotherapy sessions per day, 5 days a week, for 3 months. Those in the robotic training group also got 20 sessions of robotic assisted gait training, whereas those in the control group got 20 additional gait-oriented training sessions on the floor.
The robotic training involved use of an electromechanical-assisted machine that helps patients perform gait-like movements, explained Dr. Morone. Patients are equipped with a belt that supports their body weight while they walk on a moving platform that forces them to keep their legs in motion.
Typically, patients who are severely affected by a stroke can perform only a few st seps during a physiotherapy session, but with the assistance of this electro-mechanical device, they can take about 1000 steps in 20 minutes, said Dr. Morone.
"Patients who are severely affected by a stroke can't walk on a surface, even if aided by 2 therapists, but they can perform an intensive training with this device."
An earlier evaluation had shown that at discharge, scores for functional ambulation category (FAC), the Rivermead Mobility Index (RMI), and the Barthel Index (BI) (which measure ability to walk, care for oneself, and global mobility), were all superior in the robotic intervention group than in a control group receiving only conventional physiotherapy.
Improvements Maintained
This current study found that the original significant positive differences in FAC scores were maintained at 2 years among robotic training patients for whom follow-up analysis was available. The updated FAC score was 4.7 in the robotic group versus 3.1 in the control group.
Similarly, improved mobility scores were maintained. The 2-year RMI score was 11.8 in the robotic group compared with 7.0 in the control group. The BI improvement was also maintained, with a score of 76.9 in the intervention versus 64.7 in the control group.
The study showed that robotic training had a positive effect on walking ability and thus on ability of patients to care for themselves, said Dr. Morone. "Activities of daily living were increased at 2 years in patients who performed robotic training, according to measures such as the Barthel Index."
The results suggest that patients completing robotic gait training can enjoy the benefit long term, even though they probably don't receive much, if any, additional therapy after discharge, said Dr. Morone.
It's important to introduce robotic training in the subacute phase after a stroke — during the first or second month — when there is still neuroplasticity, Dr. Morone noted. "Once a stroke patient becomes chronic, it is difficult, and sometime impossible, to improve their functioning."
Who May Benefit?
Dr. Morone said these positive study results suggest that robotic training is effective, and, if that's the case, then it might be time to change the research question related to stroke rehabilitation from whether robotic-assisted walking training is actually effective to determining who may benefit from robotic gait training.
"It's important to identify which patients might benefit from robotic training," he said. "Just like you wouldn't prescribe aspirin to all patients, you wouldn't prescribe robotic training to all stroke patients. You have to identify nonambulatory rehabilitation patients who would benefit."
Less severely affected stroke patients, for example, may benefit more from intensive walking-training exercises performed on a floor with the assistance of a physiotherapist, said Dr. Morone.
Approached for a comment, Randall C. Edgell, MD, assistant professor in the Department of Neurology and Psychiatry and Department of Surgery, Saint Louis University, Missouri, and member of the American Academy of Neurology, said that although this is a relatively small study, its results are encouraging for the future of stroke rehabilitation.
"This is an interesting study that seems to indicate that patients with severely impaired walking after stroke may benefit from the addition of robotic training to standard rehabilitation," Dr. Edgell told Medscape Medical News.
"Importantly, this effect was sustained in the long run," out to 2 years, he noted. "It does not indicate that robotic training can substitute for standard rehabilitation, but rather has additive benefit in severely affected patients."
The study was supported by the Italian Ministry of Health and the Santa Lucia Foundation. The authors have disclosed no relevant financial relationships.
Stroke. Published online December 15, 2011.
Medscape Medical News © 2011 WebMD, LLC

Send comments and news tips to news@medscape.net.
Cite this: Robotic Training May Provide Long-Term Benefits Post-Stroke - Medscape - Dec 15, 2011.