November 28, 2011 (Chicago, Illinois) — Obese patients with type 2 diabetes who consumed a severely restricted diet of just 500 calories a day for 4 months showed a reduction in pericardial fat and improved the function of their heart, researchers said here at the Radiological Society of North America (RSNA) 97th Scientific Assembly and Annual Meeting.
They were all also able to discontinue insulin injections, lead author Sebastiaan Hammer, MD, PhD, from Leiden University Medical Center, the Netherlands, told Medscape Medical News.
When these patients resumed their regular diet, although they regained some of the weight they had lost, the decrease in pericardial fat was sustained.
"It was very striking to us to see how a relatively simple intervention such as a very-low-calorie diet effectively cures type 2 diabetes mellitus," Dr. Hammer said.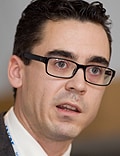 In the study, Dr. Hammer and his group sought to assess the long-term effects of weight loss induced by calorie restriction on pericardial fat content and cardiac function in 15 patients with type 2 diabetes.
"Pericardial fat is a visceral fat compartment around the heart that can be detrimental to cardiac function, especially in patients with metabolic disease. No study had ever been performed to study pericardial fat related to cardiac function in such a dietary intervention," Dr. Hammer noted.
The investigators used cardiovascular magnetic resonance imaging (MRI) to analyze cardiac function and pericardial fat in 7 men and 8 women before and after 4 months of the calorie-restricted diet. Changes in body mass index (BMI) were also measured.
Pericardial fat was quantified on 4-chamber images acquired with a turbo-field echo sequence. Left ventricular diastolic function was measured by using velocity mapping, and early (E) and atrial (A) filling phase (E/A) ratio was quantified. Systolic measures were quantified on standard short-axis cine images.
The results showed that caloric restriction resulted in a decrease in BMI from 35.3 ± 1.1 kg/m2 at baseline to 27.5 ± 1.1 kg/m2 over 4 months. Pericardial fat decreased from 39 ± 4 mL to 31 ± 2 mL after weight loss, and E/A ratio improved from 0.96 ± 0.07 to 1.2 ± 0.06.
After 4 months, the patients resumed their regular diet. After an additional 14 months of follow-up on a regular diet, the researchers found that patients' BMI had increased to 31.7 ± 1.1 kg/m2, but despite this increase, pericardial fat remained lower than it had been at baseline (32 ± 2 mL; P < .05 vs baseline).
Additionally, the E/A ratio remained higher than it was at baseline after 14 months (1.06 ± 0.07; P < .05 vs baseline).
No changes in systolic function were observed, Dr. Hammer said.
"A notable and new observation is that pericardial fat responds differently. In other words, despite regain of body weight, pericardial fat remains as low as it was directly after the dietary intervention. This has never been shown before and it may have important implications, especially as this was associated with improvements in cardiac function," he said.
This research shows that pericardial fat is not inert adipose tissue but is linked to heart function, Dr. Hammer continued.
It also demonstrates that MRI is a powerful tool to monitor the effects of metabolic interventions on pericardial fat and its relation to heart function, he added.
Not all patients are eligible for this type of therapy, and anyone who is contemplating going on such a calorie-restricted diet should do so under the supervision of a doctor, Dr. Hammer said.
"It is of the utmost importance to follow such a complicated intervention under strict medical supervision, especially as patients may be able to stop all anti-diabetic therapy almost immediately. In our study, after 18 months, most of the patients did not need to inject themselves with insulin, which is a dramatic improvement in blood sugar control and quality of life," he said.
Adhering to 500 calories per day might seem a daunting prospect, but Dr. Hammer said his patients were highly motivated to stick to the restrictive diet. "In fact, all of the patients who started the study completed the full 4-month study period. They literally saw their glucose levels drop before their eyes, and most important, from day one they did not need insulin injections, which proved to be a major motivator."
The most important take-away message from these data is that there is a definite need for weight loss in obese patients with type 2 diabetes, Dr. Hammer concluded.
Commenting on this study, Stamatia Destounis, MD, from Elizabeth Wende Breast Care, LLC, Rochester, New York, said she found the results from this study "impressive."
Dr. Destounis agreed that having a patient restrict diet to 500 calories a day requires careful supervision.
"Obviously you would do that very carefully and under strict medical supervision because that's a major reduction," she said. "But if you start with a BMI of 35 and you have type 2 diabetes, you are someone who needs to do something very severe like this in order to improve your cardiac function and your life overall."
Dr. Hammer and Dr. Destounis have disclosed no relevant financial relationships.
Radiological Society of North America (RSNA) 97th Scientific Assembly and Annual Meeting; Abstract #SSE04-06. Presented November 28, 2011.
Medscape Medical News © 2011 WebMD, LLC

Send comments and news tips to news@medscape.net.
Cite this: Very-Low-Calorie Diet Improves Diabetic Heart Function - Medscape - Nov 28, 2011.