November 9, 2011 (San Francisco, California) — Absolute and relative levels of platelet inhibition based on a VerifyNow test (Accumetrics) are strong independent predictors of stent thrombosis in patients who have undergone drug-eluting stent (DES) implantation, but on an individual patient level, the test is not specific or sensitive enough to predict stent thrombosis at 30 days, new registry data show.

Dr Gregg Stone
"These data suggest that agents that more effectively inhibit ADP-induced platelet activation should reduce 30-day stent thrombosis when applied to large patient populations," Dr Gregg Stone (Columbia University, New York, NY), who presented the Assessment of Dual Antiplatelet Therapy with Drug Eluting Stents (ADAPT-DES)results here at TCT 2011, said.
"Conversely," he continued, "the modest sensitivity and specificity of platelet-function testing, coupled with the low prevalence of events, implies that testing of platelet ADP-antagonist responsiveness is unlikely to provide useful information to guide clinical decision making in most individual patients for the prevention of stent thrombosis at 30 days. So [testing is] good on a population level, but not so helpful for individual patients."
POST-DES Registry
ADAPT-DES is a large, prospective registry enrolling a planned 11 000 patients undergoing PCI with DES at 11 sites in the US and Germany. Stone described the registry as being conducted with the same rigor, prospective planning, and independent analysis as a randomized controlled trial--"not your average post hoc registry."
Platelet-function tests were obtained at, on average, 19 hours post-PCI in 8575 patients. By 30 days, 39 definite or probably stent thromboses had occurred (a rate of 0.46%).
In multivariate analyses, platelet-reactivity units (PRU) >208, PRU >230, and percent inhibition <11% were all independently associated with definite or probable stent thrombosis.
But in an analysis looking at specificity and sensitivity of the test, investigators found substantial overlap between patients who had not had a stent thrombosis (n=8402) and those who had.
And looking only at ACS patients, DAPT hyporesponsiveness was still strongly associated with stent thrombosis, but this finding was not seen in non-ACS patients. Of note, the rate of stent thrombosis in stable patients was just 0.22%.
"The very low stent-thrombosis rate in patients with stable CAD, coupled with the poor prognostic utility of platelet-function testing in this setting, suggests that assessing dual antiplatelet response in patients without ACS undergoing PCI is unlikely to provide incremental clinical utility and may explain the negative results of trials such as GRAVITAS and TRIGGER-PCI," Stone concluded. Full results from TRIGGER-PCI are also being presented during the late-breaking clinical-trial session today.
The Time for Testing
In a morning press conference, all of the experts assembled to speak with the media said that they were not routinely using the VerifyNow test in clinical practice, although most were using it "selectively."
"After we saw that GRAVITAS was negative, we actually stopped using it," Stone said. "And the reason was, I think we had very strong data that more potent antiplatelet agents should be used in patients with ACS who are not at high risk for bleeding," as demonstrated by trials such as TRITON-TIMI 38 and PLATO. "We had no such data in patients without ACS, and GRAVITAS suggested that event rates were so low, this didn't affect the outcome of patients."
"These data confirm for me that for individual patients, the sensitivity and specificity is not enough to guide usage, although as a research tool, I think it is still very, very useful and can guide additional hypotheses and other studies."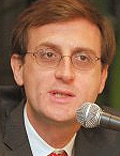 Dr George Dangas
Commenting on the results for heartwire , Dr George Dangas (Mount Sinai Medical Center, New York, NY) said that he thinks the message about the inutility of platelet testing in stable patients has been slow to get out.
"The time of doing a test for platelets and thinking it's going to give us all the answers is gone," he said. "We have to develop a way to screen patients for MI and stent thrombosis clinically and apply the results of that test in that population and similarly take into account a bleeding risk and apply those results."
If he saw a post-STEMI patient with thrombotic lesions who later showed high on-treatment platelet reactivity, "I'd be very worried about that patient," Dangas said. "But if [I saw] the exact same test result for a patient who came in for an elective stenting, I would not be worried about that patient. And I don't think that's well understood in the community, because we are so fixated on what these blood tests show. We should stop seeking a . . . test that's going to speak to all patients."
ADAPT-DES is sponsored by the Cardiovascular Research Foundation with research support from Boston Scientific, Abbott Vascular, Medtronic, Cordis, Biosensors, the Medicines Company, Daiichi Sankyo, Eli Lilly, Volcano, and Accumetrics. Stone reported consulting fees and honoraria from Abbott Vascular, Boston Scientific, Medtronic, Volcano, the Medicines Company, Daiichi Sankyo, and Eli Lilly.
Heartwire from Medscape © 2011 Medscape, LLC

Cite this: Platelet Tests Not as Helpful on Individual Patients - Medscape - Nov 17, 2011.