November 12, 2011 (Philadelphia, Pennsylvania) — Patients on hemodialysis consuming a moderate amount of pomegranate juice for a year saw a continuous, cumulative, beneficial effect on their lipid profile, their blood pressure, and the number of antihypertensive medications they required, Batya Kristal, MD, MHA, from the Nephrology Department at the Western Galilee Hospital in Nahariya, Israel, reported here at Kidney Week 2011: American Society of Nephrology 44th Annual Meeting.
In addition to water, sugars, and pectin, pomegranates contain the antioxidants ascorbic acid and polyphenolic flavonoids.
Hemodialysis patients were randomized to receive 100 mL of pomegranate juice (n = 66) or an equivalent-tasting placebo (n = 35) 3 times a week for 12 months. End points of the trial were lipid profile, including triglycerides (TGs), low-density-lipoprotein cholesterol, high-density-lipoprotein cholesterol (HDL), systolic and diastolic blood pressure, and the number of antihypertensive drugs required.
At 12 months, all components of the lipid profile improved in the pomegranate juice group but not in the placebo group. In the juice group, there were statistically significant decreases in TGs from baseline to 12 months (P = .01), especially in patients with a baseline TG level of at least 200 mg/dL (P < .001). Over the same time period, HDL rose significantly (P = .005) in the juice group. There was no significant change in any of these parameters in the placebo group.
During the study period, there was a significant decrease in systolic blood pressure in the juice group overall (P < .006), especially in patients who had a baseline systolic pressure of at least 140 mm Hg (P < .005); this was not the case in the placebo group.
At 12 months, those in the juice group were taking significantly fewer antihypertensive drugs than those in the placebo group (P < .05). In the juice group, 22% of the subjects were taking fewer and 12.2% were taking more antihypertensive drugs; in the placebo group, 7.7% were taking fewer and 34.6% were taking more antihypertensive drugs.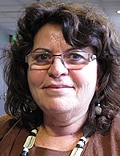 Dr. Kristal speculated that the consumption of pomegranate juice might lower the risk for cardiovascular disease in patients on hemodialysis, and recommended that it be added to diets that improve cardiometabolic risks, including low-salt diets, Dietary Approaches to Stop Hypertension (DASH), and the Mediterranean diet.
One safety concern is that pomegranate juice contains a high level of potassium, so potassium overload is a risk, especially in patients with chronic kidney disease and dietary potassium restrictions. Dr. Kristal recommended that such patients be monitored by a dietician and a nephrologist. In addition, pomegranate juice intake can interfere with the metabolism of certain drugs, raising their levels in the blood. However, no adverse effects were detected in the group taking pomegranate juice.
Katherine Tuttle, MD, executive director for research at Providence Sacred Heart Medical Center and professor of medicine at the University of Washington School of Medicine in Spokane, who was not involved in the study, told Medscape Medical News that "it's an interesting preliminary study.... I think before we conclude that we should be giving our patients pomegranate juice, we need to do bigger studies in other settings [with] more diverse populations and, of course, look beyond just the risk factors that they measured."
In light of the high levels of potassium in pomegranate juice, Dr. Tuttle advised that "if [patients] decide to use it, [they should] be sure to let their healthcare professionals know."
The study had no commercial funding. Dr. Kristal and Dr. Tuttle have disclosed no relevant financial relationships.
Kidney Week 2011: American Society of Nephrology 44th Annual Meeting. Abstract FR-PO1660. Presented November 11, 2011.
Medscape Medical News © 2011 WebMD, LLC

Send comments and news tips to news@medscape.net.
Cite this: Pomegranate Juice Lowers Cardiovascular Risk Factors - Medscape - Nov 12, 2011.