November 11, 2011 — Sending off a tumor sample for a broad screening of genetic aberrations, instead of just a single test, increases the chance of finding a therapy that the patient will respond to, and it might also improve survival, say researchers from Massachusetts General Hospital (MGH), in Boston, who are already using the screen in routine clinical practice.
The broad genetic screen, known as SNaPshot, is advertised around the hospital with a poster that depicts a fingerprint, declaring: "Our patients are unique. So are their tumors."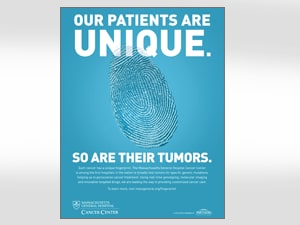 The screen can test for more than 50 well-known mutation sites (hot spots) in 14 key cancer genes, and has a turnaround time of less than 3 weeks.
"To our knowledge, we are the first center to offer this broad multiplexed genetic screening to all nonsmall-cell lung cancer [NSCLC] patients," said Lecia Sequist, MD, MPH, a thoracic medical oncologist at MGH and assistant professor of medicine at Harvard Medical School. She is first author of a paper that reports on the use of the screen in 552 patients with NSCLC, published online November 9 in the Annals of Oncology.
Broad Screen Found Extra Patients
Up to now, genotyping strategies have typically homed in on 1 genetic mutation; for example, lung cancer patients are tested for the epidermal growth-factor receptor (EGFR) gene to identify those who will respond to the EGFR inhibitors erlotinib and gefitinib.
However, "employing a broad gene panel enabled us to provide a therapeutic alternative to lung cancer patients whose tumors harbored much less frequent genetic abnormalities, such as mutations in PIK3CA and BRAF or rearrangements in ALK," explained senior author Dora Dias-Santagata, PhD, director of the Translational Research Laboratory at MGH.
"These individuals accounted for about 10% of our patient population, but they would have remained 'invisible' in the absence of a comprehensive genotyping panel, like the one used here," she said in a statement.
Identifying these genetic aberrations allowed the researchers to offer patients treatment with targeted therapies that act specifically on those aberrations, which increases the likelihood that the patient will respond to treatment. "Choosing the right therapy can raise response rates in NSCLC patients from around 20% to 30% to 60% to 70%, and may improve survival," Dr. Sequist said
Use in Other Cancers
The team is currently offering the screening to patients with other solid tumors, such as colorectal and breast cancers, and gliomas, and they are planning to extend the analysis to hematologic malignancies.
"Our study is exciting because it demonstrates that it is possible today to integrate testing for multiple genetic biomarkers in a busy clinic and steer patients toward personalized therapies," Dr. Sequist explained.
"My message to oncologists is that now is the time to begin thinking about how best to work with pathology — as well as surgery, radiology, and pulmonology — colleagues, to try to adapt their practice toward broad-based genotyping," she told Medscape Medical News.
"It is something that can be done at most hospitals. We, as a field, need to update our diagnostic practices to accommodate this important test," Dr. Sequist added.
Pioneering Work
This is a superb initiative.
"This is a superb initiative," said Jean-Charles Soria, MD, PhD, a medical oncologist at Institut Gustave Roussy, and professor of medicine and medical oncology at Paris University XI, France. This group at MGH is a pioneer in this field, and has "accomplished a tour de force by offering this comprehensive analysis to all their NSCLC patients since 2009," he told Medscape Medical News.
Although ahead of the game, this work is not entirely unique, he said. A similar approach is being developed at many other large cancer centers, including the Dana-Farber Cancer Institute in Boston; the University of Texas M.D. Anderson Cancer Center in Houston; The Royal Marsden in London, United Kingdom; Val d'Hebron in Barcelona, Spain; and his own center, Institute Gustave Roussy in Villejuif, France.
Medscape Medical News has previously reported on the broad-screen genotyping carried out at M.D. Anderson and by the Lung Cancer Mutation Consortium, which involves 14 centers in the United States. However, these initiatives are focused on enrolling patients in clinical trials, whereas the MGH team is using their broad screen in routine clinical practice.
"This approach will become standard practice in all major academic centers in Europe and North America...in 3 to 5 years at most, in my opinion," Dr. Soria predicted.
At the moment, this approach belongs in academia and large care centers, said Alex Adjei, MD, a thoracic oncologist who is senior vice president of clinical research and professor of medicine at the Roswell Park Cancer Institute in Buffalo, New York. He agrees that broad-based genotyping is something that oncologists need to think about, but argued that this approach is not ready for widespread use. "It will become relevant to community oncologists, but that is a few years away," he told Medscape Medical News.
Dr. Adjei explained that, at the moment, the main problem with this approach is that a lot of the information obtained is of academic interest and has little practical relevance. There are currently only a few targeted drugs available that home in on genetic aberrations. Although there are many under development, the only way to get a patient on these is to enroll them in a clinical trial, which best done in academic hospitals and large cancer centers, he said.
It makes sense to screen for many different mutations and genetic aberrations all at once, rather than one at a time, but for this approach really to come into its own, "we need to have more drugs available," he said.
Right now it's not ready for general use.
"For this to become routine and for this to make sense, we have to have more actionable mutations," he said. "There is no point looking at 15 genes and finding 50 mutations when you can treat only a few of them."
"SNaPshot is a great idea and has great utility because it is going to simplify molecular testing. This is the way of the future, but right now it's not ready for general use," Dr. Adjei concluded.
A slightly different opinion comes from community oncologist Patrick Cobb, MD, from Billings, Montana. Some practices are sending off tumor samples for broad genotyping. "It is already starting to happen at the community level," he said.
"It is relevant to us," he explained. Community oncologists are having to keep up with research and to change their practices accordingly, Dr. Cobb said. It is already standard practice to test colorectal cancer for KRAS (and BRAF) mutations and to use Oncotype Dx in breast cancer. These test results are influencing treatment decisions, and sparing some patients unnecessary adverse effects, he said. His own practice is considering EGFR and ALK testing for lung cancer, but hasn't done so yet; however, they are testing melanoma for BRAF mutations.
"There's much more collaboration nowadays between medical oncologists and pathologists," Dr. Cobb said. "We've always been tied at the hip," but in recent years, with pathologists providing information on mutations as well as histology, that collaboration has intensified.
"As an oncologist, this is an exciting time. We are really seeing the benefit of bench research starting to affect the way we are treating our patients," he said.
Between the top academic centers and community practices are the middle-sized hospitals. Curtis Miyamoto, MD, is a professor of radiation oncology at just such a hospital — Temple University Hospital in Philadelphia, Pennsylvania. He thinks that "this broad genetic testing will be mainstream in the future, probably 5 years from now, but it's not mainstream yet."
"SNaPshot is great idea," Dr. Miyamoto told Medscape Medical News, "and I do think it will become a standard of care in the future.... It provides valuable information that can change the way a patient is treated and can make a big difference, especially for patients who are being treated nonspecifically and who may be missing opportunities to get well because they are not getting the testing done."
However, such genetic testing needs to be placed in the larger picture of strained healthcare resources and decreasing investment in new drug development, he said. "It's very nice to have these profiles, but what about the drugs to treat patients with these results?"
Dr. Miyamoto echoed the point made by Dr. Adjei — that for many of the mutations, targeted drugs "are not available yet.... How many will be developed under the current financial constraints..., and further down the line..., will we be able to afford to use them?"
First Cohort of Patients
In their paper, the MGH team reports on the first cohort of NSCLC patients screened with SNaPshot. A total of 589 patients were referred for genotyping, and 95% of these (n = 552) had sufficient tumor tissue for the screen.
The median age of the patients was 64 years (range, 22 to 89), 58% were female, and 92% were white, "reflecting our clinic's racial homogeneity," the researchers write. Histology was predominantly adenocarcinoma (81%), and about a quarter of the patients (24%) were never smokers.
The screen identified driver mutations in 51% of the patients. Most of the tumor samples had 1 mutation, but 5% had 2 mutations, and 2 tumors had 3 mutations.
The most commonly occurring mutations were KRAS (in 24% of tumor samples), EGFR (in 13%), and translocations involving ALK (5%).
There is wide agreement that it is important to identify patients with EGFR and ALK aberrations, the researchers note, because targeted therapies directed at the aberration (erlotinib and gefitinib for EGFR and crizotinib for ALK) are available.
There are also data that support directing patients with certain genotype findings "away" from therapies; for example, patients with KRAS mutations are directed away from erlotinib.
In addition, there are investigational therapies aimed at some of the other mutations that were found (such as MRK inhibitors for KRAS mutations), and therapies that are aimed at BRAF, PIK3CA, and HER2 mutations.
Of all the patients with genotypes, 22% have begun treatment with a genotype-specific therapy in response to SNaPshot results, the team reports.
Determining the percentage of these patients who would have received targeted therapy in the absence of SNaPshot is difficult, "because it would depend on whether any genetic testing was being done, and if it was, how much," Dr. Sequist told Medscape Medical News.
Two steps are required before patients receive genotype-specific therapy: "step 1 is doing the testing and step 2 is having the drugs available," she explained. "I think it is fair to say that EGFR mutation testing is fairly routine in most places around the world currently, and ALK testing is becoming more and more common because the new ALK inhibitor crizotinib has been approved by the US Food and Drug Administration in the United States. As the portfolio of drugs that target these various cancer mutations expands, not only through clinical trials but also through new drug approvals, there will be more of a pressing need to make broad genotyping the standard clinical practice of oncology. Our paper is important because it shows that this type of broad testing can be woven into the everyday care of patients already," Dr. Sequist said.
What about the clinical outcomes of patients who are identified on screening and are then treated with targeted therapies?
"The field of targeted cancer therapy is still in its infancy, Dr. Sequist told Medscape Medical News. "At the current time, we have not seen that targeted drugs can cure cancers that were not curable otherwise. However, it is likely that survival can be lengthened by these types of treatments. Although not addressed in [our Annals of Oncology paper], our group recently published a study demonstrating that ALK-mutated patients receiving the ALK inhibitor crizotinib survived longer than ALK-mutated patients who did not get the drug" (Lancet Oncol. 2011;12:1004-1012). These data on crizotinib were previously reported by Medscape Medical News.
"We are getting much smarter in treating cancer, and focusing on these genetic changes and using targeted therapies is getting us closer to the ideal of personalized medicine," said Dr. Cobb.
We are confident that these breakthroughs will make a difference in outcomes for patients, he noted. "There is really no reason why they shouldn't, but we haven't really proven that," Dr. Cobb told Medscape Medical News. "To prove it, you have to marry what we see in the lab with what happens in the patient."
There is a precedent here that bodes well for the future of this approach. Already in breast cancer, targeting treatment (tamoxifen to estrogen-receptor status and trastuzumab to HER2-receptor status) has led to a marked improvement in survival and cure rates, Dr. Cobb explained. However, this level of data is not available yet for treatment modified according to genetic mutations, he said.
"I don't think anybody thinks that this is not going to be important," he added. "There's plenty of excitement about it; we just haven't proven it yet."
Dr. Sequist reports consulting for Clovis Oncology, Merrimack Pharmaceuticals, Daichi-Sankyo, and Celgene. Dr. Dais-Santagata and her colleague at the Translational Research Laboratory at MGH, John Iafrate, MD, PhD, have submitted a patent for the SNaPshot tumor genotyping assay. Dr. Soria reports receiving honoraria from Abbott, Amgen, Bristol-Myers Squibb, GlaxoSmithKline, Pfizer, Roche, Merck, MSD, Servier, sanofi-aventis, and Eli Lilly. Dr. Adjei and Dr. Cobb have disclosed no relevant financial relationships.
Ann Oncol. Published online November 9, 2011. Abstract
Medscape Medical News © 2011 WebMD, LLC

Send comments and news tips to news@medscape.net.
Cite this: SNaPshot: Screening for Many Mutations at Once - Medscape - Nov 11, 2011.