November 11, 2011 — A simple technique using electroencephalography (EEG) may aid in detecting residual cognitive function and conscious awareness in patients otherwise apparently in a vegetative state, a new study suggests.
Researchers report that responses on EEG showed signs of residual awareness in 3 of 16, or almost 20%, of patients otherwise meeting clinical definition of a vegetative state.
Their findings were published online November 10 in The Lancet.

"The method described here could fundamentally change the assessment of this complex patient group because EEG is highly portable, inexpensive, can be done at the bedside, is available in most hospitals, and can be used with patients who have metal implants," Damian Cruse, PhD, from the Center for Brain and Mind at the University of Western Ontario in London, Canada, concludes.
"What we can do now in the future is take this to the patients wherever they are in the community, in the care homes and the hospitals, and because we can go to them, we have the potential to test a much higher number of patients, and really get to grips with this figure of 20%," Dr. Cruse told Medscape Medical News. "The more people we can test, the more accurate we can be in our estimation of that proportion."
The ability to gauge even a "yes" or "no" response from these patients also opens the door to help rehabilitation and care efforts, he noted. They hope to develop this task as a possible communication tool for these patients, and as possible brain technology interfaces to run wheelchairs, for example.
Command-Specific Response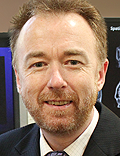 Previously, these researchers, led by the senior author on this paper, Adrian M. Owen, PhD, formerly from the Medical Research Council Cognition and Brain Sciences Unit in Cambridge, United Kingdom, in collaboration with Steven Laureys, MD, PhD, and colleagues from the Comascience Group, Cyclotron Research Center, and Neurology Department at University Hospital of Liège, Beligium, reported they had found several cases of patients in an apparently vegetative state who nevertheless showed signs of brain activation on functional magnetic resonance imaging (fMRI).
The scientists were able to show reliable differentiation of response on fMRI to questions that could be answered "yes" or "no" by asking the patients to imagine themselves either playing tennis or walking through their home — tasks the researchers knew would engage different parts of the brain.
However, use of fMRI in these patients is challenging, they note. In addition to the cost and availability of scanners, there is the physical stress of transferring the patients to an fMRI facility. Further, involuntary movements and the presence of the metal plates and pins often used in patients with traumatic injury "can completely rule out fMRI," the authors write.
In this study, they instead investigated the use of EEG for this purpose. It answers many of these issues and can be performed at the bedside.
In the EEG record, the authors explain, motor imagery is shown by reductions in power, called event-related desynchronizations, on the μ or β frequency bands (7 - 13 Hz and 13 - 30 Hz, respectively), over appropriate areas of the motor cortex: for hand movements, the lateral premotor cortex, and for toe movements, the medial premotor cortex.
In some individuals, the researchers note, these event-related desynchronizations are accompanied by increases in power, called event-related synchronizations, over motor areas that are collateral to or surrounding the desynchronization.
"With classification techniques, the form of motor imagery being done by a conscious individual can be accurately identified on the basis of the EEG responses alone," Dr. Cruse and colleagues write. "We investigated whether these general principles could be adapted to reliably detect covert conscious awareness in a convenience sample of patients who seemed entirely vegetative on the basis of repeated and thorough clinical assessment by specialist teams."
The study included 16 patients with both traumatic (5 patients) and nontraumatic (11 patients) brain injury who met the Coma Recovery Scale–Revised definition of vegetative state, as well as 12 healthy control participants. All participants were repeatedly asked to imagine the movements of making a fist and wiggling their toes on command, and their responses were analyzed for "robust evidence of appropriate, consistent, and statistically reliable markers of motor imagery, similar to those noted in healthy, conscious controls."
They found that 3 (19%) of the 16 patients were able to produce these responses, for a classification accuracy of 61% to 78%.
There was no apparent relationship between patients' clinical histories, including age, time since the injury, the cause of the injury, or behavioral score, and their ability to follow commands, the authors note. Separated by cause of the injury, 2 (20%) of the 5 traumatic patients and 1 (9%) of the 11 nontraumatic patients were able to respond to the commands.
Interestingly, however, 3 of the 12 healthy control patients could not produce reliable responses to the commands given. The researchers point out that even with feedback training, some individuals cannot provide responses that would allow for reliable classification, "so-called brain–computer interface illiterates," they note.
"The absence of a positive EEG outcome for three (aware) controls emphasises the importance of interpretation of only positive results in patients, because this finding shows unequivocally that a null EEG outcome does not necessarily indicate an absence of awareness," they caution. Along with behavioral assessment and functional neuroimaging, many testing sessions with this EEG technique over the course of days will allow patients an increased opportunity to demonstrate any covert awareness, if it exists, they add.
"Despite rigorous clinical assessment, many patients in the vegetative state are misdiagnosed," the authors conclude. This new EEG method "could allow the widespread use of this bedside technique for the rediagnosis of patients who behaviourally seem to be entirely vegetative, but who might have residual cognitive function and conscious awareness."
Findings "Surprising and Challenging"
A comment accompanying the article was written by Morten Overgaard, PhD, from the Cognitive Neuroscience Research Unit, Department of Communication and Psychology, Aalborg University, and Hammel Neurorehabilitation and Research Center, and Rikke Overgaard, from the Cognitive Neuroscience Research Unit Center of Functionally Integrative Neuroscience, Mindlab, Aarhus University, Denmark.
In it, the commentators discuss the complexity of defining consciousness. "Levels of consciousness, in the standard scale, are defined as perceptible signs of being in contact with the outside world," they write. "Whereas this definition might make intuitive sense, it is not identical to subjective experience. In cognitive science, nearly all mental events exist with and without consciousness."
Command following might not be an absolute measure for identification of whether a person is conscious, they reason, and because 3 of 12 healthy control patients could not produce significant EEG records, they note, "command following most likely measures something different than the presence and absence of consciousness.
"Nevertheless," they add, "the new discovery by Cruse and colleagues is surprising and challenging." The research continues the "revolutionary findings" of Dr. Owen and colleagues, who first described the fMRI results in a patient in a vegetative state.
The new findings, "present good evidence that at least some patients in the vegetative state are conscious. However, the methods of all of these experiments are indirect and investigate a factor other than consciousness alone," they write.
So far, most researchers have interpreted these data as suggesting that many vegetative patients are misdiagnosed, the commentators note, but these findings "have an even stronger consequence. The real underlying issue is that the levels of consciousness have little to do with consciousness — ie, subjective experience," they write.
"A more plausible interpretation is that vegetative and minimally conscious states distinguish between different levels of cognitive and communicative abilities, which is a different matter than subjective experience per se."
A new classification system will be necessary if the goal is to understand consciousness in the vegetative or minimally conscious states, they conclude. "Such a system should begin with a much more explicit attempt to use objective methods that have been correlated with reports of subjective experience in healthy individuals."
Dr. Cruse counters that the debate over what constitutes consciousness is certainly interesting, "but the reality of it is that worldwide, as far as clinical assessments go, the ability to follow command is a sign of consciousness. So what we've demonstrated here is that 20% of this group of patients can follow commands, and therefore, they are conscious by clinical definitions."
The study was supported by the Medical Research Council, James S. McDonnell Foundation, Canada Excellence Research Chairs Program, European Commission, Fonds de la Recherche Scientifique, Mind Science Foundation, Belgian French-Speaking Community Concerted Research Action, University Hospital of Liège, University of Liège. The authors and commentators have disclosed no relevant financial relationships.
Lancet. 2011; Published online November 10, 2011. Abstract, Editorial
Medscape Medical News © 2011 WebMD, LLC

Send comments and news tips to news@medscape.net.
Cite this: EEG Detects Awareness in Vegetative State - Medscape - Nov 11, 2011.