November 10, 2011 (Boston, Massachusetts) — An updated policy statement from the American Academy of Pediatrics (AAP) Council of Communications and Media recommends that media, particularly television, have potentially negative effects on children younger than 2 years, and recommends no media use in this age group.
"We said this in 1999, and we're saying it 12 years later, in 2011," Ari Brown, MD, a pediatrician in private practice in Austin, Texas, who headed the council, said here at the AAP 2011 National Conference and Exhibition. "Kids should learn from play, not from a TV screen. This new policy statement reaffirms what we said back then," she told Medscape Medical News.
The highlights of the policy statement were unveiled at the meeting. They include the following recommendations:
The AAP discourages media use by kids younger than 2 years, and pediatricians should discuss these recommendations with parents.

Discuss setting "media limits" before age 2 because many parents are not aware of the AAP recommendations.

Pediatricians should explain the importance of unstructured, unplugged play in allowing a child's mind to grow, problem solve, think innovatively, and develop reasoning skills. The importance of parents sitting down to play with their children cannot be overstated.

Encourage parents to read to their children to foster cognitive and language development.

Don't place a TV in the child's bedroom.

Don't watch adult TV when a young child is in the room.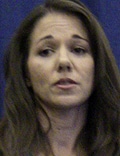 From 40% to 60% of American households with young children report that the TV is either always or often on when no one is watching, Dr. Brown said. "The truth is someone is watching, and that's the child. The effect is distracting; it reduces talk time, which we know is important for language development, and it disrupts the child's play," she said.
Since the first policy statement, research has shown just how disruptive that TV can be. A child playing in a room where the TV was on and tuned to a show that was not even geared toward children looked up at the screen 3 times per minute.
"So every 20 seconds, the child would actually look up and glance at the TV. They would be less concentrated on their playing, and they would move on to another activity more quickly," Dr. Brown said. "This proves that the TV is distracting the young child from their valuable play time."
Parents are encouraged to turn off the TV when their young children are in the room because they tend not to focus as much on them, she added.
TV is not educational for such young children; there are better ways to engage young children, she said.
"You can't be playing with your child 24 hours a day, we get that.... But your child's time is actually quite valuable. When they are playing independently, they are learning how to problem solve and think creatively — these are important life skills. You are actually doing your child a service by letting them play on their own."
There is also a concern that too much television can delay language development, Dr. Brown said.
"There is a national children's study that has just started looking at the long-term effects of environmental exposures, including media use. We won't have the results of that study for 20 years, but at least somebody is looking at it now," she said. "We do know about short-term effects, and can see the short-term effects in language delays. Perhaps it's because parents and children are not talking to each other when the television is on; kids really need that."
Tanya Altmann, MD, from the University of California at Los Angeles, agrees that studies are showing that when the television is on in the house, parents talk less and interact less with their children.
Dr. Altmann, who was invited to comment on the updated policy statement, said that video screens are much more ubiquitous than they were in 1999 when the initial policy statement came out.
"It's really hard to raise children today without keeping this in mind. Everywhere you go, parents are on their smart phones, there's TV, computers. Video plays a major role in our lives today," she said. "It's so important to keep in mind that the brains of children under the age of 2 are rapidly developing. The evidence is there that such young children can't learn from screens and there may be some harmful effects. Parents must be aware of this and set limits for their children under age 2. They should even consider not having the television on at all."
Dr. Brown and Dr. Altmann have disclosed no relevant financial relationships.
American Academy of Pediatrics (AAP) 2011 National Conference and Exhibition. Presented October 17, 2011.
Medscape Medical News © 2011 WebMD, LLC

Send comments and news tips to news@medscape.net.
Cite this: Updated AAP Policy: Turn Off the TV and Talk to Your Toddler - Medscape - Nov 10, 2011.