November 1, 2011 (Orlando, Florida) — Cyanoacrylate glue is an effective treatment in half of all corneal perforations and should be tried before other treatment modalities, according to the results of a large retrospective review presented in a poster session here at the American Academy of Ophthalmology 2011 Annual Meeting.
"Gluing a corneal perforation is definitely worth trying," lead author Elsie Chan, MD, from the Royal Victorian Eye and Ear Hospital in Melbourne, Australia, told Medscape Medical News. "If it doesn't work, you can always go on to do a corneal transplant. The interesting thing is that 50% of the eyes heal with glue alone. We think that is important for clinicians to know."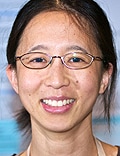 Dr. Chan and her colleagues did a retrospective chart review of 211 cases (137 eyes) treated at her center from 1998 to 2010 with nontraumatic corneal perforations to determine their etiology, management options, and outcomes.
"Nontraumatic corneal perforations are a significant cause of ocular morbidity, but if you actually look at the literature, there is not a lot of information comparing the different treatment options and seeing what happens to patients in the long term," she said. "Often you will see a comparison between 2 techniques, but no overall view of how the patients fare.
We were able to do this review, which is the largest case series to date, because we receive a lot of complicated patients at our center and get a lot of perforations every year," Dr. Chan said.
The researchers found that 25% of eyes had a systemic risk factor for corneal perforation. The most common were rheumatoid arthritis (47%) and dementia (23%).
Infection accounted for most of the corneal perforations; 55% of eyes had microbial keratitis, and 22% had a neurotrophic cornea. The main causes of microbial keratitis were a history of herpes simplex virus infection (60%) or herpes zoster virus (13%).
The most common management choice was the application of cyanoacrylate glue, which was done in 54% of cases. The mean number of glue applications was 1.5 and the mean time until dislodgement was 22 days, Dr. Chan noted.
The next most common choice was primary tectonic keratoplasty, in 22%, followed by enucleation or evisceration in 15% of patients who had very severe perforations and who had no hope of retaining vision.
Of the cases treated with cyanoacrylate glue, 29% experienced dislodgement and 20% experienced a persistent leak.
Of the dislodged cases, 93% of the patients went on to have tectonic keratoplasty and 5% with a persistent leak went on to have evisceration or enucleation.
Is the Glass Half Empty?
Commenting on the fact that half of the corneal perforations healed with glue alone, Dr. Chan said: "One may think it's not that high, but it does mean that by simply putting on the glue that half of patients don't need anything else. This is where you can either look at the glass as half empty or half full. Glue is relatively inexpensive, and the alternative is doing a corneal transplant, which is a massive deal — it's costly and it's got a long recovery. If you can avoid doing that in 50% of the cases in an outpatient setting, I think it is worth a try."
Outcomes were also good for primary tectonic keratoplasty in this series. Complication rates were relatively low, consisting of microbial keratitis in 6.7%, primary graft failure in 6.7%, graft rejection in 4.4%, loose sutures requiring resuturing in 6.7%, and a persistent epithelial defect in 2.2%.
However, the researchers found that vision did not improve in any of the treatment groups.
If the glue doesn't work, primary tectonic keratoplasty or corneal transplant can always be the next step, Dr. Chan said.
"Doing the glue first doesn't stop you from doing a transplant. The other advantage of doing the glue first, even if you think that the patient will still need a transplant..., is that if the patient does have an infection, you have the opportunity to spend a day or 2 aggressively treating the infection with antibiotics. If you do a transplant early on, while the eye is still infected, the transplant could theoretically then get infected, so that's the second advantage of glue," she said.
Glue Has a Valuable Role
"This work shows that cyanoacrylate glue has a valuable role in the management of patients with corneal perforation," Hamed M. Anwar, MD, from the Magrabi Eye Hospital, Jeddah, Saudi Arabia, said during an interview with Medscape Medical News.
"As cyanoacrylate glue is readily available and relatively inexpensive, it's worth trying this in selected patients as a first step in management. In some cases, tectonic keratoplasty can be delayed or even avoided," Dr. Anwar, who was not part of the study, noted.
Dr. Chan and Dr. Anwar have disclosed no relevant financial relationships.
American Academy of Ophthalmology (AAO) 2011 Annual Meeting: Abstract PO093. Presented October 23, 2011.
Medscape Medical News © 2011 WebMD, LLC

Send comments and news tips to news@medscape.net.
Cite this: Cyanoacrylate Glue Effective in Half of Corneal Perforations - Medscape - Nov 01, 2011.