November 1, 2011 (Orlando, Florida) — By adhering to a number of recommendations for change of practice, surgeons at the Queen Elizabeth II Hospital in Herts, United Kingdom, were able to put an end to the troubling number of cases endophthalmitis that were occurring after cataract surgery.
The preoperative and perioperative measures cut the number of cases of this serious complication of cataract surgery to zero, Gregory Ho-Yen, MD, said during a poster presentation here at the American Academy of Ophthalmology 2011 Annual Meeting.
"Postoperative endophthalmitis is a serious complication after cataract surgery, with devastating visual implications, and is regarded as a critical incident by the Royal College of Ophthalmologists in the United Kingdom," Dr. Ho-Yen told Medscape Medical News in an interview.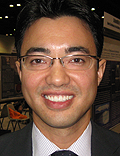 "The overall incidence in the United Kingdom is 0.14% (or 1 in 700 operations), but we noticed a troubling incidence that was higher than the usual rate and wanted to establish whether there was a real cause that we could do something about," Dr. Ho-Yen said.
What became clear after an audit of a cluster of cases that occurred after uncomplicated phacoemulsification cataract surgery performed from June 2007 to March 2009 was that the cause was multifactorial.
The audit identified 7 cases of postoperative endophthalmitis among 3871 cataract operations, for an incidence of 0.18% (1 in 553). Another 2 cases were identified while the researchers were conducting their analysis.
The study found that some patients were wearing their own clothes while undergoing surgery. The suggested change was that hospital gowns become compulsory. Other changes including switching povidone iodine 5% preoperatively to 10% povidone iodine and using a separate sterile container for each case.
Changes to the operating theatre environment included the compulsory use of face masks (before, facemasks had only been worn by some staff); minimization of theatre staff movement; reducing the number of preprepared trolleys to 2 at any time; and opening sterile gowns and gloves immediately prior to gowning (before, they were opened in advance).
There were also a number of changes recommended for the procedure itself, including the use of a specific number of swabs (4) instead of a variable number for skin preparation, keeping the drape scissors away from the sterile area, and using an MVR blade for side port entry. In addition, the researchers recommended that surgeons keep detailed operative notes.
When a reaudit of 2804 surgeries was done from September 2009 to December 2010, no cases of endophthalmitis were found — an incidence rate of zero.
"With these types of changes, it may be possible to achieve a 0% rate. Obviously, 0% is only going to be 0% if we keep that level of vigilance and adhere to strict sterilization practices in the years to come," Dr. Ho-Yen said. "But if you rigorously look at the process of cataract surgery, it may be possible to have a 0% of endophthalmitis."
Dr. Ho-Yen has disclosed no relevant financial relationships.
American Academy of Ophthalmology (AAO) 2011 Annual Meeting: Abstract PO281. Presented October 24, 2011.
Medscape Medical News © 2011 WebMD, LLC

Send comments and news tips to news@medscape.net.
Cite this: Surgeons Put an End to Postop Endophthalmitis - Medscape - Nov 01, 2011.