October 28, 2011(Orlando, Florida) — A new compound that contains phenylephrine and ketorolac maintains mydriasis during intraoperative cataract and refractive lens exchange surgeries. The anti-inflammatory component of the formulation is also associated with decreased postoperative pain, researchers said in a poster presentation here at the American Academy of Ophthalmology 2011 Annual Meeting.
Keeping the pupil dilated during cataract and other lens replacement procedures is critical, lead author Alan Crandall, MD, from the John A. Moran Eye Center, University of Utah School of Medicine, in Salt Lake City, told Medscape Medical News.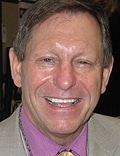 "These types of surgeries are the most common ophthalmological surgical procedures that most ophthalmologists do," Dr. Crandall said in an interview. "Intraoperative miosis increases the difficulty of these procedures and makes complications more likely. A drug that could maintain intraoperative mydriasis would help prevent such dilation."
Phenylephrine HCl is an alpha-1-adrenergic receptor agonist. Ketorolac tromethamine is a nonselective COX-1/COX-2 inhibitor. The novel compound, currently going by the name of OMS302 (Omerus Corporation), combines both.
In this phase 2b study, Dr. Crandall and his team randomized 223 subjects undergoing cataract extraction with lens replacement to receive one of the following treatments: balanced salt solution only (vehicle), phenylephrine, ketorolac, or OMS302.
Both OMS302 and phenylephrine demonstrated significant improvement in the maintenance of intraoperative mydriasis, compared with vehicle and ketorolac (P < .00001 for both comparisons). Pupil diameter steadily decreased throughout the surgical procedure in both the vehicle and ketorolac groups, and pupillary constriction greater than 4 mm from baseline was noted, Dr. Crandall said.
In the vehicle group, more than 20% of subjects experienced a decrease in pupillary diameter of 2.5 mm or more during surgery. In contrast, only 4.4% of OMS302-treated subjects experienced this level of miosis.
Patients treated with OMS302 and ketorolac had significantly less pain in the early postoperative period than patients who received vehicle or phenylephrine (P < .05 for both comparisons). "Moderate to severe pain was reported by 17% of vehicle-treated subjects," Dr. Crandall noted.
OMS302 was safe and well tolerated, he added.
"Cataract surgery is performed through the pupil, which is why it is so important to keep the pupil dilated," Steven Whitaker, MD, from Omeros Corporation, Seattle, Washington, explained to Medscape Medical News.
"It's a lot harder for eye surgeons to operate through a small pupil than a large pupil. And, because the ketorolac is an anti-inflammatory, it can decrease the postoperative pain on the day of surgery," he said.
OMS302 is currently in phase 3 trials, he added.
This study was sponsored by Omeros Corporation. Dr. Crandall is a consultant for and Dr. Whitaker is an employee of Omeros Corporation.
American Academy of Ophthalmology (AAO) 2011 Annual Meeting: Abstract PO287. Presented October 24, 2011
Medscape Medical News © 2011 WebMD, LLC

Send comments and news tips to news@medscape.net.
Cite this: New Drug Maintains Mydriasis During Lens Replacement - Medscape - Oct 28, 2011.