October 28, 2011 (Boston, Massachusetts) — Data from a study of infant deaths in New Mexico highlight the need for more education campaigns to teach parents about safe sleep environments for their newborns, researchers reported here at the American Academy of Pediatrics 2011 National Conference and Exhibition.
The researchers saw a pattern of sudden infant death syndrome (SIDS) or unexplained deaths in young infants that occurred when the babies were not sleeping in their cribs, but were sleeping on other surfaces.
"We noticed that there were cribs in the home but they weren't being used for the baby," senior author Robert Sapien, MD, from the University of New Mexico Health Sciences Center, Albuquerque, told Medscape Medical News. "In fact, most of the homes where the deaths occurred had a crib, but it was being used for other things."
To study this pattern, Dr. Sapien and his group did a retrospective review of the death-scene investigations of 91 children younger than 12 months of age who died from SIDS or sudden unexpected infant death in New Mexico from 2006 to 2010.
The demographics of the children were typical of the state: 48% were Hispanic, 36% were non-Hispanic white, 11% were Native American, and the rest were of other racial and ethnic origins. Forty-one percent of the mothers were smokers.
The investigation showed that 52% of the children were placed in a nonsupine position, and 71% were sleeping on an unsafe sleeping surface. Half (50%) of the infants were found on a shared sleep surface, either with a toddler or an adult.
Additionally, 30% of the cribs were being used for other things, and 32% were empty and not being used for anything. In all, "62% of homes had a crib, but it wasn't being used for the baby," said Dr. Sapien. "This is despite the Cribs for Kids program that provides cribs to low-income families in an effort to reduce SIDS."
Dr. Sapien said that prevention of sudden infant death and accidental death has to be multifactorial in its approach.
"It has to include access to safe sleeping surfaces such as cribs, but it also has to include the continued and diligent education of parents and grandparents that a safe sleeping surface is important," he said. "The parents have the right intention. They want to be close to the baby, they want to protect the baby, they want to do all those things that are natural and normal for parents to do, but it puts the baby at risk."
He added that he believes that the results from this survey are not unique to New Mexico.
"When we presented the study, there was somebody in the audience who reported very similar results in Baltimore [Maryland]," he said.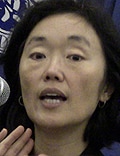 Medscape Medical News invited SIDS expert Rachel Y. Moon, MD, from the Children's National Medical Center in Washington, DC, to give her views about this study.
"These results are not surprising, unfortunately," said Dr. Moon, who is also professor of pediatrics at George Washington University School of Medicine and Health Sciences.
"We're seeing this throughout the country. Parents seem to think that SIDS can't happen to them, and they see the benefits of continuing their practice of placing babies on the stomach, bedsharing, et cetera, as outweighing the risk of SIDS. It's unfortunate and it's very, very sad."
Dr. Sapien and Dr. Moon have disclosed no relevant financial relationships.
American Academy of Pediatrics (AAP) 2011 National Conference and Exhibition: Abstract 14145. Presented October 17, 2011.
Medscape Medical News © 2011 WebMD, LLC

Send comments and news tips to news@medscape.net.
Cite this: Need for Continuing Education to Prevent SIDS Evident - Medscape - Oct 28, 2011.