October 21, 2011 (Boston, Massachusetts) — The American Academy of Pediatrics (AAP) has expanded its recommendations to ensure a safe sleeping environment for infants and to further reduce the risk for sudden infant death syndrome (SIDS) in a new policy statement.
The recommendations were announced here at the AAP 2011 National Conference and Exhibition by pediatrician and SIDS researcher Rachel Moon, MD, from the Children's National Medical Center, Washington, DC, who led the task force that updated the policy statement.
Since 1992, when the AAP recommended that all babies be placed on their backs to sleep, deaths from SIDS have declined dramatically; however, sleep-related deaths from other causes, including suffocation, entrapment, and asphyxia, have increased, Dr. Moon said.
She told Medscape Medical News that the new policy statement has 3 important changes.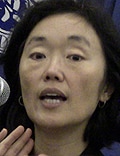 First and foremost is the recognition that breastfeeding protects against SIDS.
"In 2005, there was a lot of evidence that breastfeeding was great for preventing infant mortality in general, but not SIDS specifically. But since 2005, there has been a lot of research that has shown that breastfeeding is protective against SIDS, and we wanted to emphasize that and make that change," Dr. Moon said.
The second change is an emphasis on immunization.
"There's been a lot of press out there about how immunizations may cause SIDS. Again, there's been research to show that this is absolutely not the case. In fact, if you are immunized, your risk of SIDS drops by 50%. We wanted to make that clear; we wanted to put that out there," she said.
The third big change, Dr. Moon said, is the recommendation against using bumper pads in cribs to reduce accidental smothering.
"We have expanded the recommendations in the policy statement to focus not only on SIDS, but on other deaths that can occur. That is why we are recommending against the cushions that go along the sides of the crib," she said. "Children can be suffocated by them."
Other key recommendations are:
Always use a firm sleep surface. Car seats and other sitting devices are not recommended for routine sleep.

The baby should sleep in the same room as the parents, but not in the same bed (room sharing without bed sharing).

Keep soft objects or loose bedding out of the crib.

Wedges and positioners should not be used.

Offer a pacifier at nap time and bedtime.

Avoid covering the infant's head or overheating.

Do not use home monitors or commercial devices marketed to reduce the risk for SIDS.

Supervised, awake tummy time is recommended daily to facilitate development and minimize the occurrence of positional plagiocephaly (flat heads).
Eve R. Colson, MD, from the Yale University School of Medicine, New Haven, Connecticut, told Medscape Medical News that she is very happy to see this focus on preventing accidental deaths.
"As a director of our nursery and somebody who is really into medical education of families and of staff, I am glad to see this because we have seen lots of accidental deaths," Dr. Colson, who was not a member of the policy statement task force, said.
"We, at Yale, have been so upset by the increased number of deaths in beds happening in New Haven and surrounding areas. In my opinion, the adult bed is not a safe place and I'm glad they've come out with this recommendation."
Dr. Colson said she understands "totally" that parents like to be close to their babies, and she encourages this. She said she takes a very sensitive approach when explaining to parents why the adult bed is not safe for babies.
"We get SIDS deaths in our emergency room, but we also get babies who have suffocated because somebody rolled on them or they have ended up underneath a pillow or got trapped between the mattress and the wall. This is what we have seen and we want to prevent that."
Dr. Moon and Dr. Colson have disclosed no relevant financial relationships.
American Academy of Pediatrics (AAP) 2011 National Conference and Exhibition. Presented October 17, 2011.
Medscape Medical News © 2011 WebMD, LLC

Send comments and news tips to news@medscape.net.
Cite this: Updated AAP Policy Statement Stresses 'Safe Sleep' - Medscape - Oct 21, 2011.