October 20, 2011 (Boston, Massachusetts) — Younger primary care providers are more likely than their older counterparts to believe that vaccines do more harm than good, according to an abstract here at the Infectious Diseases Society of America 49th Annual Meeting by Saad Omer, MBBS, MPH, PhD, assistant professor of global health, epidemiology, and pediatrics at Emory University in Atlanta, Georgia, and colleagues.
Although evidence in the literature supports the idea that younger parents, who have largely grown up in an era without experiencing vaccine-preventable diseases, influence each other in lessening support for immunizations, there had been no studies on such a "cohort effect" on perceptions about vaccination among physicians.
Therefore, in 2005, investigators surveyed primary care providers and, using logistic regression analysis, calculated the odds ratios for the association between provider graduation cohort and beliefs about immunization, disease susceptibility, disease severity, and vaccine efficacy and safety.
Based on 551 completed surveys (84.3% response rate), they found that more recent graduates were 15% less likely than older graduates to believe that vaccines are effective. The younger graduates were also less likely to believe that inactivated or oral polio, measles, mumps, rubella, and varicella vaccines are safe.
"These are differential effects. In the absolute sense, support remains high," Dr. Omer told Medscape Medical News. "The effect was more pronounced in terms of vaccine efficacy, but was also there in terms of vaccine safety, not for all vaccines but for some vaccines." However, the investigators did not find much difference between older and younger providers in their perceptions of disease susceptibility or severity.
Dr. Omer said that for parents, safety-related issues are the most important. "The medical profession and the public health community have focused on messages to the general community in terms of vaccine safety....I think there should be some more emphasis on efficacy," he said.
The authors conclude that younger healthcare providers hold different beliefs about the risk/benefit ratio of immunizations than an older generation of providers. Because healthcare providers have a strong influence on parents' attitudes about the acceptance of vaccines, this change in perception and beliefs among younger healthcare providers has potential policy implications for the medical education and training about vaccines, the authors say.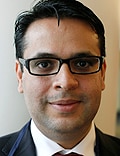 Dr. Omer noted that it would be informative to look at foreign medical graduates who are licensed to practice medicine in the United States. "In their initial medical training, they have different exposure [to diseases], because it's not a time-related effect. In that case, it's a space-related effect," he said. In the survey, the investigators tried to stratify their data according to where physicians were trained but did not have large enough numbers to be meaningful.
He proposed that the cohort effect does not have to be permanent, and that a more proactive effort at exposing individuals in various levels of training to the importance of vaccines and vaccine-preventable diseases might help ameliorate the problem. He said he wants to look at the content of medical training at various levels to see "the points of intervention where you can counter some of the 'natural decline' in perceptions."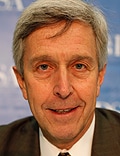 Bruce Gellin, MD, MPH, deputy assistant secretary for health and director of the National Vaccine Program Office in Washington, DC, who was not involved in the study, told Medscape Medical News that these study data can help focus attention where it will be most useful for medical training. He said the findings about pediatricians' attitudes toward vaccines reflect their experiences with various diseases. He recalled that in his medical training years ago, physicians taking a medical history of a child asked the parent about usual childhood infections. Those are now called vaccine-preventable diseases. "So that situation has changed," Dr. Gellin said.
He emphasized the importance of clinical training. "You're only going to get so much out of the textbooks."
The study had no commercial funding. Dr. Omer and Dr. Gellin have disclosed no relevant financial relationships.
Infectious Diseases Society of America (IDSA) 49th Annual Meeting: Abstract 324. To be presented October 21, 2011.
Medscape Medical News © 2011 WebMD, LLC

Send comments and news tips to news@medscape.net.
Cite this: Can You Teach New Docs Old Tricks? - Medscape - Oct 20, 2011.