October 20, 2011 (UPDATED) (Boston, Massachusetts) — Twenty-one percent of pediatricians in the Midwest say they have discharged families from their practices for continuing to refuse all vaccines. Parental attitudes and beliefs about vaccines for their children have led to "vaccine hesitancy and refusal" in many cases. There are about 85,000 cases each year of vaccine-preventable diseases in the United States, according to an abstract here at the Infectious Diseases Society of America (IDSA) 49th Annual Meeting.
To explore pediatricians' attitudes about parental vaccine hesitancy/refusal, investigators, led by Thomas Tryon, MD, section chief at the Children's Mercy Northland Urgent Care Center and associate professor of pediatrics at the University of Missouri–Kansas City School of Medicine, surveyed members of the American Academy of Pediatrics (AAP) in 9 Midwestern states (AAP District VI). Participants for this pilot survey were recruited by email, and they completed the survey online.
Demographic information was available for 772 of the 909 respondents; 88% were white and 58% were women. Most of the respondents (59%) were 35 to 54 years of age. There were 695 complete or near-complete responses.
The survey results indicated that the 3 vaccines with the highest rates of parental refusal or deferment were measles/mumps/rubella (MMR), human papillomavirus (HPV), and influenza. The 3 most frequent reasons cited were fear of autism, too many shots, and serious adverse effects.
The investigators found that the most frequent intervention that physicians used was engaging the family in a discussion and presenting options; this strategy was reported by 95% of physicians across all of the states. Two thirds of respondents referred families to Web sites, and almost as many provided evidence-based literature. Only 1% reported that they used no intervention with families who refused or deferred immunizations.
Physicians reported a wide disparity in the number of families they saw who altered the recommended vaccine schedule, ranging from 1% to more than 50%. Similarly, respondents reported from 0% to 40% of families refusing at least some vaccines.
Overall, most pediatricians surveyed in all the states reported less than 5% vaccine refusal and less than 20% vaccine schedule alterations in their practices, although some practitioners reported higher rates.
Physicians in Iowa were not shy about discharging families from their practices for continuing to refuse all vaccines, with 38% reporting that they did so. In contrast, only 0.9% of pediatricians in Minnesota did. Overall, 21% of respondents said they discharged families for refusing all immunizations.
Coauthor Chris Harrison, MD, professor of pediatrics and director of the infectious disease laboratory at the University of Missouri School of Medicine in Columbia, said that "the refusal seemed to be based on misperceptions by the parents about vaccine safety.... This is a blueprint for how we can try to improve adherence to vaccine schedules."
The authors conclude that physicians in the Midwest vary widely in their experiences with parents hesitating about or refusing vaccines. They write that the results of this pilot survey will help them formulate a more definitive survey and lead to the better design of educational materials and intervention strategies that physicians can use with families.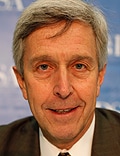 Bruce Gellin, MD, MPH, deputy assistant secretary for health and director of the National Vaccine Program Office in Washington, DC, told Medscape Medical News that "we need a better understanding of how people make decisions — what influences the decisions and what kind of information and what sources will be helpful." He noted that doctors are the most important source of health information for their patients and families, and these research findings highlight an opportunity for IDSA and the AAP to work with pediatricians to improve the dialogue they have with their patients.
"We need to continue to look at how we can ensure that the people who are recommending vaccines have all the information...to address the kinds of questions that people come up with, which isn't necessarily simple." Physicians need good sources of information for themselves and their patients and need to understand how parents make decisions for their children, Dr. Gellin said, who was not involved in the study.
Dr. Tryon and Dr. Gellin have disclosed no relevant financial relationships.
Infectious Diseases Society of America (IDSA) 49th Annual Meeting: Abstract 634. To be presented October 21, 2011.
Medscape Medical News © 2011 WebMD, LLC

Send comments and news tips to news@medscape.net.
Cite this: Pediatric Practices Discharge Families for Vaccine Refusal - Medscape - Oct 20, 2011.