October 17, 2011 — American Academy of Ophthalmology (AAO) 2011 Annual Meeting will give delegates a chance to get "up close and personal" with thought leaders and experts in the field of ophthalmology and provide more informal learning opportunities.
The meeting takes place October 22 to 25 at the Orange County Convention Center in Orlando, Florida.
"We want to have a little bit less of the formal PowerPoint lecture format, which is the traditional meeting format, and try to provide more of an interactive format," said Jonathan B. Rubenstein, MD, Deutsch Family Professor of Ophthalmology at Rush University Medical Center in Chicago, Illinois, and senior secretary in charge of the AAO's annual meeting.
To make things more relaxed, the AAO has instituted what it calls Academy Cafes, which are less formal spaces where experts can gather to discuss topics of interest and field questions from audience members who sit on couches and easy chairs, not in rows of conference chairs.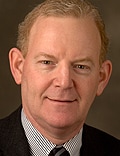 "The point is to encourage and facilitate asking questions in an atmosphere that is less formal than a lecture hall," Dr. Rubenstein told Medscape Medical News.
Along these lines, and new this year, are Learning Lounges, which will accommodate about 30 people each.
"It's like a small theatre where participants can ask questions that come up after a lecture. They can meet the author or talk to the person who presented the video, rather than just grabbing somebody as they are leaving the lecture hall. That usually doesn't work well," he said.
The AAO believes this informal approach is more conducive to learning. "This has actually been well studied — learning is easier when it's in a less formal setting," he said.
Attendees will also be able to buy a course pass, which will allow them to go to all of the courses the AAO is offering, instead of having to register for each individual course. "It's like an amusement park pass — where you enter the park and can go on any ride you want," Dr. Rubenstein explained.
A highlight of the meeting will be several courses on the latest technology for cataract surgery — the femtosecond laser. The technique, which has only been available for 6 months, makes cataract surgery safer and easier to do. There will be sessions devoted to this technology throughout the meeting.
"It is still not widely available because it is expensive and because insurance is still trying to decide what it will and will not cover, but it represents the future," he said.
Even though the tone of the meeting is more informal, there will be ample opportunity to hear cutting-edge scientific talks, said Cynthia Mattox, MD, from Tufts University School of Medicine in Boston, Massachusetts, and associate secretary for the meeting.
There will be sessions in which original research is presented, which are new this year. During these sessions, researchers will present their work and a panel discussion will follow.
"We are really excited about this. These sessions tend to be less-well attended than some of the other offerings, but we spent a lot of time and effort selecting the presentations for this year," Dr. Mattox said.
The scientific posters, started last year, are again being offered. There will also be organized poster tours led by experts, who will take a group of people to visit and discuss various posters of interest.
"We feel strongly that the scientific papers and posters are a very important part of the offerings that we have," Dr. Mattox noted. "They are a way for researchers to showcase their best work."
The AAO has also organized a special evening at Universal Studios. The theme park will be featuring The Wizarding World of Harry Potter, and will be closed to everyone except meeting delegates and their guests.
"It will allow people go to the theme park with no lines and no hassles, and that will be a lot of fun," Dr. Rubenstein said.
Registration for the meeting has exceeded the AAO's expectations, he added.
Dr. Rubenstein and Dr. Mattox have disclosed no relevant financial relationships.
Medscape Medical News © 2011 WebMD, LLC

Send comments and news tips to news@medscape.net.
Cite this: 2011 AAO Annual Meeting to Feature New Approach to Learning - Medscape - Oct 17, 2011.