September 29, 2011 (Stockholm, Sweden) — Tumor hormone-receptor and HER2 status can change in breast cancer patients during the course of their disease. Because these changes can significantly influence survival and can completely change the patient's clinical management, these patients should undergo regular biopsies, according to a new study.
The results of that study, presented here at the 2011 European Multidisciplinary Cancer Congress (EMCC), showed that there is substantial tumor instability during tumor progression.
"For example, we saw that 1 in 3 breast cancer patients alter estrogen or progesterone hormone-receptor status, and 15% of patients change human epidermal growth-factor receptor 2, or HER2, status during the course of disease," explained lead author Linda Lindström, PhD, a postdoctoral fellow from the Department of Oncology-Pathology, Karolinska Institutet, Stockholm, Sweden.
Estrogen-receptor (ER) status, which was assessed in the primary tumor and after the first relapse, showed a change in 32.4% of patients. Similar results were observed for progesterone-receptor (PR) status, and tumor changes were noted 40.7% of patients.
The researchers observed a change in HER2 status from the primary tumor to the first relapse in 14.5% of patients.
These data emphasize the importance of regular biopsies in patients who relapse, she told Medscape Medical News.
A similar pattern was seen in patients who experienced multiple consecutive relapses. In this group, ER, PR, and HER2 status changed in 33.6%, 30.2%, and 15.7% of patients, respectively.
Building on Evidence
Several recent small studies have suggested that the HER2 and hormone-receptor status of the relapsed tumor can be different than the status of the original lesion. In such cases, treatment options that were effective in the primary cancer might not be optimal for the relapsed/metastatic disease.
A study presented at the 2008 annual meeting of the American Society of Clinical Oncology, as previously reported by Medscape Medical News, showed that 45 of 160 samples (11%) exhibited changes in receptor status. Of this group, 11 (7%) were local recurrences and 34 (21%) were regional or distant relapses.
Findings published in the Annals of Oncology (2010; 21:1254-1261) showed a much higher proportion of changes in these key receptors than has been previously reported. In that study, differences between nodal tumor tissue and primary breast cancer was seen in 46.9% of the patients with metastatic disease. In addition, many of the differences in expression between the primary tumor and the node were "large-magnitude (>5-fold) changes," those researchers noted.
Multiple Changes Seen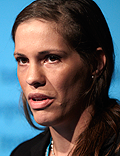 Dr. Lindström explained that her team conducted the first sizeable study to look at changes in tumors in multiple relapses in breast cancer patients, analyzing data on nearly 500 women. "Our aim was to assess ER, PR, and HER2 status throughout tumor progression, and specifically to understand how they change in relapsed disease."
The researchers evaluated breast cancer patients in the Stockholm healthcare region who experienced a disease recurrence from January 1, 1997 to December 31, 2007.
In 459, 430, and 104 patients, ER, PR, and HER2 status, respectively, was assessed in the primary tumor and after first relapse. Information on ER, PR, and HER2 status in multiple consecutive relapses was evaluated in 119, 116, and 32 patients, respectively.
ER status changed in almost 34% of a cohort of 119 women, and between the different sites of relapse (local, loco-regional, and metastases). ER-positive status remained stable in 36.1% of patients, and ER-negative status remained stable in 30.3%. However, ER status changed from positive to negative in 16.0% during the course of their disease, changed from negative to positive in 12.6%, and alternated between positive and negative in 5%.
"In the clinical setting, the implication of estrogen-receptor instability is important," said Dr. Lindström. "The loss of estrogen receptor generally means resistance to hormonal therapy; these patients would benefit from a change in therapy."
"An estrogen-receptor gain would introduce an additional choice of therapy, which in some patients could lead to tumor response and improved survival in the metastatic setting," she explained.
Changes in receptor status appeared to adversely affect outcome, Dr. Lindström pointed out. Women with ER-positive primary tumors that switched to ER-negative status had an approximately 2-fold increased risk of dying, compared with those with stable ER-positive tumors.
The data suggest that hormonal therapy promotes changes in ER status during disease progression. The researchers stratified the intrapatient ER status in primary tumor and relapse according to the treatment they received: none, adjuvant hormonal therapy or chemotherapy, or a combination of both. One third of patients who received hormonal therapy lost ER expression when their disease relapsed, whereas only 1 of 10 untreated patients experienced altered ER status.
In addition, only a few patients who gained ER had received hormonal therapy. Conversely, in the those who received chemotherapy alone or no treatment, the proportion who gained ER status was 3 times greater.
Need to Do Biopsies
The technology is moving forward, and "we really need to do biopsies and stratification," said Anne-Lise Børresen-Dale, PhD, cochair of the EMCC scientific program and moderator of the press briefing where the findings were presented. "We need to do this to correctly treat our patients."
Rob Coleman, MBBS, MD, professor of medical oncology at the University of Sheffield, United Kingdom, noted that in the United Kingdom, "not been enough biopsies were done."
"But there is an increasing uptake of biopsies," said Dr. Coleman, who was not involved with the study. "We are moving in that direction."
2011 European Multidisciplinary Cancer Congress (EMCC): Abstract 5024. Presented September 25, 2011.
Medscape Medical News © 2011 WebMD, LLC

Send comments and news tips to news@medscape.net.
Cite this: Regular Biopsies Needed in Relapsed Breast Cancer Patients - Medscape - Sep 29, 2011.