September 26, 2011 (Stockholm, Sweden) — The combination of everolimus (Afinitor, Novartis) plus exemestane has produced "the strongest data ever seen in estrogen-receptor [ER]-positive breast cancer," principal investigator José Baselga, MD, from the Massachusetts General Hospital and Harvard Medical School, Boston, told Medscape Medical News.
The data come from a pivotal phase 3 study, known as BOLERO-2, which was stopped early because of the benefit observed. Results were unveiled here at the 2011 European Multidisciplinary Cancer Congress.
"Everolimus is the most important advance in breast cancer since trastuzumab," said Fabrice André, MD, from the Institut Gustave Roussy, Paris, France, who acted as discussant. "The data are robust and are clinically relevant," he said, adding that "the efficacy is in the range of the most important recent advances in the field of medical oncology."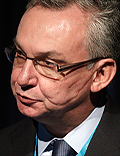 Data from the study will now be submitted for approval, and clinicians should wait for registration before they incorporate this new drug combination into clinical practice, Dr. Baselga told Medscape Medical News.
However, because both drugs are already commercially available, they could be used off-label for this new indication. Everolimus is an mTOR inhibitor that has already been approved in the United States for the treatment of progressive neuroendocrine tumors of pancreatic origin and advanced renal cell carcinoma in certain patients. Exemestane is an aromatase inhibitor, already widely used as adjuvant therapy for ER-positive breast cancer. Both drugs are taken orally.
Rationale for This Approach
Previous smaller studies and preclinical data support the use of an mTOR inhibitor to reverse the resistance that develops to hormonal therapy in ER-positive breast cancer, Dr. Baselga noted. That resistance has been associated with an activation of the mTOR pathway, which is inhibited by drugs such as everolimus.
The results from this large phase 3 trial show that "everolimus is the first agent to enhance hormone therapy in refractory ER-positive breast cancer patients," and they represent a "paradigm shift in the management of these patients," he told delegates.
The BOLERO-2 study was conducted in 724 postmenopausal women with ER-positive but HER2-negative advanced breast cancer who had previously been treated with and had become refractory to the nonsteroidal aromatase inhibitors letrozole and anastrozole. Previous therapies included tamoxifen (in 48% patients), fulvestrant (in 16%), and chemotherapy (in 68%).
"When patients stop responding to hormonal therapy, the benefits from any secondary therapy are limited," Dr. Baselga explained.
All of the women in the study received exemestane, which is a steroidal aromatase inhibitor with a slightly different profile than letrozole or anastrozole. In addition, women were randomized in a 2:1 ratio to receive everolimus (10 mg/day orally).
A preplanned interim analysis found that everolimus significantly improved progression-free survival, the primary end point of the study. Median progression-free survival, assessed by local investigators, was longer with everolimus plus exemestane than with exemestane alone (6.9 vs 2.8 months; hazard ratio [HR], 0.43; P ≤ .0001). These figures changed slightly after central assessment (10.6 vs 4.1 months; HR, 0.36; P < .0001).
These results were highly significant, Dr. Baselga emphasized. "This is a very uncommon result in metastatic disease," he said at a press briefing. "Very seldom do you see such an effect."
In addition, there was a significantly greater response rate (9.5% vs 0.4%) and clinical benefit (33.4% vs 18.0%) in the combination group. Dr. Baselga noted that these data are immature and likely to improve.
The most common adverse effects reported in the combination and exemestane-alone groups were stomatitis (8% and 1%, respectively), anemia (5% and 1%), dyspnea (4% and 1%), hypoglycemia (4% and <1%), fatigue (3% and 1%), and pneumonitis (3% and 0%).
"The safety profile is consistent with previous everolimus experience," Dr. Baselga explained.
In a statement from the manufacturer, Novartis Oncology president Herve Hoppenot said: "Everolimus is the first drug to show significant efficacy when combined with hormone therapy in ER-positive and HER2-negative breast cancer, where there continues to be a critical unmet need."
"The magnitude of benefit seen in these patients, despite their resistance to previous hormonal therapies, shows that everolimus represents a potential important new treatment approach," he added.
This BOLERO-2 trial was funded by Novartis. Dr. Baselga reports acting as a consultant for many pharmaceutical companies, including Novartis, Roche, Merck SA, and Bayer.
2011 European Multidisciplinary Cancer Congress (EMCC): Abstract 9LBA. Presented September 26, 2011.
Medscape Medical News © 2011 WebMD, LLC

Send comments and news tips to news@medscape.net.
Cite this: 'Strongest Ever Data' in Breast Cancer With Everolimus - Medscape - Sep 26, 2011.