September 25, 2011 (Stockholm, Sweden) — Traditionally after surgery, breast cancer patients undergo chemotherapy first and radiotherapy second, but a new large trial from the United Kingdom shows that synchronous administration of the 2 modalities results in better local control of the disease.
The results come from the Sequencing of Chemotherapy and Radiotherapy in Adjuvant Breast Cancer (SECRAB) study, the largest to date to address this issue, with 2296 patients and a median follow-up of 8.8 years. They were reported here at the 2011 European Multidisciplinary Cancer Congress.
Are These Practice-Changing Results?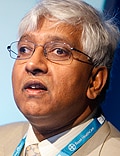 The results from this trial should change clinical practice, said principal investigator Indrajit Fernando, MD, consultant clinical oncologist at the University Hospitals Birmingham NHS Foundation Trust in the United Kingdom. At a press briefing, he said that his team has already changed the way they deliver the 2 modalities. Patients are really happy to have the radiotherapy sandwiched between the chemotherapy, he said, because it means that when they finish the last cycle of chemo, they have finished with the whole treatment, and can get on with their lives.
He also noted that the improvement in outcome is achieved at no extra cost; the treatments remain the same, it is just the timing of how they are delivered that is changed.
However, although the trial showed a significant reduction in local recurrences in patients who were treated synchronously, compared with those who were treated sequentially, there was no difference in overall survival between the 2 groups. That point made discussant Lori Pierce, MD, radiation oncologist from the University of Michigan Comprehensive Cancer Center in Ann Arbor, hesitate over whether the results are practice changing.
"Perhaps," she said.
If longer follow-up shows a survival advantage, then "absolutely" these results should change practice, she said. If there is a subgroup of patients that can be identified as particularly benefiting, then "most likely" practice should be changed. But for the time being, she suggested, the results need to be discussed with individual patients, who should be informed of the benefit of reduced local relapses, but also about the increase in acute skin toxicity that was seen with synchronous administration.
Dr. Pierce offered congratulations to Dr. Fernando and his team for having designed and completed "this very important trial."
Radiotherapy Between Chemotherapy
In the trial, the standard approach of administering radiotherapy after completion of chemotherapy (sequential approach) was compared with synchronous administration, which was divided into 2 groups, Dr. Fernando explained. More than 60% of patients received radiotherapy (40 Gy in 15 fractions) delivered over 3 weeks, which is the most common approach used in the United Kingdom and Canada. The 3 weeks of radiotherapy was sandwiched between cycles 2 and 3 of chemotherapy.
However, some patients had radiotherapy administered over longer periods, as is common in the United States and much of Europe, he said. For instance, some women received 45 Gy in 20 fractions over 4 weeks or 50 Gy in 25 fractions over 5 weeks. In these cases, the radiotherapy was started in the gap between chemotherapy cycles and then continued and was administered concomitantly.
The trial was started in 1983, and the standard chemotherapy used at that time in the United Kingdom was cyclophosphamide, methotrexate, and fluorouracil (CMF); later an anthracycline, usually epirubicin, was added to this regimen, he said.
After a median follow-up of 8.8 years, only 41 women had local recurrences in the synchronous group, compared with 63 women in the sequential group. The 5-year local recurrence rate was 2.8% vs 5.1% (hazard ratio, 0.65; P = .03) — it was reduced significantly by 35%, Dr. Fernando noted.
The benefit was seen across all treatments (various chemotherapy and radiotherapy regimens) and across all biological subgroups (e.g., grade, lymph node status), he noted.
There was an increase in acute skin toxicity with synchronous administration, compared with sequential administration (24% vs 15%; P < .001), but Dr. Fernando noted that most of these events were "modest and had healed within 4 weeks."
There was also an increase in modest/severe telangiectasia, seen in 2.5% of patients in the synchronous group and 1.3% in the sequential group (P = .05).
Dr. Pierce pointed out that there was no difference between the 2 treatment groups in overall survival or in disease-fee survival.
Both Dr. Pierce and Dr. Fernando referred to a study carried out by the Early Breast Cancer Clinical Trialists' Collaborative Group, which found that 1 breast cancer death can be avoided for every 4 local recurrences that are prevented (Lancet. 2005:366:2087-2106).
Clinical practice needs to be reviewed.
Dr. Fernando concluded that for breast cancer patients being treated with CMF or an anthracycline/CMF chemotherapy schedule, "clinical practice needs to be reviewed." He added that the results could probably be extended to patients being treated with a taxane as well as anthracycline and CMF.
However, Dr. Pierce cautioned that the results cannot be extrapolated to other chemotherapy regimens. She also noted that CMF is seldom used in the United States, and that a recent survey of community oncologists revealed that most treat breast cancer with a combination of anthracycline and taxane, or one or the other of these used alone.
"This trial raises the important issue of how radiotherapy and chemotherapy after surgery should be sequenced or integrated to obtain the best outcome in breast cancer," said the president of the European CanCer Organisation, Michael Baumann, MD, radiation oncologist at the University of Technology in Dresden, Germany.
"The SECRAB trial suggests that the risk of loco-regional recurrences could be reduced by applying radiotherapy simultaneously with chemotherapy," he said in a statement. "Long-term follow-up will still be necessary to assess potential late side effects and the benefits versus the risks of this approach, but I am convinced that this trial will spur a lot of discussion on optimizing adjuvant treatment in this common disease."
The SECRAB trial was funded by Cancer Research UK.
2011 European Multidisciplinary Cancer Congress (EMCC): Abstract 2BA. Presented September 25, 2011.
Medscape Medical News © 2011 WebMD, LLC

Send comments and news tips to news@medscape.net.
Cite this: Radiotherapy At Same Time As Chemo Better in Breast Cancer - Medscape - Sep 25, 2011.