September 23, 2011 (Stockholm, Sweden) — The investigational radiopharmaceutical radium-223 chloride (Alpharadin), which has been shown to improve survival in patients with advanced prostate cancer and bone metastases and is a practice changer, could potentially be used in many other cancers.
The product is highly targeted for bone metastases, so it is possible that it could be used in many different cancers that have spread to the bone, regardless of the primary site, said Chris Parker, MD, consultant clinical oncologist at the Royal Marsden Hospital, London, United Kingdom. However, this is just theory at the moment, he told Medscape Medical News. Clinical trials in other cancers are planned, starting with breast cancer.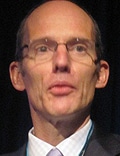 Dr. Parker was speaking at an press briefing here at the 2011 European Multidisciplinary Cancer Congress, where he was presenting the results of the phase 3 trial in prostate cancer, known ALSYMPCA (NCT00699751). Top-line results from this trial, released earlier this year, caused quite a stir because they showed a significant improvement in survival.
Prostate cancer patients were studied in the first instance because this cancer has a high tendency to metastasize to the bone, Dr. Packer explained. About 90% of patients with advanced prostate cancer will develop bone metastases, and in many cases there will not be any detectable metastases elsewhere in the body, he said.
The phase 3 study involved 922 prostate cancer patients who were resistant to hormone treatment and who had developed 2 or more bone metastases. All of the participants received standard treatment, but the men who also received radium-223 chloride lived significantly longer, with a median overall survival of 14 months, compared with 11.2 months (hazard ratio, 0.695; P = .00185).
This result, uncovered during an interim analysis, stopped the trial early. At that point, "it would have been unethical not to offer the active treatment to those taking placebo," Dr. Parker explained.
The data from the prostate cancer trial will now be submitted to regulatory authorities for approval. Alpharadin, originally developed by the Norwegian company Algeta ASA, has been licensed and is now under development by Bayer.
Bayer noted recently that the US Food and Drug Administration has granted the compound Fast Track designation, which expedites the review of drugs aimed at serious disease and that fill an unmet medical need.
Practice Changing in Prostate Cancer
Dr. Parker said he believes that, once approved, radium-223 chloride will become a standard treatment for advanced prostate cancer, and that it represents "a very different and significant step forward."
How exactly it will fit into the current management is not entirely clear, he added. It will be interesting to see if it can be used in combination with abiraterone; both products have been shown to improve survival and both are very well tolerated, he said.
Cancer experts moderating the press briefing agreed that the product represents a therapeutic step forward. Medical oncologist Jean-Charles Soria, MD, PhD, from the Institut Gustave Roussy, Paris, France, who is a cochair of the scientific program committee, said the data are practice changing.
"I think that [radium-223 chloride] will become a major player in prostate cancer management," he said.
Another prominent oncologist agreed. "This is a very important finding. It is certainly practice changing," said Michael Baumann, MD, president of the European CanCer Organisation (ECCO) and professor of radiation oncology at the University of Technology in Dresden, Germany.
Highly Targeted to Bone
Radium-223 chloride works by releasing minute, highly charged, targeted doses of radiation — alpha particles that are highly lethal but have a short penetration. Radium is similar to calcium, in that it sticks to bone, particularly where new bone is being formed, as happens in bone metastases, Dr. Packer explained. This specific targeting delivers the radiation to the bone metastases and minimizes adverse effects, he added.
"It takes only a single alpha particle to kill a cell," Dr. Parker explained. "Collateral damage is minimized because the particles have such a tiny range — a few micrometers. We can be sure that the damage is being done where it should be, to the metastases, and is very limited elsewhere."
Adverse effects are minor, he emphasized. They include mild nausea and occasional diarrhea, and there is a small effect on the bone marrow. The safety profile is completely different to that seen with chemotherapy, he added, and although the product has not been compared directly in a clinical trial, "it is clear that patients tolerate it much better than they do chemotherapy."
Ease of Administration
Radium-223 chloride is convenient to administer, and is used on an outpatient basis, Dr. Packer explained. In this trial, it was given as 6 intravenous injections at 4-week intervals (50 kBq/kg), he noted. The product is also easy to store, and does not need special packaging, such as lead-lined cases, because it emits short-penetrating alpha particles and not the long-range beta particles that are emitted by radiopharmaceuticals such as radioactive strontium.
However, radium-223 chloride has a relatively short half-life, so needs to be used within 2 weeks of manufacture, he added.
The compound is "efficient, very well tolerated, and convenient to administer," said Wim Oyen, MD, PhD, from the Department of Nuclear Medicine at Raboud University Nijmegen Medical Center, who acted as discussant for this paper.
The improvement in overall survival seen in this trial is similar to that seen with other agents in advanced prostate cancer, he said. Radium-223 chloride increased median overall survival by 2.8 months; previous clinical trials have shown improvements of 2.4 months with docetaxel, 2.4 months with carbitaxel, 3.9 months with abiraterone, and 4.1 months with the immunotherapy sipuleucel-T (Provenge).
Dr. Oyen suggested that earlier use of radium-223 chloride might be warranted, perhaps even in an adjunct setting in patients who are at high risk of developing bone metastases. For alpha-emitting products, the smaller the tumor, the better the effect, he explained.
In addition, he suggested that combinations with other agents, such as chemotherapy, should be explored.
ALSYMPCA was sponsored by Algeta and Bayer. Dr. Packer reports acting as a consultant to both companies.
2011 European Multidisciplinary Cancer Congress (EMCC): Abstract 1LBA. Presented September 24, 2011.
Medscape Medical News © 2011 WebMD, LLC

Send comments and news tips to news@medscape.net.
Cite this: Practice Changing Alpharadin Might Be for Many Cancers - Medscape - Sep 23, 2011.