Hello, I'm Dr. Tim Uyeki from CDC's Influenza Division. I'm pleased to speak with you today as part of the CDC Expert Commentary Series on Medscape.
The influenza vaccination recommendation this year is simple: Everyone 6 months of age and older should receive influenza vaccine. The annual "universal" influenza vaccination recommendation was first established in 2010 to expand protection against influenza to more people.
You may receive questions from patients who were vaccinated last season about whether they still need an annual influenza vaccination because the influenza vaccine virus strains included in the 2011-2012 influenza vaccines are the same as those in last year's vaccines. It's not common for all 3 vaccine virus strains to be unchanged from one season to the next -- this has happened only 8 times since 1969. However, CDC has always recommended that people get vaccinated every year.
Annual influenza vaccination, even when the vaccine strains are unchanged, is important because a person's immune protection from influenza vaccination declines over time. Immunity acquired from vaccine administered last season will have declined and may not be enough to prevent infection this season. So, annual influenza vaccination is recommended for optimal protection.
Increasingly, there are influenza vaccination options. There are 3 trivalent inactivated vaccines (TIV) as well as live attenuated influenza virus vaccine (LAIV or the nasal spray vaccine).
Trivalent inactivated vaccine has been around for decades and is approved for use in people 6 months and older, including people with high-risk medical conditions and pregnant women. It is administered intramuscularly. Different formulations of this vaccine are available from various manufacturers, and the minimum age varies from one formulation to another. Consult the package insert to ensure that a specific vaccine is suitable for your patient's age. In addition, the 2011-2012 Advisory Committee on Immunization Practices (ACIP) Influenza Vaccine Recommendations should be consulted. For example, ACIP recommends that the TIV Afluria® (Merck & Co., Whitehouse Station, New Jersey) not be given to children aged less than 9 years, although it is approved for children aged 5 years and older.
The high-dose TIV was introduced in 2010 for people 65 years and older. It contains 4 times the amount of antigen as other influenza vaccines to prompt a stronger immune response. The high-dose influenza vaccine is also administered intramuscularly.
The intradermal influenza vaccine was approved in 2011 for use in people aged 18 through 64 years. The intradermal vaccine contains less antigen than either of the other TIV formulations but provides a similar immune response. It is administered with a prefilled syringe into the dermal layer of the skin with a much smaller needle.
Finally, the LAIV is available for healthy, nonpregnant persons aged 2 years through 49 years. There is no preferential recommendation for any of the formulations of TIV or LAIV for healthy, nonpregnant persons aged 2-49 years old, but clinicians should note the recommended age groups and possible contraindications for each.
Whereas 1 dose of influenza vaccine is adequate for most people, young children who were not previously vaccinated against influenza require 2 doses of influenza vaccine for full protection in a given year. For the 2011-2012 season, children aged 6 months through 8 years of age will need 2 influenza vaccine doses spaced 4 weeks apart if they didn't receive at least 1 dose of influenza vaccine for the 2010-2011 season. Children in this age range who received at least 1 dose of the 2010-2011 influenza vaccine last season will need only 1 dose for the 2011-2012 season.
New for the 2011-2012 season is a more permissive influenza vaccination recommendation for persons with egg allergies. Based on a thorough review of several recent studies, administration of both full doses and split doses of TIV have been tolerated by people with egg allergies without serious reactions. ACIP now recommends that for the 2011-2012 influenza season, people who have experienced only hives from consuming eggs can receive TIV intramuscularly as long as they are treated by a healthcare provider who is familiar with the potential manifestations of egg allergies and can be observed by a healthcare professional for at least 30 minutes after receiving each dose. LAIV should not be used in these patients.
Other measures, such as dividing and administering influenza vaccine using a 2-step approach, are not necessary. People with more severe reactions from ingesting eggs or a previous severe reaction to influenza vaccination should not be given influenza vaccine before having a risk assessment performed. Please use the algorithm provided in the Figure to guide you when considering influenza vaccine for patients who report egg allergy (Figure).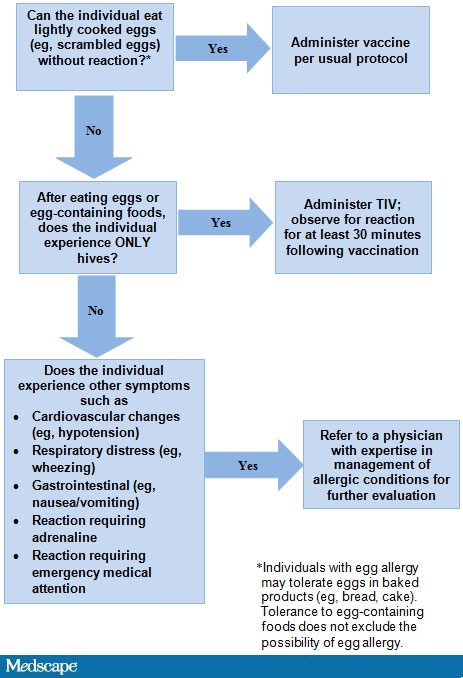 Figure. Approach to persons who report allergy to eggs. (Printable Pdf)
Physicians and others who administer influenza vaccines, such as staff at pharmacies, grocery stores, and clinics, should begin vaccinating as soon as influenza vaccine is available to them and continue throughout the season as long as influenza viruses are still circulating. The influenza season generally occurs from October to May, so influenza vaccination during the winter months can still provide protective benefit for patients who have not yet received the vaccine.
As a final note, CDC offers plenty of free resources, including brochures, posters, and fact sheets, to help educate consumers about influenza and influenza vaccines. Some of these materials can be ordered and shipped directly to your location and others are available online for downloading to an office printer. We also encourage you to use our prepared social media tools, which can be added to your Website. Visit www.cdc.gov/flu, and select the "Free Resources" link to access these materials. Contact fluinbox@cdc.gov if you have questions following this update.
Web Resources
CDC. Seasonal influenza. https://www.cdc.gov/flu/. Accessed September 13, 2011.
CDC. Recommendations of the Advisory Committee on Immunization Practices. https://www.cdc.gov/flu/professionals/acip/ Accessed September 13, 2011.
Dr. Tim Uyeki is Deputy Chief for Science in the Epidemiology and Prevention Branch of the Centers for Disease Control and Prevention's (CDC) Influenza Division. Since 1998 he has worked on the epidemiology, prevention, and control of interpandemic, zoonotic, and pandemic influenza in the United States and worldwide for CDC. Dr. Uyeki serves as a consultant to the World Health Organization (WHO) on clinical and epidemiological issues related to seasonal, zoonotic, and pandemic influenza.
After completing his undergraduate work at Oberlin College, Dr. Uyeki earned master's degrees in public policy and public health (epidemiology) from the University of California, Berkeley, and his medical degree at Case Western Reserve University School of Medicine. Dr. Uyeki completed residencies in pediatrics at the University of California, San Francisco (UCSF) and in preventive medicine at UCSF-UC Berkeley. He then completed a 2-year Epidemic Intelligence Service applied epidemiology fellowship at CDC.
Board-certified in pediatrics, preventive medicine, and public health, Dr. Uyeki serves as an associate clinical professor in the Department of Pediatrics at the University of California, San Francisco. He is also an adjunct associate professor in the Hubert Department of Global Health at Emory University's Rollins School of Public Health.
Public Information from the CDC and Medscape
Cite this: Tim Uyeki. Influenza Vaccination 2011-2012: Recommendations - Medscape - Sep 19, 2011.