September 6, 2011 (Paris, France) — A relaxation program lasting only 12 minutes that involves breathing and tension-reduction exercises may help reduce refractory akathisia in patients with chronic schizophrenia, according to the results of a case series reported here at the 24th Congress of the European College of Neuropsychopharmacology (ECNP).
In fact, the use of simple relaxation exercises helped "downgrade" patients from severe akathisia to mild or a complete absence of akathisia at follow-up 1 week after the intervention had been completed.

"We believe that our results, although preliminary, suggest a role for a relaxation strategy in these patients for a complaint that can be highly disabling, and for which there is no approved or established treatment and lots of unsubstantiated treatments, which may cause unpleasant side effects," Lars K. Hansen, MD, consultant psychiatrist at the Hampshire Partnership National Health Service Foundation Trust in Hampshire, United Kingdom, told Medscape Medical News.
The case series included 9 patients with a primary diagnosis of schizophrenia who were currently experiencing distressing antipsychotic-induced akathisia documented on the widely validated Barnes Akathisia Scale.
All patients had been being treated with commonly used pharmacological interventions for akathisia such as benzodiazepines, beta blockers, or procyclidine, or were currently receiving such treatment. No patient had had a satisfactory response to drug treatment.
Akathisia a Common Condition
Akathisia, defined as an inability to sit still, is a movement disorder characterized by objective movements and restlessness and/or distress. The condition is common in patients undergoing treatment with psychotropic drugs and typically occurs within hours to days after the start of treatment or an increase in dose.
Ironically, although one of the main reasons for the development of second-generation antipsychotic agents was to decrease the incidence and severity of treatment-emergent akathisia and other extrapyramidal adverse effects associated with first-generation antipsychotics (including Parkinsonian symptoms, acute dystonic reaction, and tardive dyskinesia), these adverse effects remain a concern with the second-generation agents. Akathisia is also common with selective serotonin reuptake inhibitor antidepressant therapy.
Overall, akathisia occurs in about 50% to 70% of patients receiving first-generation antipsychotics, and the latest research indicates that there is little difference in the rate of extrapyramidal adverse effects between the first- and second-generation antipsychotics. The rate of akathisia in patients receiving antidepressants is estimated at from 5% to 10%, depending on the antidepressant used.
Dr. Hansen said, "[It] is reasonable to suspect that a combination of antipsychotics and antidepressants, which is often used in clinical practice in patients with psychosis and depression, may significantly increase the risk of akathisia."
Although it is widely believed that there is an association between akathisia and suicidal ideation, there is little evidence to support such an association, Dr. Hansen added. Even so, the condition may have profound sequelae including a decrease in quality of life and lower treatment compliance in patients undergoing drug treatment for psychosis and depression.
In patients with a diagnosis of akathisia, treatment typically involves a decrease in dosage, complete withdrawal of the "offending" medication, or adding additional medications. The most commonly used pharmacological interventions for akathisia include anticholinergic medications, beta blockers, and benzodiazepines. However, there is a lack of evidence to back the use of such medications, which may increase the risk for hypotension, tolerance, dependence, and even depression.
Because of favorable results using structured relaxation programs to treat agitation and anxiety symptoms, Dr. Hansen and colleagues decided to test the use of such a program in patients with akathisia.
Benefits Seen With Relaxation Therapy
Patients performed 6 breathing and 3 tension-reduction exercises for 1 minute, using a program developed jointly by Dr. Hansen and a physiotherapist.
Patients were maintained on their antipsychotic medication at the dose prescribed before the relaxation intervention because their treating physicians felt that reducing the dose might aggravate the patients' psychotic symptoms.
Results showed that the mean Barnes Akathisia Scale score was 3.3 at baseline, indicating severe akathisia, which decreased to 1.4 immediately afterward, denoting mild to no akathisia, and then decreased again to 1.0 a week later.
Further analysis revealed a significant reduction in Barnes Akathisia Scale score from baseline to endpoint (P = .026; Z, −2.232) and a highly significant reduction from baseline to follow-up (P = 0.008; Z = −2.636).
Eight of 9 patients improved with the relaxation protocol.
Dr. Hansen said that the results are encouraging, but was quick to suggest that the improvement seen with the relaxation program may reflect the increased attention and enhanced contact with other patients and staff at the clinic where they were treated. Additional limitations include the small sample size and the use of a potentially biased rater.
"We believe that relaxation should be tried first in patients with akathisia since it's a risk-free strategy," Dr. Hansen said.
He emphasized that the results need to be confirmed in a large, prospective, randomized controlled trial.
Behavioral Technique Useful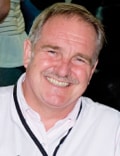 "Akathisia is a really irritating side effect of most antipsychotic drugs; it's a sense of restlessness, an inner itch where people feel that they have to move. Unfortunately, moving doesn't necessarily alleviate it, so patients dislike it. It's one of the factors that leads them to stop taking their medication, and we don't really have any good treatments for it," said David Nutt, DM, who is Edmund J. Safra professor of neuropsychopharmacology at University College in London, United Kingdom, in an interview with Medscape Medical News.
"We sometimes treat it with benzodiazepines, which have their own problems, and beta blockers, which help a bit but also have their own problems and, of course, are contraindicated in asthmatics."
He added: "I think that the use of a behavioral technique is rather clever. There's no theoretical reason why you shouldn't be able to use sort of brain/psychological processes to overcome a motor effect. In fact, there are data going back to the 1920s showing that people can use thoughts to stop having fits. In other words, you can use your brain to stop you from being epileptic."
Dr. Nutt noted that the true role of relaxation therapy in akathisia will need testing in a larger series of patients.
Dr. Hansen has received speaker fees from Bristol-Myers Squibb, Janssen-Cilag, AstraZeneca, Wyeth, and Lilly. Dr. Nutt has disclosed no relevant financial relationships.
24th Congress of the European College of Neuropsychopharmacology (ECNP): Abstract P.3.c.002. Presented September 6, 2011.
Medscape Medical News © 2011 WebMD, LLC

Send comments and news tips to news@medscape.net.
Cite this: Structured Relaxation Shows Promise as Akathisia Treatment - Medscape - Sep 06, 2011.