August 29, 2011 — Treating noncancer pain with opioids may not be worth the risk, according to a paper published online August 23 in BMJ.
Deaths from opioids prescribed for chronic noncancer pain tripled in the United States between 1999 and 2007 and are increasing in the United Kingdom and other countries, write Irfan Dhalla, MD, from the University of Toronto, Ontario, Canada, and colleagues.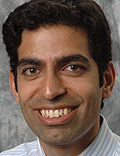 More than 1000 deaths occur every month in the United States alone as a result of opioid overdose, Dr. Dhalla told Medscape Medical News.
"Physicians need to take a much more cautious approach to prescribing opioids for chronic noncancer pain, and governments and regulatory agencies need to change the way they do business so that physicians can prescribe more safely," he said.
Physicians have become much more willing to prescribe opioids for chronic noncancer pain over the last 25 years, and deaths involving opioid analgesics increased from 4041 in 1999 to 14,459 in 2007. Such deaths are now more common than deaths from multiple myeloma, HIV, and alcoholic liver disease.
Oxycodone Particularly Dangerous
A major culprit is oxycodone. Deaths caused by the drug, the majority of which are unintentional and occur in relatively young individuals, have increased especially rapidly not only in the United States but also in Canada and Australia.
"In countries where there is a significant problem, we believe that regulatory agencies, such as the Food and Drug Administration, need to monitor advertisements more closely," Dr. Dhalla said.
The US Food and Drug Administration should also mandate that pharmaceutical companies perform studies that will provide physicians with the information they need to prescribe these drugs safely, he said.
Dr. Dhalla maintains that physicians have been misled to some degree by experts and pharmaceutical companies into believing that opioids are very effective for chronic noncancer pain. They have also been misled about the risk for addiction, he says.
"In reality, the evidence for effectiveness is very thin. Our sense anecdotally is that many patients do not end up having significant relief from their pain. When you combine that with the fact that the risk of addiction is much higher than the pharmaceutical companies initially led physicians to believe, that creates a scenario where patients are being exposed to significant risks without certain benefits."
High Risk for Addiction
For many years the pharmaceutical companies and experts suggested that the risk for addiction was less than 1%. Dr. Dhalla said.
"That's the number you will see in a lot of papers in the 1990s, and even in the early 2000s. But in fact, we know that the risk of addiction for patients who are being treated for chronic pain for several months or longer is much higher — one recent study found that the risk was 35%. So addiction is a much bigger problem than physicians think it is," he said.
Dr. Dhalla recommends that staff working for drug companies not get a commission for marketing prescription opioid drugs, and also that electronic medical records be used to prevent the filling of multiple prescriptions from different physicians and pharmacies.
Above all, safe prescribing of opioids depends on the careful and judicious selection of patients. However, at present, this is difficult because there is so little information available to clinicians about safe prescribing.
"We don't have a lot of data to help us with this. Prescribing more cautiously means prescribing in the face of very limited evidence. It means selecting patients very carefully...being particularly careful or perhaps not prescribing at all to patients with substance abuse histories, monitoring and counseling patients more closely, using lower doses, and in some patients, not prescribing at all," said Dr. Dhalla.
He also said that counseling patients about storing opioids correctly and disposing of them when they are no longer needed, in addition to other measures such as public education campaigns, among other things, could help mitigate the dangers of opioids.
Call for Public Education
"We need public education campaigns about these things, because there's a perception out there that because these are pills, they are not as dangerous as some other drugs, when in fact that is not true," Dr. Dhalla said.
"Prescription opioids can be very potent. For patients who have never been exposed to these drugs before, even a single pill can cause an overdose death," he added.
Michael Von Korff, ScD, a senior investigator at Group Health Research Institute, Seattle, Washington, who has explored the risk for overdose in primary care patients prescribed opioids for chronic noncancer pain, told Medscape Medical News that the paper by Dr. Dhalla and colleagues offers "thoughtful policy responses to the burgeoning problems of prescription opioid abuse, misuse, and overdose."
Dr. Von Korff and his group recently instituted a program aimed at reducing opioid abuse and misuse.
"Given the scope of these problems, we need to be looking seriously at changes in national policies that can reduce the morbidity and mortality that has accompanied increased opioid prescribing for chronic noncancer pain," he said.
Dr. Dhalla and Dr. Von Korff have disclosed no relevant financial relationships.
BMJ. Published online August 23, 2011. Abstract
Medscape Medical News © 2011 WebMD, LLC

Send comments and news tips to news@medscape.net.
Cite this: Deaths From Prescription Opioids on the Rise - Medscape - Aug 29, 2011.