August 10, 2011 — Music therapy can improve the symptoms of depression when added to standard antidepressant treatment, according to a study by Finnish researchers published in the August issue of the British Journal of Psychiatry.
"Music therapy is noninvasive, and just 20 biweekly sessions produce a beneficial effect," lead study author Jaakko Erkkilä, PhD, from the Finnish Centre of Excellence in Music Research, University of Jyväskylä, Finland, told Medscape Medical News.
Moreover, "you don't have to be a musician nor musically talented in order to get benefit from this treatment," Dr. Erkkilä said.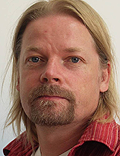 Dr. Jaakko Erkkilä
Researchers in Finland have been developing clinical expertise with music therapy in people with psychiatric disorders since the late 1960s, Dr. Erkkila explained.
"In Finland, depression has become a common reason for inability to work and affects 5% to 6.5% of the population. The usual treatment is medication plus psychiatric counseling. Psychotherapy is also effective, but verbal psychotherapy processing can be difficult or insufficient for some people," he said.
Music therapy offers an alternative and is another way to get in touch with emotions and develop relationships. Although it has been found to be effective in some studies, the methods of these studies have been "methodologically insufficient and lacking in clarity," Dr. Erkkilä said.
Strong Emotional Experience
In this study, Dr. Erkkilä sought to focus on the utility of music therapy in depressed people of working age, not only because of their socioeconomic importance, but also because research in this group is scarce.
He and his colleagues studied 79 people between 18 and 50 years old who had been diagnosed as having depression. They randomized 33 participants to receive 20 music therapy sessions in addition to their usual treatment for depression, which consisted of antidepressants, 5 to 6 individual psychotherapy sessions, and psychiatric counseling. The other 46 participants received standard treatment only and acted as the control group.
Music therapy consisted of one-on-one sessions with a music therapist, which consisted of free music making with drums and xylophone, as well as talking.
"The idea was to create free music based on the inner feelings of the client in a safe, trustworthy context and then to elaborate on these experiences verbally," Dr. Erkkilä explained. "From experience, we knew that this kind of working is highly emotional and often leads to strong emotional experiences and insights connected to one's psychopathology."
After 3 months, the researchers found that the participants who received music therapy had showed greater improvement than those who received standard care only.
International Debate
For depression, the mean change from baseline in the Montgomery-Asberg Depression rating scale was −6.05 for the controls vs −10.70 for those in the music therapy group (mean difference, 4.65; 95% confidence interval [CI], 0.59 – 8.70; P = .03).
For anxiety, the mean change from baseline on the Hospital Anxiety and Depression Scale was −1.95 for the controls vs −3.77 for those in the music therapy group (mean difference, 1.82; 95% CI, 0.09 – 3.55; P = .04).
For general functioning, the mean change from baseline on the Global Assessment of Functioning scale was 6.92 for the controls vs 11.50 for the music therapy group (mean difference, −4.58; 95% CI, −8.93 to −0.24; P = .04).
The study also found that the treatment response was significantly better in the music therapy group than in the control group.
"There is an active, international debate on depression treatment which centers on whether the antidepressants are good enough forms of treatment or whether psychotherapy or other therapies are needed in addition to medication," Dr. Erkkilä said. "Our study strongly advocates the good effect of combination of medication and therapy. In addition, it strongly advocates the benefit of creative therapy methods, in particular music therapy, in the treatment of depression."
He added that the commitment to music therapy was high in the study.
"It has been noticed in previous music therapy studies as well, that in music therapy trials dropouts are more rare than in many other psychotherapy studies."
Still, the people who will probably benefit the most from the addition of music therapy are those "with natural capacity for symbolic thinking and creative functioning," he said.
High Levels of Engagement
Music stimulates the mind and triggers images, metaphors, and emotions that often are preconscious by nature, Dr. Erkkilä suggested.
"In other words, music is kind of an emotional language with a lot of abstract, unformed psychic ideas. It enriches communication, stimulates and even evokes speech, and through these qualities is an excellent way to deal with and consider mental problems that are emotional by nature. Making music is also a physical activity, thus enabling functioning and bodily communication."
UK researchers who commented on this study in an accompanying editorial state, "This is a high-quality randomized trial of music therapy specifically for depression and the results suggest that it can improve the mood and global functioning of people with this disorder."
Anna Maratos, MSc, of the London Foundation Trust, Mike J. Crawford, MD, of Imperial College London, and Simon Procter, MMT(NR), of the National Music Therapy Training Programme, Nordoff Robbins, United Kingdom, write that the playing of musical instruments with the musical therapists was important to the patients who received music therapy.
The editorialists suggest that this activity has 3 interlinked dimensions, which are aesthetic, physical, and relational.
"Above all, music making is social (and hence interpersonal), pleasurable, and meaningful: this may also be why randomised trials of music therapy have shown high levels of engagement with patient groups who are traditionally difficult to engage," they note.
Erkkila and colleagues "lay down a clear marker for the value of music therapy as part of the range of interventions available for the treatment of people with depression," they conclude.
Dr. Erkkila has disclosed no relevant financial relationships. Ms. Maratos and Dr. Crawford report that they are members of the International Centre for Research in Arts. Mr. Procter has disclosed no relevant financial relationships.
Br J Psychiatry. 2011;199:132-139, 92-93. Abstract Editorial
Medscape Medical News © 2011 WebMD, LLC

Send comments and news tips to news@medscape.net.
Cite this: Music Therapy Hits the Right Note for Depression - Medscape - Aug 10, 2011.