July 21, 2011 (Rome, Italy) — In treatment-naïve patients with HIV, maraviroc 150 mg once daily plus atazanavir/ritonavir led to a high rate of viral suppression at week 48, with no resistance or loss of susceptibility to study drugs, according to new research.
Tony Mills, MD, from the University of California at Los Angeles, presented the findings during an oral session here at the 6th International AIDS Society Conference on HIV Pathogenesis, Treatment and Prevention.
According to the researchers, maraviroc is a CCR5 antagonist approved for twice-daily use in CCR5-tropic (R5) HIV-1-infected patients. Dr. Mills and colleagues conducted a phase IIb, randomized, open-label pilot study to evaluate this once-daily nucleoside-sparing regimen in treatment-naive patients.
"These findings show increased potency and a durable response when maraviroc is used once daily with a boosted protease inhibitor as dual therapy in treatment-naïve patients," Dr. Mills told Medscape Medical News.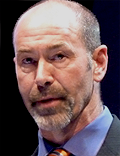 The study consisted of 121 R5-tropic HIV-1-infected patients with an initial CD4 count of at least 100 cells/µL. Patients were randomized to receive atazanavir/ritonavir in combination with either maraviroc (n = 60) or emtricitabine/tenofovir (n = 61). The primary end point was the proportion of patients with HIV-1 RNA below 50 copies/mL at week 48.
The proportion of patients meeting the primary end point at week 48 was similar in the 2 treatment groups, and results at week 48 were comparable with those at week 24.
At week 48, 7 patients had discontinued therapy in each group. Treatment-failure, as defined by the protocol, was noted in 2 patients in each group. No patients died during the study.
Overall, the number of serious adverse events was comparable in the 2 groups, and none were considered treatment-related. However, maraviroc was associated with more grade 3/4 treatment-related adverse events (18 vs 11), mainly hyperbilirubinemia.
Three patients in each group had plasma HIV-1 RNA above 500 copies/mL at failure or study discontinuation. Virologic analyses showed no instances of resistance, changes in tropism, or loss of susceptibility in either group.
According to Dr. Mills, these results support the possibility of a nucleoside-toxicity sparing, once-daily regimen that is safe and effective. "In addition, no apparent development of resistance, nor changes in receptor tropism, occurs, even in patients who do not fully respond, suggesting that there are no adverse downstream effects on future treatment regimens," he explained.
Dr. Mills added that the studies that have demonstrated promise for the concept of a dual-therapy regimen of once-daily maraviroc plus a boosted protease inhibitor have been small and exploratory in nature. "A large, fully powered study is needed to confirm the results seen to date," he added.
Dr. Mills emphasized that this is obviously an investigational HIV treatment strategy, and the results of this trial should not lead practicing clinicians to ignore treatment guidelines and pursue novel treatment strategies.
The study was funded initially by Pfizer and then by ViiV Healthcare (a company established by GlaxoSmithKline and Pfizer). Dr. Mills reports receiving research funding from these companies, but is not on any advisory boards or speaker's bureaus for either Pfizer or ViiV Healthcare.
6th International AIDS Society (IAS) Conference on HIV Pathogenesis, Treatment and Prevention: Abstract TUAB0103. Presented July 19, 2011.
Medscape Medical News © 2011 WebMD, LLC

Send comments and news tips to news@medscape.net.
Cite this: Maraviroc Plus Atazanavir/Ritonavir Effective Against HIV - Medscape - Jul 21, 2011.