July 20, 2011 (Paris, France) — Reducing the prevalence of lifestyle-based risk factors, including smoking and physical inactivity, by 25% could potentially prevent up to 3 million cases of Alzheimer's disease (AD) worldwide and up to half a million cases in the United States, new research suggests.
Presented here at the Alzheimer's Association International Conference 2011 and simultaneously published online July 19 in Lancet Neurology, the study suggests, but doesn't prove, that up to 50% of AD cases are potentially attributable to 7 preventable risk factors. These include smoking, physical inactivity, midlife obesity, midlife hypertension, depression, diabetes, and cognitive inactivity.
"Up to half of all Alzheimer's cases may be attributable to these modifiable risk factors and suggests that public health interventions to increase education and physical activity and reduce smoking rates and depression could potentially have a dramatic impact on Alzheimer's prevalence over time," study investigator Deborah Barnes, PhD, MPH, associate professor of psychiatry, University of California, San Francisco, and mental health research principal investigator, San Francisco VA Medical Center, told reporters attending a press briefing here.
"This gives us hope about things that we might be able to do now to try to prevent the epidemic that we see coming our way," she added.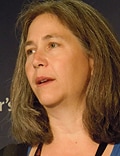 Dr. Deborah Barnes
The study findings warrant "an immediate response to do the research necessary to prove that this is in fact possible," William Thies, PhD, Alzheimer's Association chief medical and scientific officer, said in a statement released immediately after the study's publication.
"Unfortunately, in the US, such research will simply not be done because there are inadequate resources to support such research. Without an infusion of additional funding for Alzheimer's research we may never prove that these are indeed Alzheimer's risk factors nor will we see the promise of the observations reported today for reducing the numbers of people with Alzheimer's disease," he said.
Dr. Thies added that to date "government action on AD does not reflect the expanding human, social, and economic burden of the disease — for American families and federal programs. By 2050, as many as 16 million Americans will have Alzheimer's and the cost of care will surpass $1 trillion annually."
Prevention Current Best Hope

Dr. William Thies
Furthermore, said Dr. Barnes, there is currently no cure for AD and no disease-modifying treatment, so the current best hope lies in identifying prevention strategies. Although a number of modifiable risk factors for AD disease have been identified, she noted it is unclear which should be targeted.
"Specifically, we don't know what would happen if we could change these risk factors at a societal level and how that would affect disease prevalence over time."
The investigators reviewed evidence related to predisposing factors for AD, including cardiovascular risk factors, psychosocial factors, and health behaviors, and identified the 7 potentially modifiable risk factors.
"We selected these risk factors because they have what we found to be the most consistent evidence for being associated with a risk of Alzheimer's," said Dr. Barnes.
To estimate the impact of risk factor reduction strategies on Alzheimer prevalence, the researchers conducted a review using data from recent systematic reviews and meta-analyses for the 7 risk factors.
They used mathematical modeling to calculate population attributable risks (PARs) on AD prevalence worldwide and in the United States. PARs take into account both the prevalence of a given risk factor and the strength of the association between risk factors and AD.
Assumption of Causality
The investigators calculated PARS for each risk factor individually and all 7 combined both in the United States and worldwide. They then calculated the number of AD cases that could potentially be prevented by 10% and 25% reductions in risk factor prevalence. An important caveat of the study, said Dr. Barnes, is that PARs assume causality.
At 19% the risk factor that contributed most to AD worldwide was low educational level, which was defined as no education beyond grade school. Dr. Barnes said the investigators were surprised that low educational level topped the worldwide list but attributed it to the fact that lack of education is so common. She noted that 40% of people worldwide have no education beyond a very basic level.
In their article, the researchers explain that "education and mental stimulation throughout life are believed to lower risk of AD and dementia by helping to build cognitive reserve, enabling individuals to continue functioning at a normal level despite experiencing neurodegenerative changes."
The second highest number of cases worldwide was attributed to smoking (14%) followed by physical inactivity (13%), depression (11%), midlife hypertension (5%), midlife obesity (2%), and diabetes (2%).
In the United States physical inactivity emerged as the main driver of AD prevalence, accounting for 21% of cases. This was followed by depression (15%), smoking (11%), midlife hypertension (8%), midlife obesity (7%), low educational level (7%), and diabetes (3%).
The 7 potentially modifiable risk factors contributed to roughly half of all Alzheimer's cases worldwide (51%, 17.2 million) and in the United States (54%, 2.9 million).
Urgent Need for Intervention Trials
The researchers estimated that a 10% reduction in all 7 risk factors could potentially prevent 1.1 million AD cases worldwide and 184,000 cases in the United States over time.
A 25% reduction in all 7 risk factors could potentially prevent more than 3.1 million cases worldwide and 492,000 AD cases in the United States.
Echoing Dr. Thies, Dr. Barnes said that what's needed now are large interventional trials to determine whether reducing these risk factors will in fact reduce incident AD and follow the mathematical model.
In an accompanying editorial, also published online in Lancet Neurology, Laura Fratiglioni, MD, PhD, Karolinska Instituet-Stockholm University, and Chengxua Qiu, PhD, from Stockholm Gerontology Research, cautioned that none of the risk factors in the study has yet been proven to have a causal relationship to AD.
That said, they also note that interventions to verify these findings are needed.
"Large-scale multi-domain intervention projects that could be undertaken in high risk populations, as done with cardiovascular disease, should now be implemented," they write.
Dr. Barnes, Dr. Fratiglioni, Dr. Qiu, and Dr. Thies report have disclosed no relevant financial relationships.
Alzheimer's Association International Conference (AAIC) 2011: Abstract 03-06-06. Presented July 19, 2011.
Medscape Medical News © 2011 WebMD, LLC

Send comments and news tips to news@medscape.net.
Cite this: Modifying Risk Factors May Prevent Alzheimer's Epidemic - Medscape - Jul 20, 2011.