June 20, 2011 — C'est magnifique! The man who convinced French President Jacques Chirac to declare war on cancer has been honored by the American Society of Clinical Oncology (ASCO) with its 2011 Distinguished Achievement Award.
David Khayat, MD, PhD, chair of the Department of Medical Oncology at the Pitié-Salpêtrière Hospital, in Paris, France, and a former president of the French National Cancer Institute, received his award "for his extraordinary leadership in the field of oncology" at the President's Dinner during the recent ASCO annual meeting.
"Dr. Khayat's award recognizes his leadership of the French National Cancer Institute and his critical role in leading studies of solid tumors in France and Europe," Douglas W. Blayney, MD, immediate past president of ASCO and chair of the Special Awards Selection Committee, told Medscape Medical News.
"ASCO is an international organization, over one third of whose members work, practice, and perform research outside of the United States," Dr. Blayney, who is professor of medicine at Stanford School of Medicine in California, added. "Honoring Dr. Khayat's contribution to clinical research in this way highlight's ASCO's role in promoting the conduct of clinical research worldwide, and the role of the ASCO annual meeting in disseminating its results to oncologists everywhere."
Humble Beginnings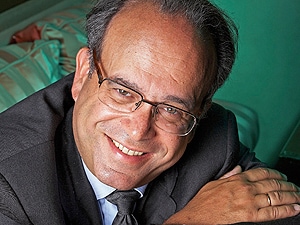 Dr. Khayat was born in Tunisia in 1956. His mother and father immigrated to France when he was a small child. "I am not from a medical family; I come from a very poor family. I was born in Tunisia at the time it was French; when it became independent, I was 4 years old. We left Tunisia and came to the south of France, where my father had a little shop. My parents are still in the south of France. They are very proud of me," he said.
Dr. Khayat earned his medical degree at the University of Nice and his PhD in tumor immunology at the Pierre and Marie Curie University in Paris. He became head of the Department of Medical Oncology at Pitié-Salpêtrière Hospital in 1990. He is married and has 3 daughters. His wife, a former pharmacist, is now an expert in art history and teaches at the École du Louvre in Paris.
Fight Against Cancer a Concerted Effort
In an interview with Medscape Medical News, Dr. Khayat highlighted the role that ASCO has played in his efforts to streamline and improve cancer care in France.
"No one person in the world, or one lab, or one country can beat cancer by itself. You need to set up a world alliance, and that is what we have done. We all work together," said Dr. Khayat, who, in addition to receiving his award, was named president-elect of the International Affairs Committee at ASCO. "When I worked on the war on cancer, I asked many people from ASCO to help me, advise me, and guide me, and my friends from the United States were very much involved in my project."
The French war on cancer began in 2000. Up to that time, cancer research and care in France was disorganized, and resources were minimal.
"President Chirac knew me. I had treated a lot of his friends. In 1999, we were preparing for the millennium — everybody was trying to see how they could celebrate it — and we thought we ought to do something to raise awareness in the world about the burden of cancer. So we started to write what was first called the Charter of Paris Against Cancer, and then the UNESCO Charter Against Cancer. Gabriel Hortobagyi, MD, from the M.D. Anderson Cancer Center in Houston, and Peter Harper, MD, from [Guy's Hospital London, United Kingdom], were important, key players in this," Dr. Khayat said.
When President Chirac was reelected, in 2002, he launched the National Cancer Plan and the French National Cancer Institute, which Dr. Khayat headed for 5 years.
"I was his advisor. I was treating cancer for about 30 years, I saw more than 20,000 people dying in front of me during these years of practicing oncology, and I know what cancer means. Someone who is not treating cancer cannot understand what it means in terms of human suffering. I was lucky to find the appropriate words to explain it so that he could understand how bad this disease is," said Dr. Khayat.
"I was in charge of everything that could be done to improve the way France was fighting cancer. We set up departments to improve prevention, screening, early diagnosis, care, access to care, social issues, basic sciences, and research," he said.
Free Nationwide Cancer Screening
During those 5 years, Dr. Khayat was instrumental in launching nationwide breast, colorectal, and cervical cancer screening programs. "France is the only country in the world that has free-of-charge, unlimited-access, organized cancer screening for these 3 major cancers," he pointed out.
"We also bought more than 60 [computed tomography] and [magnetic resonance imaging] scanners. There were only 2 [positron emission tomography] scanners when we started in France; when we finished there were 72. We also managed to have 1 psycho-oncologist in each department of medical oncology in France — we opened more than 120 positions for these specialists.
"Also, when we started, we had just 1 center that could carry out BRCA1 and 2 and other genetic testing. Now we have 100 centers, and every year 20,000 tests are performed free of charge for patients with a family history of cancer in France.
Accomplishing all this was not easy, Dr. Khayat conceded. "We had fights. We had to struggle. We changed the rules. People were not happy that there was a new system being set up, and we had to change the mentality — to wake up people and institutions — but I had the impression that this was a unique chance for my country, so I did the job. When I finished, I left. I went back full time to my department at Pitié-Salpêtrière."
And back 100% to his beloved patients.
"Even when I was Chirac's advisor in an official position, I was still seeing my patients on a regular basis. I've never stopped seeing patients. I love that patient contact. I think my patients like me, and they trust me. I also have a very good department; this is also something that I am very proud of," Dr. Khayat said.
He is a medical oncologist and, as such, sees patients with a variety of solid tumors. "In France, we don't get specialized in one type of cancer, as in the United States, so I see all types. One third of the patients I am treating come from foreign countries because we are a very expert center; we have people coming from all over the world."
Although no longer head of France's National Cancer Institute, Dr. Khayat is still very much at the forefront of the war on cancer in his country.
"You can fight cancer at an international and national level, trying to improve the systems for care, but you also fight at the single-patient level. Ultimately, cancer will have to be defeated patient by patient," he said.
After 30 years in oncology, Dr. Khayat said he has days when he feels emotionally depleted and burnt out, but his patients always pull him back from despair.
"I come to work asking myself whether I will be able to continue, and then a patient asks for help and you can't refuse. . . . All of a sudden, you become the most important person for the patient . . . for the [20 or 30 minutes] that patient is in front of you. . . . There is going to be another one after, just like there was another one before, but for that single moment, that patient is the most important thing in your life as a doctor. It is very sustaining work and I feel very fortunate."
Medscape Medical News © 2011 WebMD, LLC

Send comments and news tips to news@medscape.net.
Cite this: David Khayat Honored for Organizing Cancer Care in France - Medscape - Jun 20, 2011.