June 16, 2011 — The US Food and Drug Administration (FDA) yesterday approved belatacept (Nulojix, Bristol-Myers Squibb Company) for the prevention of acute rejection in adult patients who have had a kidney transplant.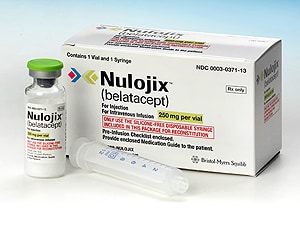 Belatacept is approved for use with corticosteroids and the immunosuppressant agents basiliximab and mycophenolate mofetil. This novel biologic agent is a fusion protein composed of the Fc fragment of a human IgG1 immunoglobulin linked to the extracellular domain of CTLA-4. It is given in 30-minute intravenous infusions and selectively blocks T-cell costimulation to help prevent organ rejection after transplant.
Belatacept was evaluated in 2 open-label, randomized, multicenter, controlled phase 3 studies: the Belatacept Evaluation of Nephroprotection and Efficacy as First-line Immunosuppression Trial (BENEFIT) and BENEFIT-EXT ("extended criteria").
The BENEFIT trial included 666 transplant patients who were randomly assigned to 3 treatment groups: "less intensive" belatacept, "more intensive" belatacept, and standard cyclosporine A. The BENEFIT-EXT study included 543 patients who were similarly assigned. All patients also received basiliximab, mycophenolate mofetil, and corticosteroids.
Patient and graft survival after 2 years was comparable among the belatacept and cyclosporine A groups: 94% for the more intensive, 95% for the less intensive, and 91% for cyclosporine A. Belatacept demonstrated a superior renal benefit that was sustained in year 2, as measured by glomerular filtration rate.
Common adverse reactions observed in transplant patients in the belatacept clinical trials included anemia, constipation, kidney or bladder infection, and swollen legs, ankles, or feet. Belatacept was also associated with a small but increased risk for posttransplant lymphoproliferative disorder.
The risk for posttransplant lymphoproliferative disorder is higher for transplant patients who have not been exposed to Epstein-Barr virus (EBV). Transplant patients who have not been exposed to EBV have more difficulty mounting an effective immune response to the virus if they get infected after transplant.
"Typically [patients] get exposed to the virus at time of transplant, as it is carried in around 80% of donated organs," the FDA states in their news release. "Patients should be tested for EBV and should only receive Nulojix if the test shows they have already been exposed to EBV."
As with other immunosuppressants, belatacept is also associated with an increased risk for serious infections and other cancers. All transplant patients, including those receiving belatacept, should avoid sunlight, because of the risk for skin cancer, as well as live vaccines, because of the risk for infection.
"Finally, the drought of new agents in transplantation is over," said Flavio Vincenti, MD, professor in the Division of Nephrology at the University of California–San Francisco. "The FDA approval of belatacept means that transplant patients will have an additional choice in immunosuppression, and especially with a drug that preserves renal function and has the potential to prolong the life of the graft," he told Medscape Medical News.
According to Dr. Vincenti, the major issue of noncompliance is easier to monitor with belatacept because of the route of administration. However, he added that "it is an important caveat is that only patients known to be EBV-positive should be treated with belatacept to minimize the risk [for posttransplant lymphoproliferative disorder]."
Dr. Vincenti has received grants for clinical research from Bristol-Myers Squibb Company; Novartis Pharmaceuticals Corporation; Roche; Genentech, Inc; Genzyme Corporation; and Pfizer Inc.
Medscape Medical News © 2011 WebMD, LLC

Send comments and news tips to news@medscape.net.
Cite this: FDA Approves Belatacept for Kidney Transplant Patients - Medscape - Jun 16, 2011.