June 10, 2011 (Chicago, Illinois) — Two oral targeted therapies might be better than 1 in the treatment of patients with advanced melanoma and BRAF V600 mutation-positive disease, according to early research presented here at the American Society of Clinical Oncology 2011 Annual Meeting.
In a phase 1 trial, the combination of the oral MEK inhibitor GSK212 and the oral BRAF inhibitor GSK436 appeared to provide a synergistic boost to efficacy and a paradoxical reduction in toxicity, said lead author Jeffrey Infante, MD, from Sarah Cannon Research Institute in Nashville, Tennessee.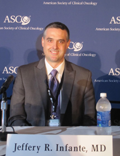 Overall, the combination was safe and had "compelling" preliminary antitumor activity in patients with advanced melanoma, he said.
"The addition of a MEK inhibitor is the next rational step to improve upon the efficacy of single-agent BRAF inhibitors," said Dr. Infante at a press conference.
The rationale seems sound at this point.
In the phase 1 trial, the investigators found that the combination had response rates of 50% to 77% in 71 patients with no previous BRAF inhibitor exposure. The range of rates reflects the fact that there were 4 different experimental doses in the study.
The response rates seen with the combination are an improvement on the rates seen in the past with the agents as monotherapies, said Dr. Infante.
As monotherapies, the BRAF inhibitor GSK436 had a response rate of 63% and the MEK inhibitor GSK212 had a response rate of 40% in earlier testing in patients with advanced melanoma, said Dr. Infante.
The responses to the combination therapy included 5 complete responses, which stunned one expert.
I never thought we would have complete remissions with kinase inhibitors.
"I never thought we would have complete remissions with kinase inhibitors," said Reinhard Dummer, MD, from the University Hospital of Zurich in Switzerland. "The objective response rate is impressive," added Dr. Dummer, who acted as discussant of the study after its oral presentation.
"I am very excited to see the further development of this approach," he concluded.
The study is currently ongoing, with 77 patients with no previous exposure to BRAF inhibitors now enrolled; 83% of those patients are still active in the trial. There are others in the the 109-patient study, including patients with different tumor types and 24 patients with previous exposure to BRAF inhibitors.
Resistance and Toxicities
Resistance is a problem with BRAF inhibition, said Dr. Infante, and was part of the motivation behind the study.
"One of the goals of the trial is to determine if the addition of the MEK inhibitor can overcome or prevent BRAF resistance via activation of the MAPK pathway," said Dr. Infante, referring to the mitogen-activated protein kinase. However, resistance is a matter of long-term durability and cannot be answered at this point.
Another goal, however, showed early evidence of being met.
Dr. Infante explained that the addition of the MEK inhibitor was thought to be a potential way to decrease the incidence of BRAF-induced hyperproliferative skin lesions.
Thus far, among the study's 109 patients receiving combination therapy, there has only been 1 case of squamous cell carcinoma, a hyperproliferative skin condition that is not malignant and occurs in 7% to 15% of treated patients, reported Dr. Infante.
Another hyperproliferative condition, treatment-related rash, only occurred in 25% of patients, which is a much lower proportion than is typically seen. For instance, about 75% of patients treated with the MEK inhibitor GSK212 will have rash, he said.
At the press conference, a disbelieving reporter asked Dr. Infante if he heard correctly: Did the 2 drugs — combined and at full doses — have less toxicity than the agents as monotherapies? Yes, said Dr. Infante, admitting that it is "paradoxical."
"Cutaneous biologists will have a lot of fun" attempting to figure out the reason behind the reduction in dermatologic events with the combination therapy, said discussant Dr. Dummer.
The dose-escalation part of the study indicates that both drugs can be given together at the full monotherapy dose, Dr. Infante said. The MEK inhibitor GSK212 was ultimately given at 2 mg once daily, and combined safely with the BRAF inhibitor GSK436 at 150 mg twice daily.
In the phase 1 study, investigators found no significant drug–drug interactions in 7 patients evaluated.
Dr. Infante reported the following adverse events of any grade and their rates in the 109 treated patients: fever, 31%; rash, 25%; chills, 22%; nausea, 20%; diarrhea, 17%; and fatigue, 16%.
The study findings of increased efficacy and reduced key toxicities have their basis in basic research, the authors point out.
In preclinical models, the BRAF/MEK inhibitor combination has demonstrated enhanced activity against BRAF-mutant cancer cells (compared with either drug alone) and delayed emergence of resistance, and prevented proliferative skin lesions attributable to BRAF inhibitor exposure, they write in their abstract.
Dr. Infante has disclosed no relevant financial relationships. Some of the study authors report either financial relationships or employment with GlaxoSmithKline, which sponsored the trial. Dr. Dummer reports being a consultant to Bristol-Myers Squibb, Merck, Novartis, and Roche; and reports receiving honoraria from Bristol-Myers Squibb.
American Society of Clinical Oncology (ASCO®) 2011 Annual Meeting: Abstract CRA8503. Presented June 6, 2011.
Medscape Medical News © 2011 WebMD, LLC

Send comments and news tips to news@medscape.net.
Cite this: 'Compelling' Activity With Combo Targeted Therapies for Melanoma - Medscape - Jun 10, 2011.