May 18, 2011 (Chicago, Illinois) — Animal therapy may improve patient satisfaction with medical care, and may reduce anxiety associated with magnetic resonance imaging (MRI). Animal therapy is also likely to have fewer adverse effects than treatment with pharmacological anxiolysis.
Richard Ruchman, MD, from Monmouth Medical Center in Long Branch, New Jersey, presented the results of a study here at the American Roentgen Ray Society (ARRS) 2011 Annual Meeting. Dr. Ruchman began his presentation by noting that patients who undergo MRI often experience elevated anxiety and fear.
This fear can translate into poor image quality because of motion artifacts or early termination. Dr. Ruchman estimated that 15% of patients or more cannot proceed with an MRI because of anxiety. This is costly in terms of emotional strain, nonproductive scan time, and limited clinical utilization.
Although many techniques have been used to help ease patient anxiety before an MRI, animal-assisted therapy has not yet been tested for this purpose. The study by Dr. Ruchman and colleagues consisted of 28 patients who were scheduled to undergo outpatient MRI and who were selected to receive intervention with a certified therapy dog approximately 30 minutes before their MRI.
The patients interacted with the therapy dog at various levels of intensity for periods of 15 minutes. The patients were then administered the Spielberger State–Trait Anxiety Inventory (STAI) to measure the patient's current anxiety level on a score of 20 to 80. According to the STAI, the average state anxiety level for working adults is 35.72 for men and 35.20 for women. No studies have been conducted to see if there is a minimum threshold of pretest anxiety that will lead to a patient being unable to complete an MRI scan.
The 28 patients who completed the animal-assisted therapy protocol had a mean STAI state anxiety score of 43.00 before animal therapy and 29.04 after animal therapy (P < .000001). The score of 43 placed the patients in the category of "some anxiety." Six patients received no intervention and had no significant change in anxiety. They had a mean STAI state anxiety score of 32.67 before and 32.83 after no intervention (P > .05).
All of the patients who participated in the study were able to begin their scheduled MRI without the need for anxiolytic medication. One patient in the animal therapy group, however, was unable to complete the scan because of self-reported claustrophobia. The study did not measure patient anxiety after the MRI or determine if the intervention had an effect on image quality.
Dr. Ruchman explained that these results mean that therapy dogs could substitute for antianxiety medication when patients are preparing for an MRI. He noted that the role of animal therapy is to distract the patient's thoughts from the MRI, thereby reducing patient anxiety.
Dr. Ruchman also explained that even though there was a statistically significant difference in the state anxiety level, the study was not designed to determine if this difference was clinically significant. Other confounding factors in the study were the number of scans a patient has completed prior to the MRI under study and the length of time that the patient must remain in the scanner, which can vary, depending on the type of MRI performed.
Carolyn Cidis Meltzer, MD, professor and chair of the Department of Radiology & Imaging Sciences at Emory University School of Medicine in Atlanta, Georgia, is also a certified therapy dog handler and a certified evaluator for Therapy Dog International. She discussed the study with Medscape Medical News: "Those of us who have been involved in animal-assisted therapy would not be surprised by the findings in the AARS presentation. Increasingly hospitals, nursing homes, hospices, rehabilitation facilities, camps, specialized schools, and children's libraries are incorporating animal-assisted therapy programs into their work. There is a small yet increasing body of literature on the physiological and health benefits of animal-assisted therapy in various patient populations, including hospitalized children, autism, chronic heart failure, dementia, and psychiatric patients."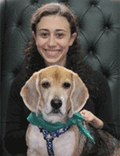 Dr. Ruchman's team included his 16-year-old daughter Allison, who is a certified dog therapist. He discussed their research with Medscape Medical News, and described her as "the most important part of the study." Ms. Ruchman played a pivotal role in the study design, data collection, and writing. She also performed most of the therapy sessions with her 6-year-old dog Wally. Ms. Ruchman is a science writer, and blogs about her pet therapy experiences on National Public Radio's Talking Science Web site.
Dr. Ruchman and Dr. Meltzer have disclosed no relevant financial relationships.
American Roentgen Ray Society (ARRS) 2011 Annual Meeting: Abstract E114. Presented April 30, 2011.
Medscape Medical News © 2011 WebMD, LLC

Send comments and news tips to news@medscape.net.
Cite this: Animal-Assisted Therapy Can Decrease Anxiety Before an MRI - Medscape - May 18, 2011.