The Case: The Artist's Images
In 1970 a 14-year-old boy found a handmade book on a trash heap in Springfield, Missouri. When that boy grew up, his find was posted on a historian's Website which in turn led to the sale of the "book" to an art collector, who subsequently sold it to New York artist Harris Diamant. Diamant has compiled the images into a book and companion Website, The Drawings of The Electric Pencil and has exhibited them at the 2011 Outsider Art Fair. These drawings of a completely unknown artist, about whom nothing biographical was known until very recently, comprise one of the most substantial Outsider Art discoveries in the last decade.
So what was in the anonymous homemade book that a young boy pulled out of a garbage can? There were 280 drawings, all clearly drawn by one artist, sewn together and bound into a handmade volume. The drawings were numbered and fall into different representational categories, though the serial order of the pictures may have had some kind of unwritten narrative continuity in the artist's own mind. They were all done with colored pencil and crayon, lightly drawn; yet they are done with a sure touch and a great deal of technical proficiency, sometimes coupled with a child like or naive style. All of the pictures are rendered on paper from a ledger book printed with the imprimatur "State Hospital No. 3, Nevada Missouri," and the pictures are drawn on both sides of the paper. The subjects of the drawings fall into several broad categories that are interpolated with one another. Perhaps most emblematic of the artist's style are portraits of women and some men in 19th century garb, staring out at the viewer with a piercing doll-like gaze (Figure 1). The eyes are stylized and repetitively characteristic of every portrait but one. In addition, the portraits are all "framed" within the picture (Figure 2). Many of the portraits are labeled with idiosyncratic proper names or names of geographical regions or professions, often misspelled ("Miss Fanny," "Milatary Chief," "Endia Girl").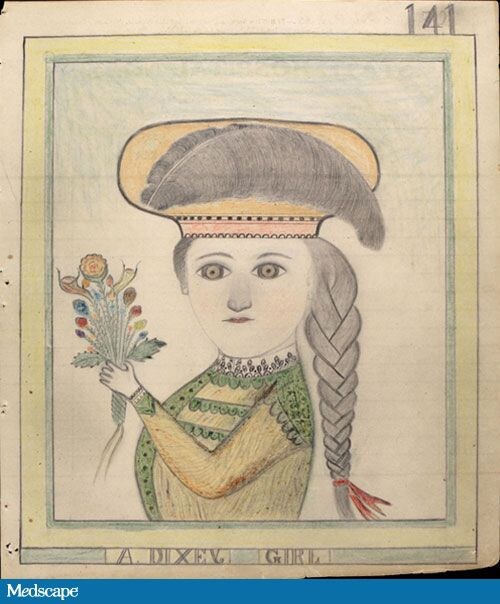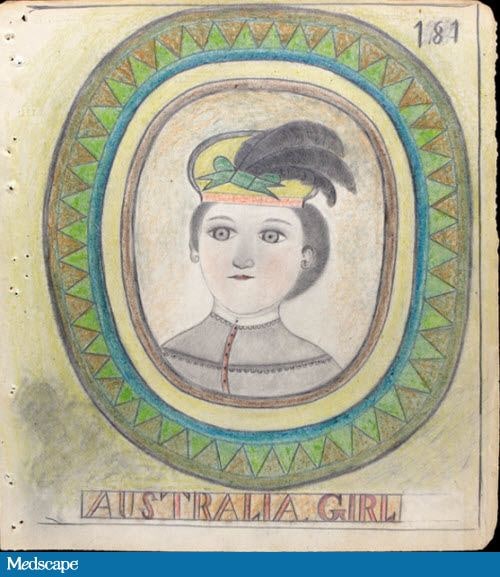 Interspersed with the portraits are carefully detailed drawings of trains, steamboats, and early automobiles (Figure 3). In contrast to the somewhat stereotyped but compelling portraits, the drawings of machines tend to be much more detailed and "realistic," although it is interesting that some of the steamboats have loops such that one might see on a children's pulltoy (Figure 4).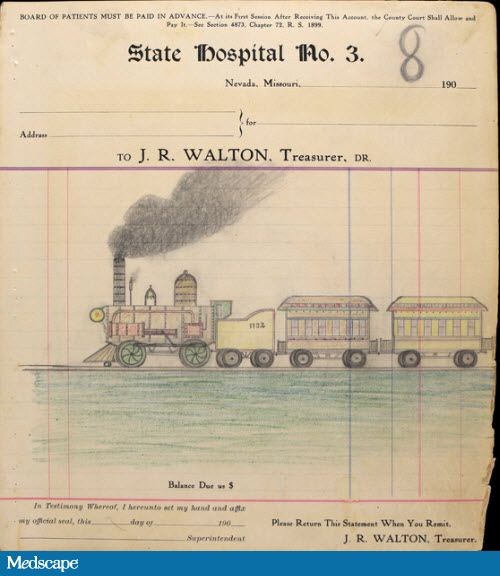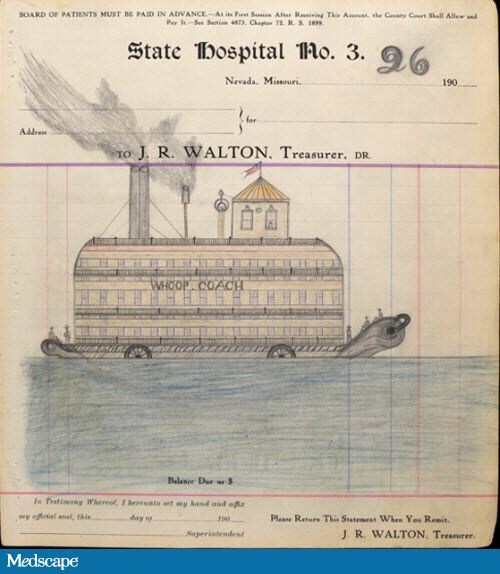 Mysterious geographies and maps characterize some other drawings, often presented with enigmatic phrases that suggest a detailed fantasy world inaccessible to viewers (Figure 5).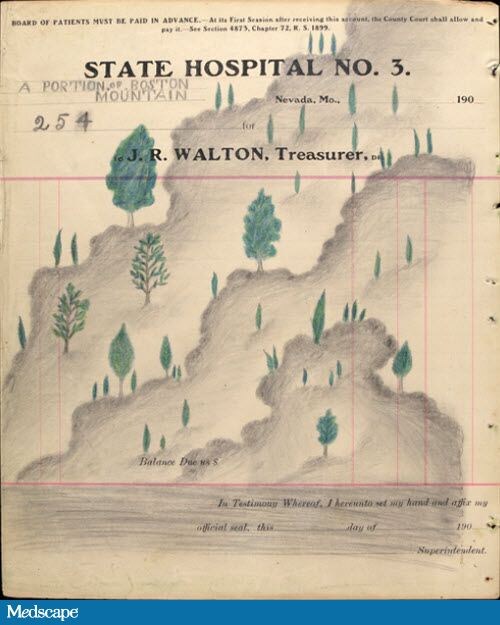 There are some institutional-looking buildings, quite sterile and primitive when compared with other, more detailed pictures (Figure 6). A subset of drawings suggests gardens or maps seen from a bird's-eye view and even one elaborate grid picture (Figure 7).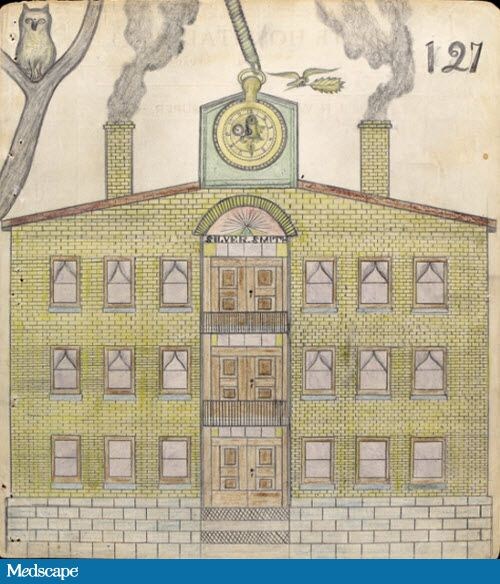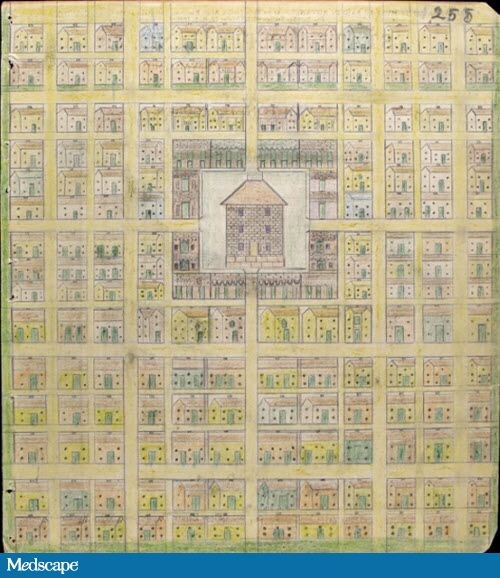 There are also many drawings of animals and birds, some beautifully and realistically rendered, some out of proportion (Figure 8).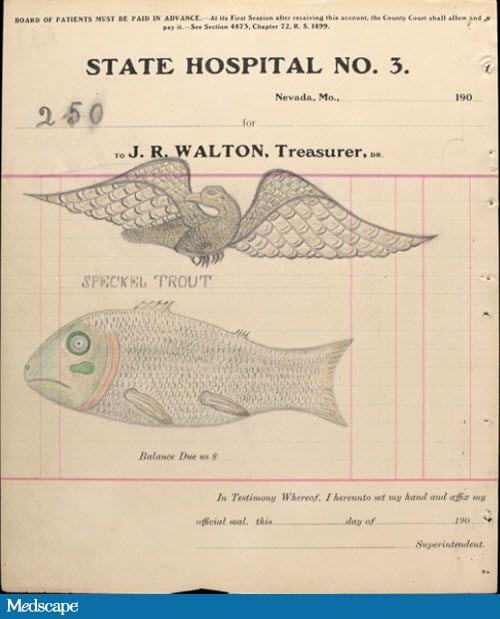 Story lines are once again implied but are impossible to fathom without some sense of the artist's thought processes (Figure 9).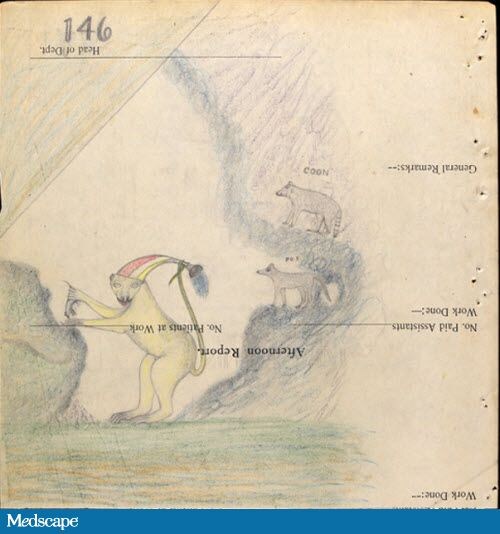 Before the artist's identity was known, Diamant dubbed him "The Electric Pencil." This epithet refers to a phrase written atop one of the emblematic portraits of a woman holding some flowers (Figure 10). At the top of the portrait is the word "Ectlectrc" [sic] framed on one side by a tiny feathered quill and on the other by a tiny pencil (plus the word "pencil"). Many of the elements that characterize the artist's work -- turn-of-the-century garb, fixed and staring eyes, a frame -- appear in this picture, including the beautiful textured feather in her hat, which mirrors the texture of the woman's hair.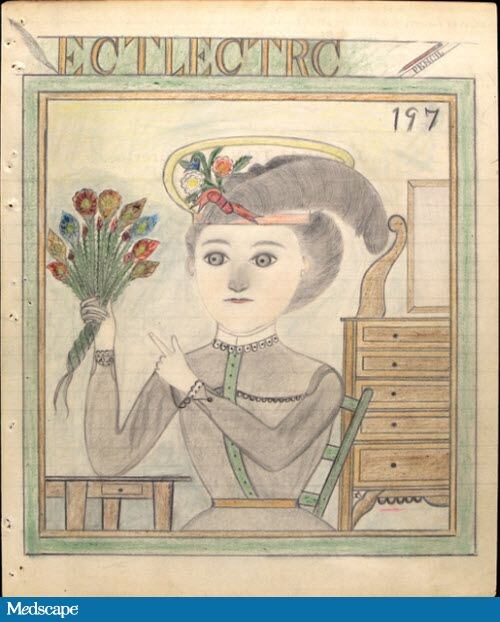 Among the many drawings, the curious misspelling, abbreviation or perhaps clever pun "ECT" appears, most strikingly under the portrait of a man and a large decorative image of a cigar, as well as on the doorplate of a building (Figure 11 and 12).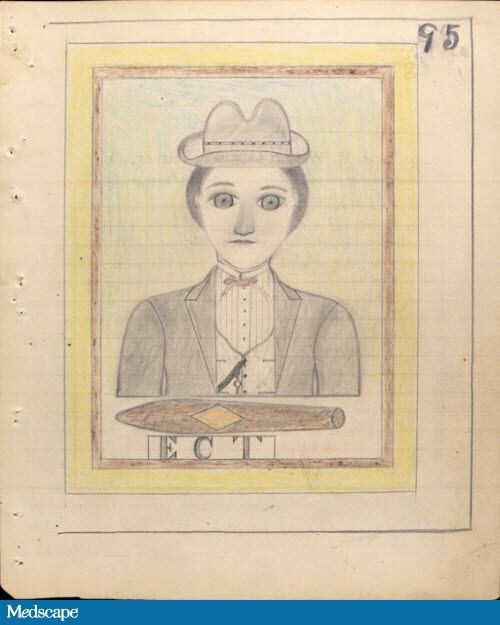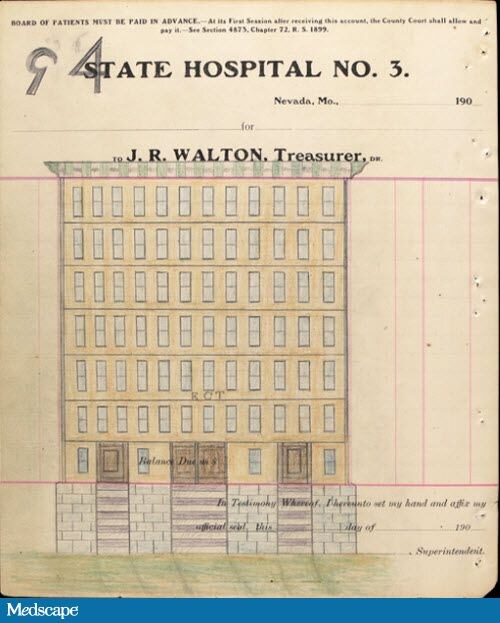 After the drawings of this artist were posted on the Internet along with queries about his identity, some very promising biographical data emerged. There is ample evidence to suggest that this artist was a man named Edward Deeds, who was born in 1908 and who, at the age of 17 (about 1925), was committed to State Hospital Number 3 after threatening his brother with a hatchet. He spent 50 years there. He was released from the hospital to a nursing home in the mid-1970s and died on January 9, 1987.
(Visit Electricpencildrawings.com for the complete collection of this artist's drawings.)
Medscape Family Medicine © 2011  WebMD, LLC

Cite this: Susan Scheftel. The Electric Pencil: Using Art to Diagnose the Artist - Medscape - May 17, 2011.