Hello. I'm Dr. Preeta Kutty, a Medical Epidemiologist at CDC and coauthor of the recent Morbidity and Mortality Weekly Report [1] on measles among travelers returning to the United States. I am pleased to speak with you as part of the CDC Expert Commentary Series on Medscape.
Today I will focus on recognizing, diagnosing, and preventing measles. Before the measles vaccine was introduced in 1963, 3-4 million measles cases occurred annually in the United States, resulting in the deaths of 400-500 children and chronic, life-long disability in another 1000 children.[2] Following the introduction of the 2-dose measles, mumps, and rubella (MMR) vaccination recommendation in the United States, measles cases declined dramatically. By 2000, ongoing transmission of measles was declared eliminated from this country. As a result, many healthcare providers in the United States have not seen measles and may not recognize its signs and symptoms. However, measles continues to be common in many other regions of the world, including western Europe.[3,4,5] In the United States, import-associated measles accounts for 87% of cases reported to CDC.[6] Such cases usually involve United States residents returning from foreign travel or foreign visitors to the United States. These cases can lead to measles outbreaks in the United States. Thus, it's important for healthcare providers to be able to recognize the signs and symptoms of measles.
How do you recognize measles? (Figures 1-3) The measles prodrome starts 3-4 days before the rash. This prodrome is characterized by the "3 C's": cough, coryza (runny nose), and conjunctivitis. Towards the end of the prodrome, Koplik's spots can be seen on the inside of the cheeks. These are bluish gray specks on a red base. Following this, a maculopapular and erythematous rash begins on the forehead and spreads downward to the feet, also affecting the palms and the soles. The rash becomes generalized. The infectious period for measles is from 4 days before through 4 days after rash onset. Complications of measles include dehydration and pneumonia.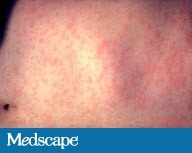 Figure 1. Rash in a patient after 3 days of measles infection.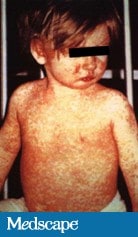 Figure 2. This child shows a classic day-4 rash with measles.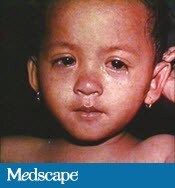 Figure 3. Typical appearance of eyes in a child with measles.
Measles should be considered in any child presenting with fever and a rash, especially if the child has a history of recent travel outside the United States or of contact with a person with a clinically consistent rash illness. When a measles case is suspected, the patient should be isolated promptly to avoid spread of the infection. Suspected cases should be immediately reported to your local health department, and specimens should be obtained for testing, including viral specimens for genotyping, which can help determine the source of the virus. Serologic testing is the most commonly used diagnostic procedure for measles. Visit CDC's measles Website for details about measles testing.
The best way to prevent measles is through vaccination. The Advisory Committee for Immunization Practices and the American Academy of Pediatrics recommend a 2-dose series of MMR vaccine for routine use in all children in the United States: the first dose at 12-15 months and the second dose at age 4-6 years. In addition, children traveling or living internationally are eligible for vaccination at a younger age. Infants age 6-11 months should receive 1 dose of MMR vaccine before departure, and children age 12 months or older should receive 2 doses at least 28 days apart. Note that serologic response to the measles vaccine varies among infants 6-11 months of age. So, infants who have received a dose of MMR vaccine before age 12 months should be revaccinated with the 2-dose MMR vaccine series starting on their first birthday. This means these children will receive a total of 3 doses of MMR vaccine: 1 dose at age 6-11 months and 2 doses on or after 12 months of age.
Measles and its complications can be devastating, especially among infants and young children, and it is up to us to protect this vulnerable population. You can help by understanding the risk for measles, knowing how to recognize and diagnose it, and recommending measles vaccinations to patients before they travel internationally.
For more information about measles, measles vaccination, and serologic testing for measles, please see the resources on this page or visit https://www.cdc.gov/measles/
Web Resources
Preeta K. Kutty, MD, MPH , is a medical epidemiologist on the Measles, Mumps, Rubella and Polio Team in the Division of Viral Diseases at the Centers for Disease Control and Prevention (CDC) in Atlanta, Georgia. Dr. Kutty received her MD in India and her MPH in epidemiology and biostatistics from Boston University. She completed a fellowship as an Epidemic Intelligence Service officer at CDC before transitioning to her current position. Dr. Kutty's current work focuses on outbreaks and policies concerning MMR as well as seroprevalence and immunity studies.
Public Information from the CDC and Medscape
Cite this: Preeta K. Kutty. Measles: What You Might Not Know - Medscape - Apr 25, 2011.